Main — Culture — Art as a Weapon and as a Target: Ukrainian Public Programme at La Biennale di Venezia continues
Culture
Art as a Weapon and as a Target: Ukrainian Public Programme at La Biennale di Venezia continues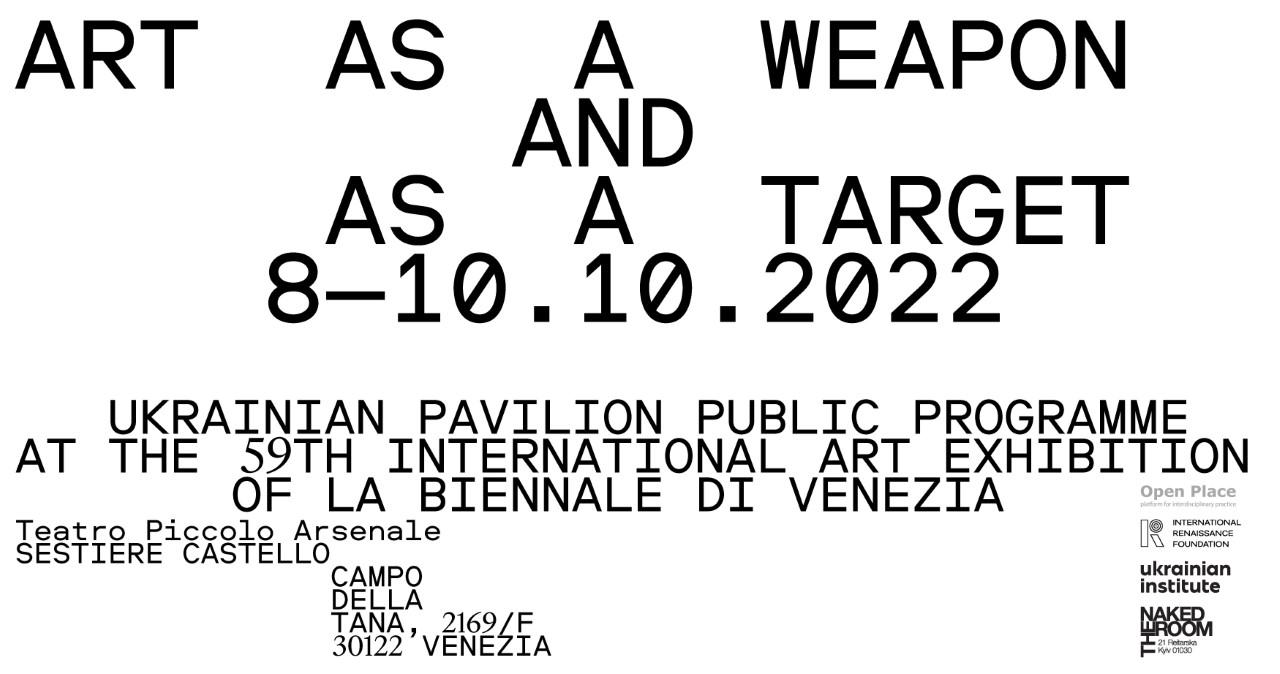 ---
On 8–10 October Ukrainian Institute in cooperation with Ukrainian Pavilion at the 59th International Art Exhibition of La Biennale di Venezia will hold the second series of events titled "Art as a Weapon and as a Target". It is part of the interdisciplinary programme "Decolonising Art. Beyond the Obvious".
---
It engages artists, curators, public intellectuals, and a wider audience to explore the decolonial perspective on Ukraine and Eastern Europe. This is the continuation of the first module of the autumn programme "How Do We Decolonise Art?" which took place in Venice on September 2–4 and the discussion "How Russian War Against Ukraine Changed the [Art] World" which was held in April. You can watch all discussions and lectures at the link.
Art and war are unalienable to human history. The second module will focus on the (inter)connection between art and war while the world keeps witnessing the Russian aggression of Ukraine. There is always a temple, an arch or at least a monument dedicated to a war. Battlefields are depicted in millions of paintings. At the same time art objects were often trophies and even more often art and cultural heritage were obliterated in armed conflicts. Ukrainian authorities have already documented 500 episodes of Russian war crimes against Ukrainian cultural heritage. In the temporary occupied territories Russians loot museums, torture artists.
At some point art suddenly became a place for dialogue and is called to imagine peace at any price as an absolute value. Decoloniality as an approach aims to bring us to the world without violence. Maybe decoloniality is our way to the eternal peace? During the module Art as a Weapon and as a Target we will discuss the potential of decolonial thinking in emancipating from war-dependence this world suffers from. Visitors of the programme in Venice will also have the opportunity to watch two films related to the issue.
Programme:
8 October
15:00-15:15 Introduction Tetyana Filevska
15:15-15:45 Key-note Borys Filonenko. Art After Pacifism
15:45-17:00 Opening discussion: Art and War: Beyond the Obvious. Borys Filonenko, Kuba Snopek, Rosie Cooper. Moderated by Tetyana Filevska
17:15-18:15 Screening: Furqat Palvan-Zade. The Ball and the Polo Stick, or the Book of Ecstasy (rough cut) (23') followed by Q&A
9 October
14:45-15:00 Screening: Peace and Tranquility by Myro Klochko and Andriy Bondarenko (11')
15:00-15:45 Key-note by Daria Badior. The Power of Culture During the War: Who Will Watch the Watchmen
15:45-17:30 Discussion: Decolonising Art at the Time of War. Daria Badyor, Furqat Palvan-Zade, Maria Blyzinsky, Lia Dostleva. Moderated by Tetyana Filevska
Participants:
Borys Filonenko, co-curator of the Ukrainian Pavilion at the 59th International Art Exhibition of La Biennale di Venezia, art critic, lecturer, and editor-in-chief of IST Publishing (Ukraine)
Daria Badior, journalist, co-founder of the Union of Film Critics of Ukraine and the Coalition of Culture Actors (Ukraine)
Furqat Palvan-Zade, independent curator, researcher, and filmmaker (Uzbekistan)
Kuba Snopek, urban designer and writer (Poland)
Lia Dostleva, artist, cultural anthropologist, essayist (Ukraine)
Maria Blyzinsky, heritage consultant and independent curator, Curator Emeritus at the Royal Museums Greenwich (UK)
Rosie Cooper, Director of Wysing Arts Centre (UK)
Tetyana Filevska, Creative Director of the Ukrainian institute (Ukraine)
Location: Teatro Piccolo Arsenale
CAMPO DELLA TANA, 2169/F
30122 VENEZIA
Programme will be streamed online on the Ukrainian Institute Facebook and Youtube pages.
If you are willing to attend the event in Venice in person or have the chance to ask questions online please kindly register here.
Background information
The programme is an integral part of the Ukraine Pavilion exhibition project, supervised by the Commissioner Kateryna Chuyeva, Deputy Minister of Culture and Information Policy of Ukraine and curated by Lizaveta German, Maria Lanko, Borys Filonenko and will be held in collaboration with Ukrainian Institute, the participating artists and curators of other national pavilions.
The project will target a wide audience of Biennale Arte 2022 visitors, accredited professionals, and media.
Hosted by La Biennale di Venezia

Organised by
Ukrainian Pavilion
Ukrainian Institute
Partners
International Renaissance Foundation
Platform for interdisciplinary practice Open Place
Contact for media inquiries: press@ui.org.ua
---