Main — Culture — LV Stylist Digest: Domanoff - an energy outlet
Culture
LV Stylist Digest: Domanoff - an energy outlet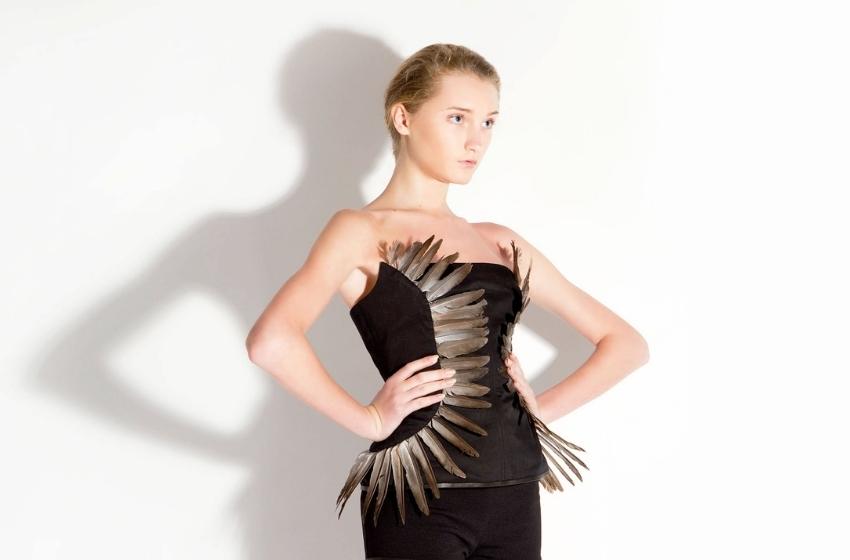 ---
Helen Labartkava-Verdi writes for The Odessa Journal a unique column, giving us her inside expert view on a city's most interesting brands.
She is founder of Labartkava Image Laboratory (stylist school), co-author of many fashion projects and producer of many advertisement campaigns in Ukraine and in Italy.
Helen is passionate everything about design and style, good wine and interesting people.
---
To say that I like these guys, their attitude to life, creativity and the product they create is to say nothing. I love them endlessly.
We established our brand in 2008 with a purpose to give our clients not just high quality clothes, but to raise the hope that our creation will reflect peoples' feelings.
The DOMANOFF team creates designs, which are able to catch and mirror the delicate shade of your feelings, and your mood. DOMANOFF is the clothing of a happy person, a person who is walking confident through the way of creation.
Searching for freedom, happiness through new emotions, and the sence of loneliness inside a big and crowded city — these emotional states of mind leads us, so you would receive unique and comfortable creations for your soul.
All we had was love for our work. All that moved us was the belief in the existence of our heroines

Dima Domanof
LV: Dima, tell us how it all began.
D: It all started in the post-student years when Alena (sister) and I worked together to create collections for a brand that was then successfully operating on the Russian market, but based in Odessa. We found the first and confident steps in working both with individual orders and on collections, we got to know the world and what a designer's work was at that moment in Ukraine.
We worked quite successfully in pairs and were not bad at finding solutions to the difficulties encountered in the process. We had a similar idea of ​​the approach to work, although we were different in temperament. The idea to create something joint was not born spontaneously. We thought about this for about a year. At first, they took up the creation of the form in cafes and restaurants. Thanks to friends, we received several corporate orders. We created stage costumes. And it is worth noting that we did the main work at night, when we were 19-20 years old. I think we deliberately missed the partying in the clubs and entertainment until the morning, for the sake of what was more interesting to us.
LV: Why do you say it was not easy and simple? Was your success a case or just the help of rich parents?
D: Absolutely not. We didn't even have our own equipment, and we didn't have any rich and wealthy parents behind us. All we had was the knowledge that we had chosen a job that we liked and in which we could be excellent specialists. The nights of the workers grew more and more and the dream became more and more real. Sometimes we had to hide that it was not our office that turned into the field of our creativity at night. We had individual customers as well as customers for wedding dresses, we already began to offer not just a picture from a magazine, but created very interesting and unusual, at that time, design solutions based on our preferences. Thus, experience appeared in creating a different assortment of products. This is exactly what we wanted so much: to try, in order to choose what the soul lies more with.
LV: Did you work endlessly as I understand it?
D: Yes, later we worked for several ateliers. We took measurements, cut and sewed special and complex products for them. Moreover, the two did not receive offers, they came to me then Alena. But we pulled each other into our adventures. so that it was not so boring to sit at night, we shared work and money. Clients came across completely different. Nice and not very good. We were happy to work with anyone and sometimes we had to win orders and prove that we are not ordinary tailors at a certain meeting.
LV: And when did the long-awaited moment come? How did this happen?
D: After the next order I approached Alena and said that I had accumulated a sum which was enough to purchase a sewing machine, an overlock and some other small equipment. Alena, in turn, also had stored some money. We decided that we had to try and create our own product and open an atelier. We knew right away that it would be a brand. We wanted to inform the world about our creativity, we wanted to create a product and decorate people not in the Odessa usual style.
LV: Did you understand what style of the brand you would be working in?
D: We had and still have an idea of ​​what a sense of style is in our understanding. But of course we understood much later about the product. By that time, I was studying at the University of Technology and Design and completed my design courses in Paris. but of course there was a lot of fear and uncertainty. We understood that we are not businessmen, we are creative persons. And with this the greatest tension was connected.
LV: The first studio at Malaya Arnautskaya street.
D: We took a chance and rented our first premises in Odessa on Malaya Arnautskaya street. We also had to look for money for rent through friends and luckily there were several people in our circle who believed in our success and the success of the company we were creating.
LV: Have you created things only for private customers?
D: We started working only as a studio. In our work, not only corporate clients appeared, but also factories such as (Gregory Arber) for which we created a women's knitwear line. We handed over not only the design taking into account the mass consumer, but also the entire structure and accounting materials. Certainly there was a lot in the work.
Difficult and absolutely penniless times gave way to quite decent ones. The first collections wasn't a collection at all. But we tried hard. Several times we planned to close beacuse of the fear that it would not work. I remember that sometimes the money for rent came just at the last moment and only a year and a half later came more or less stability, we decided to create our first full-fledged collection.
LV: Dima, which steps have you taken to popularize your brand? What can be considered the first success?
D: We have applied to participate in the Ukrainian Fashion Week in the New Names project. We were accepted. The collection was very wearable. We used an excellent fabrics. I think then it was already clear that DOMANOFF was about architecture, tactility, sensuality, love for detail. We really liked our clothes to live. To be used. I felt emotions. For the first show our soundtrack was Bjork music, then I was very attracted to this singer. Crystal tears flowed from the eyes of our models, and they came out in quite wearable and comfortable products. In fact, we created one big wardrobe for some art critic or architect. We received a very positive feedbacks. We sold all the units then and we managed to sell a couple of items to the factories. We got the first dose of high from the show and we didn't want to deliberately give it up anymore. We began to take part in seasonal shows at Fashion Week in Ukraine and so we ranked among one of the most popular brands in Ukraine.
LV: Have there been shows in the life of the brand that will be remembered for a long time?
D: One of the iconic shows was in the courtyard of the Philharmonic Theatre. Where is Bernardazzi restaurant patio. It was a seasonal show in which we opened the fashion week in Ukraine. "From back to black" - and the main idea was to create a girl-raven. It was mystical, chamber and very professional even at our minimal cost. We ourselves went and looked for everything we needed for the show. We collected the branches and painted them later. We created history and believed in it. Our Raven had to live its history as we saw it. After this show we came to an agreement with one of the best retail stores in Odessa, which represented such brands as Philip Lim, Haider Ackermann, Maison Martin Margiella, LGB, Ann Demeulemeester. Being sold alongside such brands was not just a dream for us, it was our goal.
LV: What do you think is your success?
D: We didn't build a brand to play. We didn't create a project. We made a product. High quality and creative. It was philosophy. In each collection we put a lot of symbolism and gave a part of ourselves. It was our energy outlet. We started releasing two collections a year and sometimes moved on to four. We created the CMHS line, more convenient products in a democratic price category.
LV: When it came to you to go outside Ukraine?
D: In 2015 we decided to move on and went to Paris. We took part in a trade show, we also tried ourselves in show rooms. Began to be sold in Belgium, America, Armenia, Russia. We made an agreement with a German agency that represented us for a year in their local show-room in Berlin.
We made a lot for an order and almost all the money we made invested in the shows and presentations. In 2017, we took part in Copenhagen Fashion Week and this became the motivation for us to become a part of the European fashion world.
LV: Do you want to conquer the world?
D: We do not want and did not want to conquer the world, bloggers or hype. We strive to seek and work for people who will appreciate our creativity and who are in the same tune with us.
LV: Dima, please tell us this fateful story with the name "we were flooded" and why the second F from the name of the brand has disappeared?
D: In 2018, the DOMANOFF brand changed its name. We removed the second "F" and changed our architectural logo to a more laconic one. And a year later we opened a studio in Kyiv after a turning point in our work. Before the show, for several months our studio in Odessa was flooded at the time of my vacation. The room where the fabrics were and most of the patterns were flooded to the ceiling. For me personally, it was the moment when I realized that everything is not forever. For several days I could not speak. And we planned to cancel all activities for a while. And they informed about what happened at fashion week. But what was our surprise when the participation was simply presented to us. And the new fabrics, our suppliers gave us with a boring payment. We finished the collection and showed it at Fashion Week, proving that we are professionals, and professionals know how to work in any situation.
LV: How has the crisis and quarantine affected the brand?
D: We have always experimented with collection stories and combinations, but we have always stayed true to our style and the decision not to make the third grade.
The crisis in Ukraine and in the world undoubtedly affected the brand and the plans that were once going uphill had to be compressed. The shops that represented us cut their budgets and later just closed. Searching for new points is not a matter of one day, and very quickly we had to reduce production volumes. To date, DOMANOF does not produce four or six collections. We limited ourselves to two. We are all very careful in our choice of fabrics and focus on sustainability. We also do several iconic collaborations. One of which is with Tesla representatives.
Alena and I do not think of leaving our business, even though we have been living in different countries since summer. But now we feel even more responsible. The DOMANOF brand has become international. I am in Copenhagen, the production is in Kyiv and small atelier in Odessa. We are ready for our new work plan and I hope 2021 will not interfere with this. We already have some ideas for presentations in Denmark and Sweden. We are certainly glad to continue our life's work and believe that a new expansion of the brand's geography is not far off.
LV: And from the completely unexpected, please us.
D: Also in 2021 we are preparing a completely new project and a new brand EAR which will produce home decor in the Scandinavian countries and probably in Ukraine.
---
Helen Labartkava-Verdi
Website | Facebook | Instagram
---