Main — Business — New passenger bridges by German company at Odessa International Airport
Business
New passenger bridges by German company at Odessa International Airport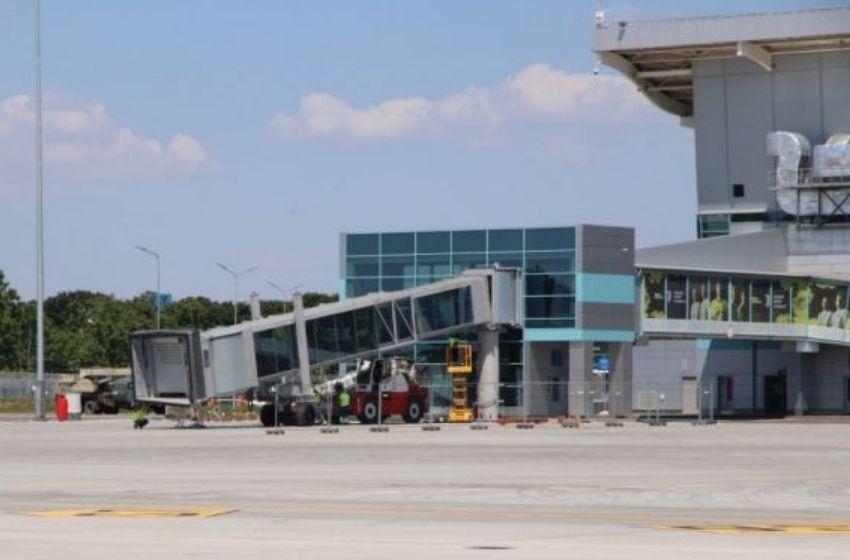 ---
The first passenger bridge with glass walls was installed at the new terminal at Odessa airport. Today, all over Ukraine there is only another one of this kind of passenger corridor: at the Kyiv airport.
---
The first telescopic gangway arrived to the Odessa airport was installed at the new terminal. This is a special corridor, also called a sleeve on wheels, which connects the airport building with the aircraft. Due to this connection, passengers do not need to go outside during boarding and disembarking. Odessa airport will use the new equipment for embarking and disembarking passengers on both international and domestic flights.
In total, Odessa airport ordered four bridges from the German company Thyssenkrupp. They were produced at the company's plant in Spain. Since the equipment is an oversized cargo, its transportation had to be coordinated with different countries.
In parallel with the installation of the first boarding bridge, specialists have already installed three columns to other landing galleries. The remaining sleeves will be attached to them by the end of the summer.
The peculiarity of Odessa boarding bridges is that they have glass walls. The passenger sees the surroundings on their way to the plane. There is only another one model of this gangway in Ukraine, at the Kyiv airport (Zhulyany). Other sleeves in Boryspil, Lviv and Kharkov represent an opaque corridor.
---