Main — Business — The first cargo trip of the newly built B5000M project vessel
Business
The first cargo trip of the newly built B5000M project vessel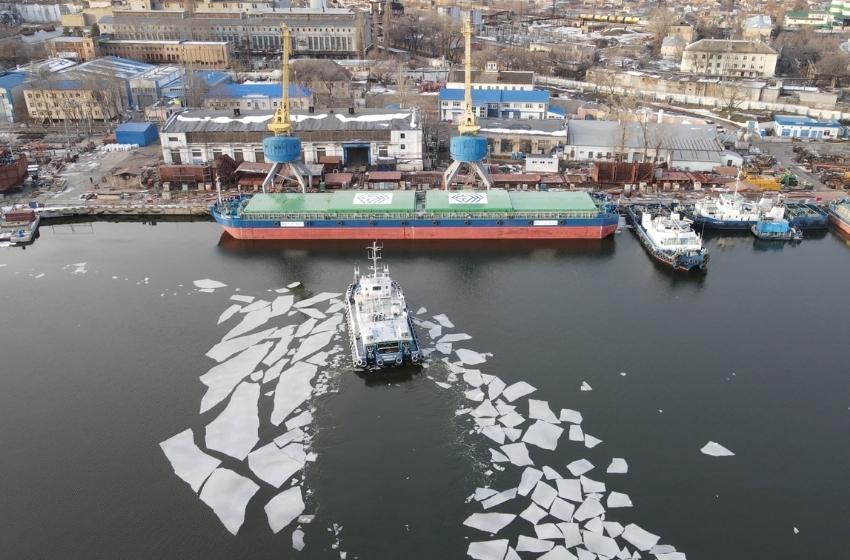 ---
The new non-self-propelled NBL-037M vessel, built at NIBULON shipbuilding and repair yard LLC, was loaded with its first high-quality corn at NIBULON's transshipment terminal in Mykolaiv. This was stated by the press office of Nibulon
---
Accompanied by the tug, the vessel started its first cargo trip to the Mykolaiv Sea Port outer roads (near Ochakiv town). The corn will be transshipped by NIBULON MAX to the foreign-going vessel to be then delivered to Spain.
The B5000M project vessel's technical characteristics are as follows: length – 101 m, breadth - 17 m, draught – 3.75 m, 2 holds with the total capacity of 7,000 cubic meters. It is a mixed river-sea navigation and ice class vessel. The fore and aft parts are modernized, thereby improving the vessel's navigability and maneuverability. Its cargo capacity of 5,000 tons is the largest among NIBULON's other non-self-propelled vessels. At present B5000M is the shipyard's most modern project among the non-self-propelled vessels built by the shipyard.
By increasing its fleet, NIBULON implements its national project to develop navigation along the Dnipro and the Southern Buh and increases the volumes of cargoes transported by waterways. In addition, this initiative removes trucks from Ukrainian highways and preserves roads. Making one cargo trip, 1 non-self-propelled B5000M project vessel removes the equivalent of 208 trucks from Ukrainian highways, and the shipping company's fleet with the total deadweight of 156,099 tons is actually used in place of 6,500 trucks.
The company has a wide range of fleet to perform operations depending on production tasks, navigation season, navigation area, and navigable ways. These are the modern tugs of various capacity used for various navigation (river, sea and mixed), non-self-propelled vessels with the capacity from 1.5 to 5 thousand tons, self-propelled and non-self-propelled crane vessels, as well as a dredging fleet. The vessels meet the requirements of the international and national standards, conventions and codes, such as the International Convention for the Safety of Life at Sea, the International Convention for the Prevention of Pollution from Ships, the State Sanitary Rules for Seagoing Vessels of Ukraine, and others.
This fleet enables the company to ensure the well-coordinated operation among its vessels during the navigation season, as well as its 12 high-tech river facilities and the company's sea transshipment terminal to transport cargoes and to render high-quality services to other Ukrainian companies which want to develop Ukrainian navigation.
In 2021, the company transported 4.15 million tons of various cargoes by Ukrainian rivers, and the fleet comprising 81 vessels enables the company to boost this result.
---