Main — Business — The non-self-propelled B5000M project vessel was launched at the Nibulon shipyard
Business
The non-self-propelled B5000M project vessel was launched at the Nibulon shipyard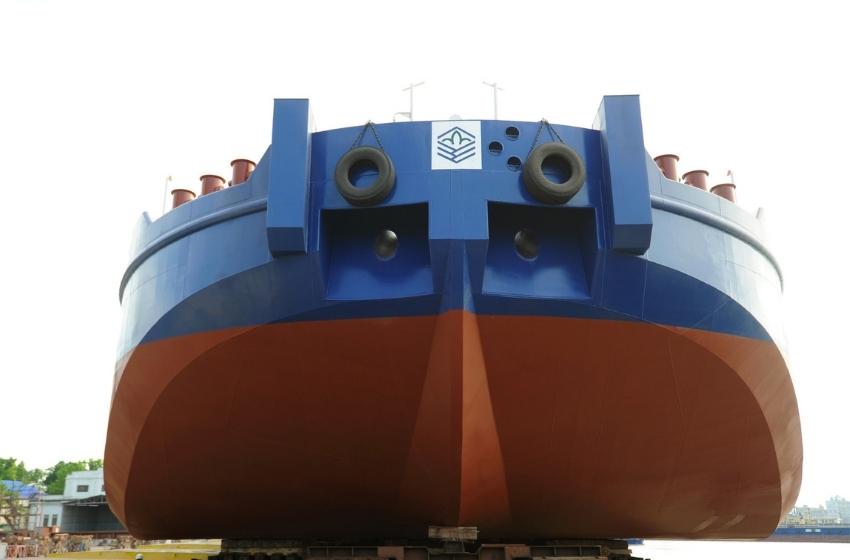 ---
Recently the first non-self-propelled vessel of the B5000M project, modernized by the shipbuilders and specialists of Nibulon shipping company was launched at the Nibulon GCC (Nikolaev).
Photo by Nibulon
---
The launch took place in a working environment, as work on the construction of the second vessel of this project does not stop near the berth.
Traditionally, the godmother of the new ship happily smashed champagne bottles on board. The honourable role was played by an experienced crane operator of the plant Olena Korneeva.
The B5000M project is a modernized non-self-propelled vessel, which the specialists of the shipyard and the shipping company Nibulon have improved in accordance with the experience of operating the vessels of the previous project on Ukrainian rivers, as well as the experience of American and European shipping.
The optimized design of the new vessel improves its passability and maneuverability, and a significant load capacity, 5,000 tons, allows you to effectively increase the volume of transported grain and export performance of the company. Accordingly, with the commissioning of such vessels, Nibulon's fleet is able to promptly deliver large shipments of cargo from the company's transshipment terminals on rivers and in Nikolaiev for an external raid and, as a result, increase river traffic and transshipment.
In just one flight, a caravan of two such hundred-meter vessels can carry up to 10,000 tons of grain. For visual comparison, such a load is equal to the simultaneous movement of 416 trucks. During the 2020/21 marketing year, the company transported 4.3 million tons of cargo along the Dnieper and Southern Bug rivers, so about 180,000 trucks did not pass through Ukrainian highways.
According to the technical characteristics, the vessel of the B5000M project has a length of 101 m and a width of 17 m, a draft of 3.75 m, 2 holds with a total capacity of 7000 m3 and a cargo capacity of 5,000 tons. The navigation area of ​​the vessel is mixed (river-sea).
In the near future, the ship moored near the berth of the plant will be completed to install coamings of holds, hatch covers and deck mechanisms.
Upon completion of all works, the first vessel of the modernized project will be handed over to the company Nibulon. With its commissioning, the company's fleet will include 83 modern vessels of various classes and purposes, capable of operating at any time of the year.
---