Main — Culture — Ukraine in the focus of Stockholm Women's International Jazz Festival
Culture
Ukraine in the focus of Stockholm Women's International Jazz Festival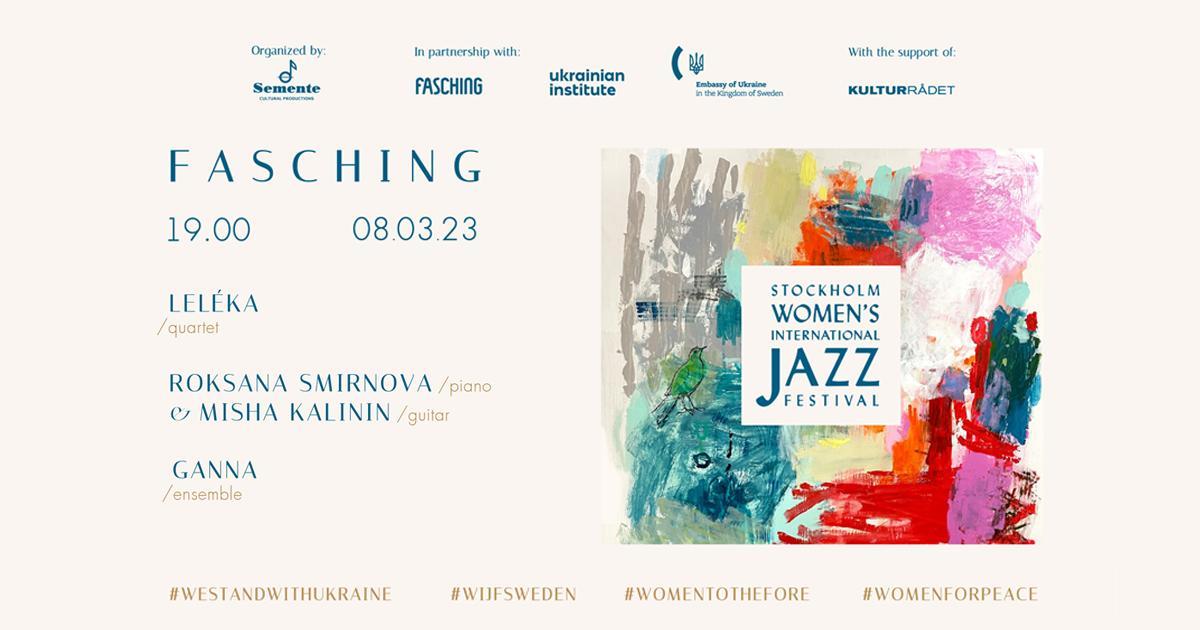 ---
After 5 years, the Stockholm Women's International Jazz Festival 2023 edition for the first time in the festival's history will devote its full programme to one country: Ukraine. In collaboration with the Ukrainian Institute and the Embassy of Ukraine in the Kingdom of Sweden, the festival has selected 3 Ukrainian bands: LELÉKA quartet, duo of Roksana Smirnova and Misha Kalinin, and GANNA Ensemble. 
---
Semente Cultural Productions as a sign of solidarity with Ukraine dedicated the program only to Ukrainian performers. In this way, they want to support not only the ones who are generally under-represented on stages but also those whose voices are silenced and whose culture is threatened.
The Festival partnered with Fasching Jazz club, which will host a special exhibition of Jenny Svenberg Bunnel's sketches from all our 4 past Festival editions. She had the opportunity to draw live all the artists who passed on the stage. To Jenny, the Festival also commissioned the painting used for this year's Festival edition official poster. An original piece of art entitled "Peace" will go to auction that night, in order to collect money in support of the Ukrainian refugees in Sweden.
In the spirit of collaboration and support, the festival invited Knutpunkt, a network of 21 concert organisers in the western part of Sweden, to book more gigs for the Ukrainian artists invited to play on our stage. In this way both sides will be given the possibility to meet and, at the same time, to extend the artist's audience and the promoters' artistic offer.
When: Wednesday 8th March 2023
Tickets: here
---
About Ukrainian artists: 
LELÉKA quartet
Line up:
Viktoria Leléka (UA), voice, composition
Povel Widestrand (SE), piano
Thomas Kolarczyk (DE), double bass
Jakob Hegner (DE), drums
LELÉKA is a young multicultural Berlin-based quartet around the Ukrainian singer Viktoria, whose voice determines the character and atmosphere of their music. The wide range from dynamic grooving passages to tender folk music ballads finds the perfect setting in a contemporary jazz vernacular, which the quartet has developed into a diversified concept. LELÉKA is a successful example of a young formation that occupies a well-considered place within this borderline-smashing genre. This exceptional position in the world of music made them laureates of the Creole Global Music Contest Berlin, Munich Young Jazz Preis, the European Jazz Award Burghausen, or nominee of the German Jazz Award as "Band of the Year 2022".
ROKSANA SMIRNOVA, piano, composition
& MISHA KALININ, guitar, composition
Over the last seven years, Roksana and Misha have been developing their duo sound. The result inspires a ride through an imaginary world of landscape and story. The combination of Roksana's delicate yet playful piano playing with Misha's atmospheric soundscapes creates a unique, almost unidentifiable new ensemble sound that eludes genre. Their performances feature original compositions by both members of the duo. The music brings together strongly contrasting elements: spacious impressionistic sound, improvisational interaction, dynamic rhythmic structures and sounds dissolving in silence.
GANNA Ensemble
Line up:
Ganna Gryniva (UA) – voice, loops, effects, compositions
Bill McHenry (USA) – Tenor saxophone, Soprano saxophone
Povel Widestrand (SE)– piano
Tom Berkmann (DE) – double bass
Mathias Ruppnig (AT) – drums
GANNA is the international ethnic jazz ensemble from Berlin for which Ganna composes and arranges. As the voice of Ukrainian resistance, GANNA's artistry is as beautiful as it is heartbreaking. A powerful blend of reinterpreted Ukrainian folk songs and modern jazz. Inspired by several musical research trips to different regions of Ukraine, GANNA awakens Ukrainian folklore to a second spring and takes the audience on a journey. Since 2015, the band has been performing all over Europe, delighting audiences at various festivals, opening for Avishai Cohen (tr) and Gerald Clayton. On 30 November 2022, BERTHOLD records released GANNA's new album HOME. 
---