Main — Diplomacy — UNICEF provides Ukraine with 30 vans for transporting vaccines and more than 1.5 million doses of various vaccines
Diplomacy
UNICEF provides Ukraine with 30 vans for transporting vaccines and more than 1.5 million doses of various vaccines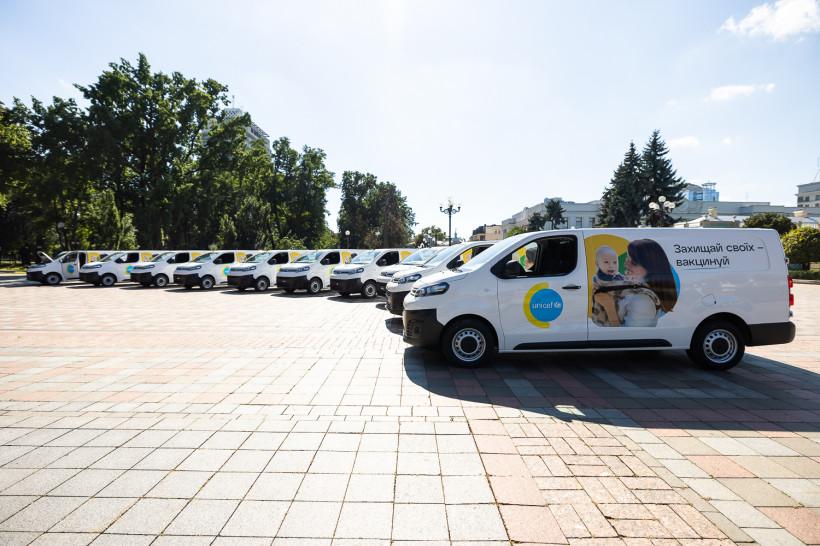 ---
The United Nations Children's Fund (UNICEF) is handing over 30 vehicles to Ukraine for the transportation of vaccines for all regions of the country. The first batch of 10 vans was transferred by UNICEF Executive Director Catherine Russell during her official visit.
"Vaccines in Ukraine are transported and stored in strict compliance with the requirements set by the manufacturer, despite the challenges to the healthcare system brought about by the full-scale invasion of russia. The provided refrigerator vans are our next stage in the improvement of the cold chain, which will allow not only to quickly deliver vaccines to the regions that need them, but also, taking into account the involvement of the Centers for Disease Control and Prevention of the Ministry of Health of Ukraine in this process, to use immunoprophylaxis more effectively. In this way, we will be able to ensure uninterrupted access to vaccines in each individual healthcare facility. The first pilot delivery of vaccines to the Centers for Disease Control and Prevention will be launched in Lviv region in the near future," said Minister of Health of Ukraine Viktor Liashko.
The provided vans are equipped with special refrigerators with a volume for transporting vaccines of 4 cubic meters under a temperature regime of +2...+8 С˙, which will allow delivering the required supply of vaccines to any healthcare institution within the region.
Ukraine is also starting to receive vaccines purchased by UNICEF with funds from donors - the United States Agency for International Development (USAID) and the Japanese government. These are vaccines against poliomyelitis, diphtheria, tetanus, measles-rubella-parotitis and rabies. In general, Ukraine will receive more than 1.5 million doses as humanitarian aid.
"During the war, the risk of spreading infectious diseases increases significantly. That is why it is so important to vaccinate children and adults on time. UNICEF continues to support Ukraine at this critical time to reduce the terrible consequences of war for people," said UNICEF Executive Director Catherine Russell.
It should be noted in 2021, the Ministry of Health in partnership with UNICEF and with the support of the US government and the World Bank started updating the refrigerator equipment for transporting and storing vaccines. Thermal containers, thermal bags, cooling elements, and temperature monitoring devices were delivered to Ukraine. This equipment is used for transportation and storage of COVID vaccines as well as vaccines provided by the national calendar of preventive vaccinations.
---