Main — Culture — Five French immigrants in Russian Empire
Culture
Five French immigrants in Russian Empire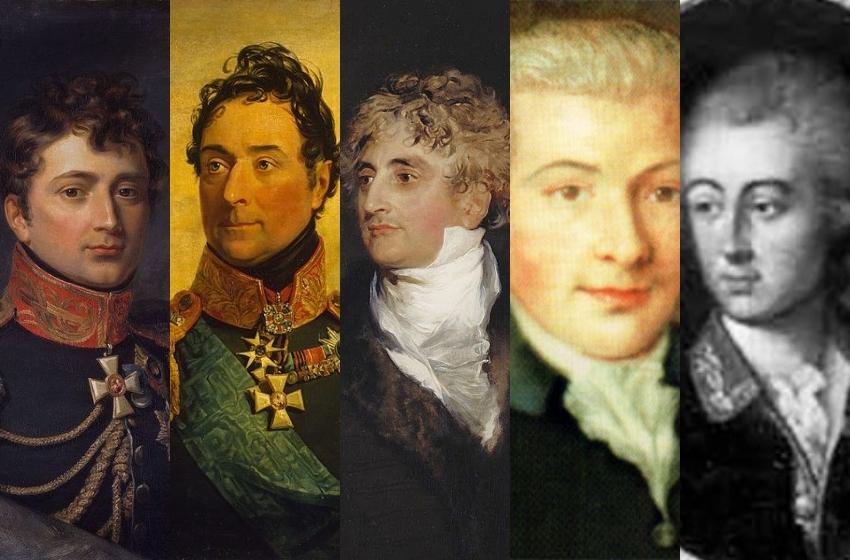 ---
Drawing up the history of Novorossia, breeding mussels, draining swamps, building theaters, wars and other important matters that the French, who fled from the revolution, were engaged in the South of the Russian Empire
---
The first French aristocrats began to leave their country starting from July 1789, but mass emigration began in the summer of 1791, after King Louis XVI tried to flee Paris. Artists, politicians, architects, writers, military men and scientists left; their houses were burned, and their property was confiscated and sold.
Anyone who left France at this time was put on the emigration lists, and returning to the country was closed for them. They moved mainly to England, Prussia, Switzerland, Germany, Italy, Spain, USA and Russia. According to various estimates, during this period from 100 to 150 thousand people left France. The Russian Empire ranked second in the number of admitted French emigrants.
Armand Emmanuel Sophie Septemanie de Vignerot du Plessis, 5eme duc de Richelieu
Mayor of Odessa, Governor-General of Novorossiya and Bessarabia
The Duke of Richelieu was born on September 13, 1766 in Paris, into one of the most famous aristocratic families in Europe; he was a descendant of Cardinal Richelieu, Secretary of State and Minister Louis XIII. Biographers write that by the age of fifteen the duke was brilliantly educated and knew several languages.
In the same fifteen years, young Richelieu was married to the daughter of the Duke de Rochechouard Rosalie, according to contemporaries, a hunchback of small stature. In 1790 he voluntarily went to storm Izmail, after which Potemkin took him to serve in the Russian army. After that, he tried several times to return to France, but, having learned that his property was confiscated and the return was no longer possible, he left for Russia again.
In 1803, Richelieu (in Russia he was called Emmanuel Osipovich de Richelieu) was appointed as mayor of the then small city of Odessa, and in 1805, Governor-General of Novorossiya and Bessarabia. Under him, customs duties were partially abolished in Odessa (it was he who first proposed introducing a Porto Franco zone in the city, that is, the right of duty-free import and export of goods), the city became the administrative center of Novorossia and the main port of the Russian Empire on the Black Sea. In addition, Richelieu actually rebuilt Odessa: new streets and gardens were laid, a cathedral, a church, two hospitals and a theater were built, several lower educational institutions and a commercial gymnasium were opened.
In 1814, with the Bourbon Restoration, the duke finally returned to France and became prime minister of the government of Louis XVIII and a member of the French Academy. Richelieu had planned to come to Odessa again, but did not have time: he died in Paris on May 5, 1822.
---
Gabriel de Castelnau, baron d'Auros
Author of a fundamental work on the history of Novorossiya
Baron de Castelnau was born in Bordeaux in 1757; before the revolution, he worked as a lawyer and advisor to the parliamentary chamber of inquiry. In May 1791 he was forced to leave France. Three years later, his property was nationalized and sold. De Castelnau first went to England, then to Germany, and in 1797, at the invitation of Paul I, he moved to St. Petersburg, where he became known as the Marquis de Castelnau. There were indeed marquises in his family, but they belonged to a different branch (he began to be called marquis only in Russian documents, but in France he remained a baron).
On November 28, 1798, de Castelnau became involved in censoring French performances that were staged at court. Some biographers suggest that in addition to this, Castelnau was the personal secretary of Paul I.
After Paul's death, the post for the Marquis de Castelnau was abolished, and he moved to the village of Dalnik near Odessa. There he began to raise sheep and, on Richelieu's personal instructions, write the history of Novorossiya; an extremely thorough work, which cites not only ancient and contemporary European historians, but also many sources that have not come down to us.
In 1810, Castelnau tried to return home - by this time an amnesty decree had already been issued in France - but the consideration of his documents for some reason was delayed for two years. During this time, Russian-French relations came to a critical point, and return again became impossible.
After the Restoration, Castelnau left for Paris after his friend and patron Richelieu. There he became a Knight Commander of the Order of St. Louis, officially received the title of Marquis and a place in the archives of the Department of Foreign Affairs. Finally, in 1820, three volumes of his essay about Novorossiya were published with a lengthy title "Experience of the ancient and modern history of Novorossiya. The statistics of the provinces that make it up. The foundation of Odessa, its successes, its present position; a detailed description of her trade. Travel to Crimea... With maps, views, plans, etc.".
The last years of the Marquis's life were spent in seclusion; he was not married and had no children, at least legitimate ones. The Marquis de Castelnau died in December 1826.
---
Count Louis Alexandre Andrault de Langeron
Governor-General of Novorossiya and Bessarabia
Langeron was born on January 13, 1763 in Paris. Like most nobles of the time, he entered the military and took part in the American War of Independence from the British Crown.
In 1789, the Prince of Nassau-Siegen, a French aristocrat and admiral of the Russian fleet, who at that time led the rowing fleet in the Gulf of Finland, invited the young Colonel de Langeron to join the Russian army. He accepted the offer and at the beginning of 1790 left for Tsarskoe Selo. He became a participant in the Russian-Swedish and Russian-Turkish wars, then, having received news of his wife's illness, he went home, but did not have time to get to France: his wife died while he was on the road.
Then, Langeron went to Vienna, where he met the Duke of Richelieu and went with him to storm Izmail. Then, under the leadership of Grigory Potemkin, Mikhail Kutuzov and Prince de Condé fought on the Danube, the Caucasus, Holland and Prussia, took part in the battle of Austerlitz and eventually received the rank of general from infantry.
In November 1815, after 40 years of military service, Alexander Fedorovich Langeron replaced Richelieu, who had left for Paris, as the mayor of Odessa and the governor-general of Novorossiya. He finally managed to achieve the status of Porto Franco for Odessa; under him, the first city newspaper appeared in the city, a botanical garden was laid out and the Richelieu Lyceum (the second in Russia after Tsarskoye Selo) was opened, and an institution of artificial mineral waters was opened in the city garden.
Count Langeron died on 4 July 1831, during a cholera epidemic.
---
Jean-Baptiste Prévost de Sansac, marquis de Traversay
Chief Commander of the Black Sea Fleet, Military Governor of Nikolaev and Sevastopol
De Traversay was born on the island of Martinique on July 24, 1754. From the age of twelve he served in the navy and was considered one of the best naval officers in France. In October 1790, after the revolutionaries set fire to his castle, Traversay left for Switzerland, where he received an invitation from Catherine II to come to Russia.
In Russia, becoming Ivan Ivanovich de Traversay, he first served as rear admiral, then was appointed the chief commander of the Black Sea Fleet, and on March 20, 1805, he became the military governor of Nikolaev and Sevastopol. He created an independent administration of these cities, independent of the Kherson province. Under Travers, a botanical garden, a theater, a craft department, a cartographic bureau with a printing house, a library, a cabinet of antiquities and a naval school for orphans appeared in Nikolaev, the first coat of arms of the city was approved and a pontoon bridge was built. The Marquis also proposed a project for the development of Sevastopol, which was not implemented at that time due to lack of funds, but in the 1830s and 40s, some of his ideas were nevertheless implemented.
Traversay kept repeating all his life that Russia "saved him from poverty" and learned Russian, but he never spoke Russian well. In 1811, he refused Napoleon's invitation to return to his homeland and take command of the fleet, transferred to Russian citizenship and became a naval minister. He also rejected the offer of Alexander I to receive the title of count, wishing to retain his ancestral title.
In 1819, Traversay was preparing the sloops "Vostok" and "Mirny", on which Antarctica was discovered a year later. Under his leadership, the expeditions of Vasily Golovnin, Ferdinand Wrangel, Otto Kotzebue, Fyodor Litke and Peter Anjou were prepared, thanks to which previously unknown boundaries of a number of territories, for example, the northern coast of Siberia, were mapped. Thanks to the Frenchman, notes by Russian sailors began to be published for the first time on the pages of Russian magazines.
On March 29, 1828, Traversay retired. He spent his last three years of life one hundred and ten kilometers from St. Petersburg in the village of Romanshchina.
---
Armand-Charles-Emmanuel de Guignard, comte de Saint-Priest
Kherson and Podolsk governor
The younger brother of Viscount Guillaume Emmanuel Guignard de Saint-Priest was born in September 1782, presumably in Constantinople, and in 1791 emigrated with his family to Russia, where they began to call him Karl Frantsevich de Saint-Prix. At first, like his brother, he served in the Russian army, then in the rank of chamber-junker he was under the military governor of Novorossia and Bessarabia, the Duke of Richelieu. He headed the Odessa Commercial Court, held the post of civil governor of the border Podolsk province and in 1818 became the governor of Kherson. Saint-Priest was respected and loved in Russian society. He spoke Russian quite fluently and correctly.
Thanks to him, the first inpatient hospital was built in Kherson (now a regional hospital is located on this site) and a pier, an embankment was equipped; according to his project, the swamps in the city were covered. In addition, he began to breed mussels and oysters on the Black Sea coast and develop sheep breeding.
In 1821, the former governor returned to France and took over his father's place in the House of Peers. Saint-Priest died in June 1863 at the age of 80.
---