Main — Без рубрики — Interview with the new Norwegian Ambassador to Ukraine Erik Svedahl
Без рубрики
Interview with the new Norwegian Ambassador to Ukraine Erik Svedahl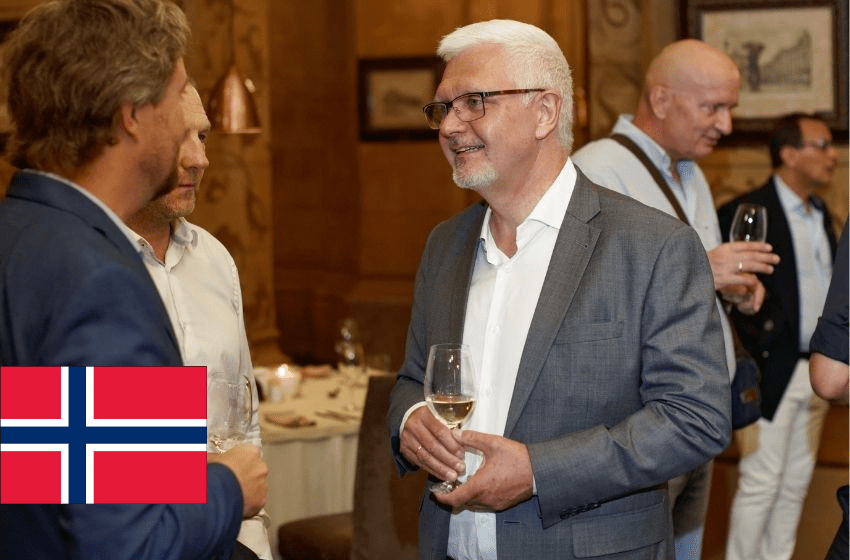 ---
In March 2020, the Council of the King of Norway appointed H.E. Erik Svedahl Ambassador to Ukraine. The Norwegian diplomat was in Odessa for a private visit, before starting his new assignment in Kyiv, and accepted to answer our questions on his career and personal tastes.
---
You are the new Ambassador of the Kingdom of Norway to Ukraine. Is it the first time that you visit Ukraine?
It is not, actually, my first visit in Ukraine, but when I started to learn Russian my second trip to the Soviet Union was to Yalta, which was in 1985, so technically I have been in Ukraine before, but this is certainly my first visit to modern independent Ukraine.
Is the decision to represent your Country in Ukraine yours? Can an ambassador choose where to go?
An ambassador can certainly choose where to go. We are a flexible foreign service, so when it is our time to serve abroad we make a list of choices and my number one on my list was Ukraine.
What made you decide to start a career in diplomacy?
It was like that. I was generally interested in languages, as a school student. So I started to learn English, French. But then I realized that I did not want to become a French teacher in some high school, so I needed to do something special. This was in the 1980s. So I decided that Russian must be a very useful language to know. So I started learning Russian, at the University. I went to Russia for training some seasons. Initially, I started as a translator, interpreter. And then the 1990 came, Soviet Union collapsed, Norway and Russia became very close in cooperation and the Foreign service needed people who spoke Russian. So, I decided that it would be an interesting career. Because of my Russian language skills.
Where did you work before?
In the Foreign Service, we opt between working in the Ministry in the capital and in different posts abroad. My first post was in the embassy in Moscow, then London, then I went back to Oslo to work for few years, then I went to Beijing (China). From there to Bangkok (Thailand) and then back to the Ministry again in Oslo. Then, I went to the Consulate General in Murmansk (Northwest Russia). Then, here to Kyiv.
Can you tell us a story of an event happened to you that you like to remember?
Before joining the Foreign Service, I was interpreter in the Norwegian embassy in Moscow. This was at the end of the 80s. You know, the "Nobel Prize for Peace" is awarded by the Norwegian Nobel Committee and, that year, the Soviet Physicist Andrey Sacharov won. But he was exiled in Moscow and was not allowed to go to Oslo to accept the Prize. But in the late 80s, when Gorbachev was in power, it was more relaxed, so a lady, who was the Chairman of the Nobel Prize Committee, came to Moscow to see Mr Sacharov for the first time. The meeting was held in the Embassy. I was the interpreter of that conversation between the Chairman of the Norwegian Committee and Andrey Sacharov. That meeting was unforgettable.
When an ambassador is particularly proud of the job done?
You know, our job as a diplomat is a not so much noticeable. We do a lot of things behind the scenes, that people cannot see, like we talk to Governments, we solve problems before they appear on the newspaper and we help our citizens in the Countries before they get into serious troubles. So, we try to solve problems at an early stage. So I think, when an ambassador is happy with what he has done, is when he has prevented something from becoming a big problem or a scandal or a big newspaper story.
If you were born again, whom would you like to be?
I always dreamt to be a professional footballer. But it never happened. Yes, I think I would like to be a very successful football player and make a lot of money.
Is there a song that you never get bored of listening?
I am very fond of the electronic music. So, I would say there is a Norwegian band called Röyksopp, they made an album in 2002, which came out when I was serving in London and I have many memories from the songs from this album. Maybe, the Röyksopp's album "Melody A.M." it's my choice.
In case of nuclear cataclysm, is there a book or a movie you would save?
"Catch-22" by Joseph Heller.
A journey or experience that you would like to do, but never had the time to do it.
There are many places still on my pocket list, where I would like to go. If I had to choose, I would like to go to the Middle East, Egypt and Israel. Not because I am religious, but it has a lot to do with the background, in which I grew up with school and religious education. So, I want to see those places.
They will publish a book on your life. Which will be the title?
"The Diplomat"
A dream of yours not yet come true.
Grandchildren. We have three daughters, but none of them has any children, yet.
---