Main — Culture — Interview with the French composer Pierre Thilloy
Culture
Interview with the French composer Pierre Thilloy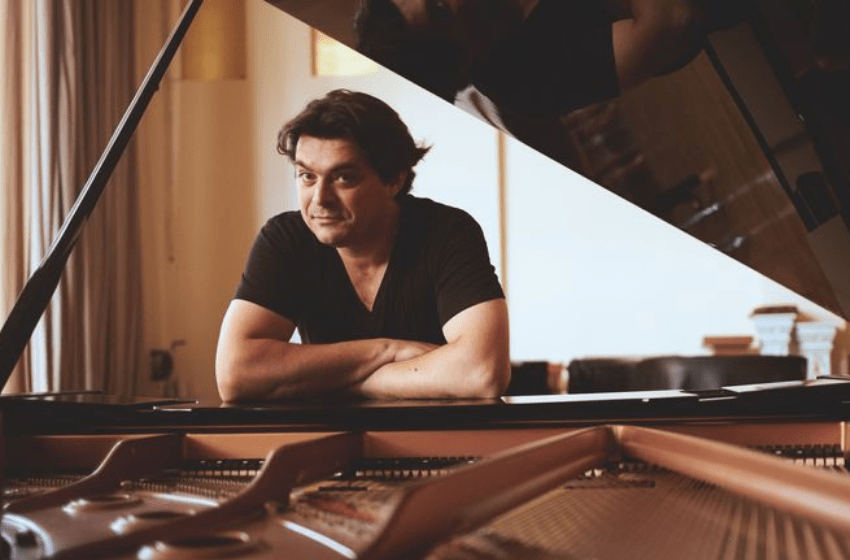 ---
The French composer Pierre Thilloy visited Odessa and organised a concert at the historical Hotel Londonskaya, with the support of the Odessa office of Alliance Francaise. The musician accepted to be interviewed by our Editor-in-Chief Ugo Poletti.
---
What is the relationship between the forced silence of the year of the international pandemic, when our world has been locked down at home for a long time, and the music?
It's a pretty strange question. I thought about it a lot because the composer is very often used to being lonely, and I realised that ultimately my mode of working was a form of confinement. That is, to create, we isolate ourselves from the world; therefore the confinement was less harsh. But at the same time it was something very strange, because for the first time I saw the world in a fragmented way. And here I felt like I saw the world stopping and moving very slowly. And I think that was really the situation of a still world. To freeze a community it is tragic for mankind.
But at the same time there is something fascinating in that. Something you can experience only there. We experienced an appetite and at the same time a decline. It's very contradictory. With regards to the music, we the composers have a grammar, an orthography of silence, because we write the silence. And so this imposed silence forced us to question the place of silence in music. All of a sudden we were forced to do what it is usually imposed on us during the composition.
We are used to the image of the composer physically installed in his environment. But do you described yourself as a travelling composer. What does it mean?
I believe that the composer who is installed in a form of comfort is a misconception. The composers that fascinate me are people who were itinerant travellers, who were looking for what they did not know. Who went towards other people. For example, when we go into the classical tradition we are very attracted to Johann Sébastian Bach. He was a traveller. Someone who had a form of permanent pilgrimage. Those times, they didn't have the plane, they couldn't leave for few hours. They would go away for years, for the desire to go towards the others.
I think I had this moment of telling myself that I cannot write something universal without reaching out to other people and understanding them by myself. If we claim to have a universal commitment, we must travel as much as possible because people are the only wealth. We exist only due to other people.
Have you received any inspiration from Ukraine and Odessa?
It's very special. In Ukraine I received very powerful things. But in a very contradictory way, every time. For example: the first time I was in Kyiv I visited the catacombs. This is also one of the movements from Mussorgsky's "Pictures of Exhibitions" and then I said two things to myself: at fifty years only I had just understood the music of Mussorgsky's "catacombs"; secondly, none could understand Mussorgsky without coming to Ukraine. It is scaring in a certain way, because it is bringing down a kind of intellectual moth.
That was the first big shock, and the second one was yesterday, when we got off the tram after a little tour of Odessa. It was like a glance: this is a city where, without knowing it, I felt comfortable, where I could live at any time. I think about retirement sometimes, but from a spiritual and philosophical point of view. Where can I end my days? When you are a composer, I think that the act of creating is a kind of playing in front of the death, how to resist, how to overcome death. And therefore, Odessa is a place where I can stay and spend this time, because in this place I felt a sort of happiness. Maybe, it was something of my fantasy, intellectualized with readings, meetings, a form of well-being, maybe something mystical.
Why the choice of the Ukrainian composer Nikolay Skorik at the start of your concert in Odessa?
Because in fact, two years ago, just before this strange time of the Covid, we had a concert within the "French Spring" programme, and for tradition, when I travel a lot, I always choose a local composer for the event programme. Something for me so obvious, if I go to a country, I am not there to say we are French, we are the best. Each time I ask the musicians to play one, two, three pieces by a composer from Ukraine to say: thank you for welcoming us; we came to you and you hosted us. The audience is Ukrainian, we need you and so we pay attention to your culture. And I think that's the best way to build real relationships and real respect.
Therefore, we played Skorik's music at that concert and he came. And when I heard that he had passed away, I thought to myself that we had to pay a tribute to him. To a person who paid attention to us and came personally to the concert.
In your art you use the images of gastronomy, modern circus and silent cinema. Explain to us how it works and it influences your music.
In gastronomy, what it is interesting for me is the appetite, that is this enthusiasm for flavours, taste, sharing and also the "Gargantua" concept, a form of excessive appetite, that means enjoying life to the extreme, or "carpe diem". As far as cinema is concerned, there is a form of listening to music that is similar to cinema experience. Every time we hear music, it is the listener who creates his own film. And so I always say that we are all composers of music of invisible films: our listeners' life stories. It means that if there are 150 people in the room, there are 150 simultaneous films, a kind of patchwork, a human mosaic and that is a strength. At that time, I am conscious I am writing music for the invisible film in us.
What about the aesthetics of 21st century music? What is the musical direction of the world? What music are we going to listen to?
The 20th century was a period of violent and fratricidal wars. In the century we had space, but not a lot of freedom. It was a form of acceptance of plans from different worlds. And such a strange combination, it was probably the result of research. That is, we were at the end of a sort of voice, which was the cultural movement of the avant-garde, but we realised that we had lost a lot of public along the way. Without the public we don't exist. And so there is not a turning back but a questioning.
I noticed one thing, which appeared since ten to fifteen years: a return of musical heritage. We no longer hesitate to say that something is popular: I heard a beautiful song and it was so beautiful that I am composing around it. And indeed we are in the process of rediscovering the whole tradition of the composition. That is, music is organising around popular heritage. And I have the impression that, in the 21st century, we will see a return to that heritage and, secondly, a return to the form of sacred tradition. Music has a social role. This is why sacred music has formed both great music and opera lovers. We started from the sacred music that it became after concert music. But at the start, it represented a kind of sacred universe that in my opinion is coming back very strongly.
You travel all over the world. As a Frenchman, what do you bring from French culture to the world?
That's a very complicated question, because very often when you get to somewhere, the French have a reputation that is not necessarily always good. It's weird. We are fascinating and at the same time we are irritating. I can say this very easily, that this is also a problem of all the countries of old Europe. France, Italy, Germany, Spain, Austria, Portugal have imposed their traditions on the whole world. And so, when I come to some place, I always tend to say: I'm sorry, I know that we (the French) know about everything. But, I'm curious about you, I need to know you. So, maybe I'm bringing an old image of ​​France, but it's not only that. The French but also the Italians and Spaniards brought a softpower, long time ago. And I think that I travel a lot, because I need to feed myself from the world, because music is a universal commitment, so we have to go towards this universality.
The most important thing is about silence. The most beautiful moments of my life are in the silence. I had extraordinary meetings, where there was nothing to say, no words indeed. Just a silence to appreciate the fact of discovering a person or a place. Maybe, it is my imagination to say: we, the French, we have a particular form of thinking, which is not superior to others, but which is ours and who is admired despite everything, but from the other side is in contrast with our arrogant side, which is detestable but, at the same time, is part of us. I think it is a legacy of this Europe of Enlightment, that inevitably brought us together.
Anyway, if I happen to have new friends, who I didn't know yesterday, and who want to see me again, when I come back, then I think that I have improved the image of France. And I have counterbalanced this new diplomatic vision, a form of international trade today, tied to money and politics, things that we do not imagine. Finally, this is the duality that I carry with me when I travel. This two feelings of superiority and humility together, which are with me, when I go towards other people.
Imagine that you had to show characteristic elements of French culture (book, film, song, painting, actor, dish, monument). What would you choose?
It is complicated. Perhaps a dinner with very simple dishes but at the same time fundamental: a "poule au pot", with a Camargue sea urchin and a French wine, a book by Proust, conversation about what we are going to eat in the next time when we see each other. That's what I think is the French like. Literature more than music. Maybe, we intellectualize too much, but we like to write literature even when we eat. It is the letter, the spirit of the verb, in all that we do, that we see and that we think. It's a default, but it's also what makes it our primary characteristic.
If you were reborn, who would you like to be?
It's going to be very contradictory. I would like to be again who I am.
In the event of a nuclear cataclysm, is there a book or a movie you can save?
The Bible. This is the greatest fantasy, romantic, erotic novel, it is an absolute.
A trip or experience that you would love to take, but never had the time to do.
Leave for the North or for the South.
They will write a book about you. What is the title?
Faust, the pact.
One of your dreams has not yet come true.
To do a concert on the moon.
---