Main — Business — Denys Shmyhal: Ireland supports Ukraine's accession to the European Union
Business
Denys Shmyhal: Ireland supports Ukraine's accession to the European Union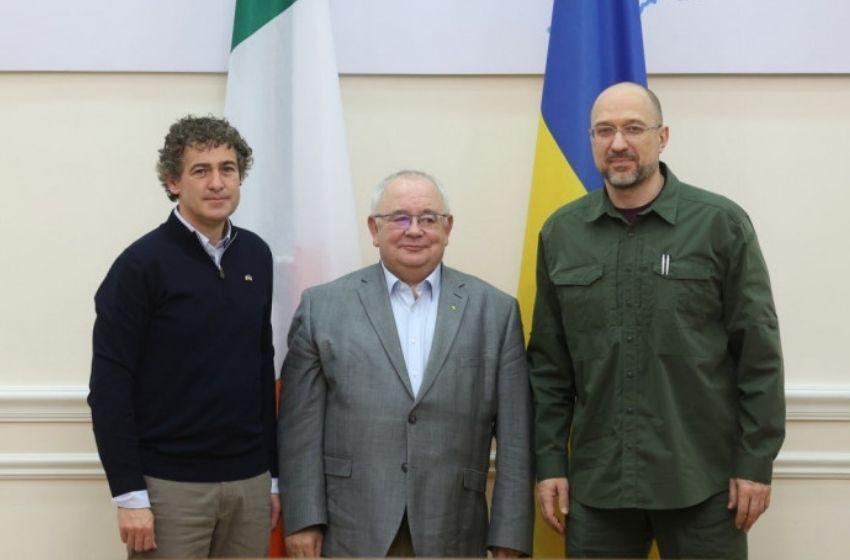 ---
On May 20, the Prime Minister of Ukraine Denys Shmyhal met in Kyiv with the Chair of the Upper House of the Irish Parliament Mark Daly and the Chair of the Lower House of the Irish Parliament Seán Ó Fearghaíl.
---
The Head of the Government of Ukraine stressed that this visit is a demonstration of strong support of our country from Ireland.
Ukraine appreciates this support, because here we are fighting against the Russian aggressor, defending our freedom and European values.

Denys Shmyhal
The sides tackled the global challenges posed by Russia's full-scale invasion of Ukraine, including the enemy's efforts to create food and migration crises. The Head of Government said that Ukraine was cooperating closely with the United Nations in the humanitarian sphere, in particular on the supply of food, water and medicine to areas in dire need. The Prime Minister thanked Ireland for its humanitarian, financial and military assistance.
Moreover, Denys Shmyhal raised the issue of demining the territories of Ukraine and called for any support in this direction.
During the meeting, the Head of the Ukrainian government briefed the chairs of the Irish Parliament on the work on the Recovery Plan of Ukraine. He stressed that the European Union plays an important role in this process.
"The European Commission has announced the creation of a special trust account and a special recovery plan for Ukraine. We are also working on a U24 Recovery Plan. We have already talked with our partners about two future principles of Ukraine's reconstruction: regional and parametric,"said Denys Shmyhal.
According to the Prime Minister, the regional principle will be to help our partners rebuild a particular region, city or community. And parametric will mean that the restoration will take place according to modern parameters and standards of the European Union.
Denys Shmyhal dwelled on that future membership in the EU is an important issue for Ukraine.
Supporting Ukraine in granting candidate status and full membership in the EU is very important for our society. This is the civilizational choice of our people. We are grateful to Ireland for the support and advice you provide on the path to our European integration. I am convinced that Ukraine's accession will strengthen the European Union.
The Chair of the Upper House of the Irish Parliament Mark Daly assured that they will continue to be advocates of support for Ukraine's application for EU membership and do not doubt a positive decision. For his part, Seán Ó Fearghaíl, Chair of the Lower House, thanked the Ukrainian people for their courage and said that Ireland would continue to support Ukrainians. He also noted that Ireland is working to confiscate russian assets for further transfer to Ukraine.
---