Main — War — General Staff: Enemy more often chooses to destroy civilian infrastructure and residential buildings to intimidate the population of Ukraine
War
General Staff: Enemy more often chooses to destroy civilian infrastructure and residential buildings to intimidate the population of Ukraine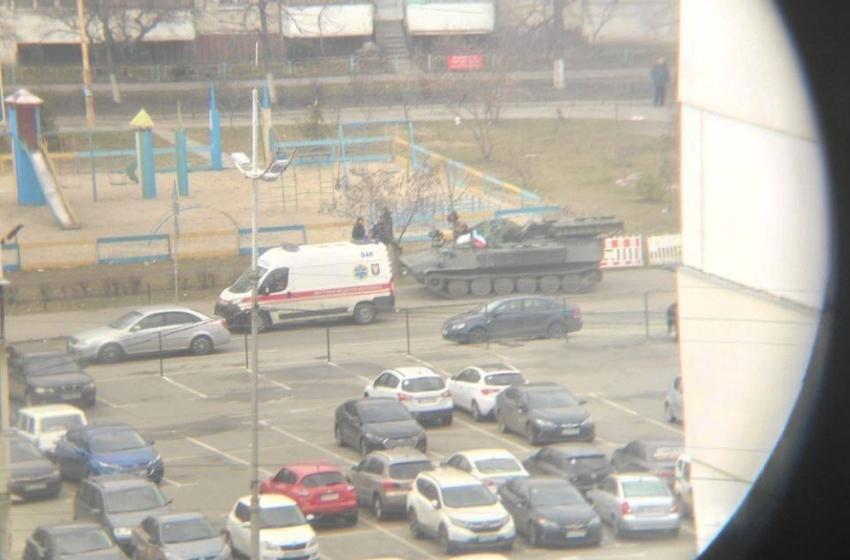 ---
Photo: MT-LB shot down on Obolon with the Russian flag.
Russian militants continue their offensive operation against Ukraine in selected areas using high-precision long-range weapons and operational-tactical aviation, the General Staff reports.
Ukrainian defenders transmit operational information as of 10:00.
Control and guidance of enemy aircraft is carried out by aircraft of the A-50 type from the territory of the Minsk region in the airspace of Belarus and the Autonomous Republic of Crimea.
"In order to intimidate the population of Ukraine, the enemy is increasingly choosing to destroy civilian infrastructure and residential buildings," the headquarters said.
It is known that Russian Il-76s with paratroopers on board landed at the Belarusian airfield Gomel.
Due to damage to the runway of the Gostomel airfield, the enemy decided to advance under its own power from the territory of Belarus in the direction of Gomel-Chernihiv-Kyiv.
In the Severshchina, Ukrainian soldiers stopped the enemy on the Belous River.
Now the enemy, having received a worthy rebuff from the defenders of Chernihiv, is trying to bypass the city and attack the capital. For the same purpose, the enemy is torn in the direction of Kozelets - Brovary and the direction of Konotop - Nizhyn - Kyiv.
In the south, the enemy is trying to hold the dam of the North Crimean Canal to provide water to the temporarily occupied Crimean peninsula. A battle is underway for the Ukrainian city of Melitopol.
No changes in the Donetsk direction: the enemy did not reach the goal of reaching the administrative borders of the Donetsk and Luhansk regions. The shelling of the units of the joint forces does not stop.
In Slobozhanshchina in the areas of Kharkiv and Valuykov, Ukrainian soldiers continue to conduct defensive battles, stopped the enemy and entrenched themselves along a certain line.
The Air Force grouping repels enemy airstrikes and conducts constant aerial reconnaissance.
---