Main — Culture — Ideas Festival 2021 in Odessa
Culture
Ideas Festival 2021 in Odessa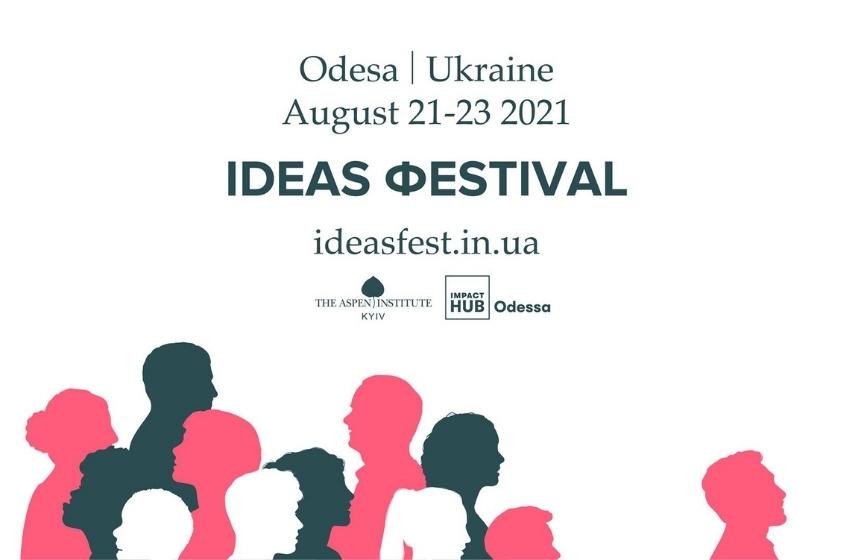 ---
On August 21-23, Odessa will host the fifth Ideas Festival, a recurring event organised by The Aspen Institute Kyiv and Impact Hub Odessa with the support of the International Renaissance Foundation. The focus of this festival is "Ukraine that succeeds"
---
The visitors will have three days of intense discussions and informal communication with leaders and experts in various fields.
The main areas of discussion:
Society and the state
Culture and creativity
Science and technology
Security
Economics and entrepreneurship
Education
Media
Ukraine worldwide discussion series:
Successes of the new Ukrainian diplomacy
Ukrainian scientists in world science
Global expansion of Ukrainian IT
Big business with global ambitions
The daily work of diplomats is not often in the news. However, its significance is difficult to overestimate. The discussion focuses on Ukraine's international relations, the main challenges and achievements in this area. Together with the speakers everybody will try to look behind the scenes of international politics.
21 august 2021
16:00 - 17:00
Impact Hub | Amsterdam Hall
Alexander Tkachenko
Andriy Kulakov
Gennadiy Chizhykov
Oleksiy Makeyev
Ukrainian scientists are increasingly involved in international research projects, teaching at universities in other countries. The discussion about the experience of working in international laboratories, what to consider and what to prepare for if you plan to join the world scientific community.
21 august 2021
17:00 - 18:00
America House Odessa
Anton Senenko
Kateryna Terletska
Denis Poltavets
Information technology is one of the powerful drivers of the world economy. Ukrainian companies are increasingly integrating into the global digital world. The discussion will focus on the participation of IT businesses from Ukraine in international projects and their work in the global market.
22 August 2021
16:00 - 17:00
Impact Hub | Amsterdam Hall
Kira Rudik
Pavlo Kartashov
Vadim Rogovsky
Denis Zhadanov
The focus of the panel discussion is the development of big business in Ukraine and abroad. Let's talk about the experience of Ukrainian entrepreneurs and businessmen who implement business projects in other countries, cooperate with multinational corporations. What does success in international business depend on? What do you need to know and why learn to work in the markets of other countries?
22 August 2021
17:00 - 18:00
Impact Hub | Amsterdam Hall
Igor Liski
Volodymyr Lempert
Vitaly Bulda
Julia Tychkivska
The focus of this year's festival - "Ukraine that succeeds" - was chosen for the 30th anniversary of Ukraine's Independence. Through successful examples in business, public administration, culture, science, technology and other fields, the speakers and visitors will try to understand the present and the shapes of the future.
---