Main — Business — "Made in Ukraine" ship tanker for Dutch company
Business
"Made in Ukraine" ship tanker for Dutch company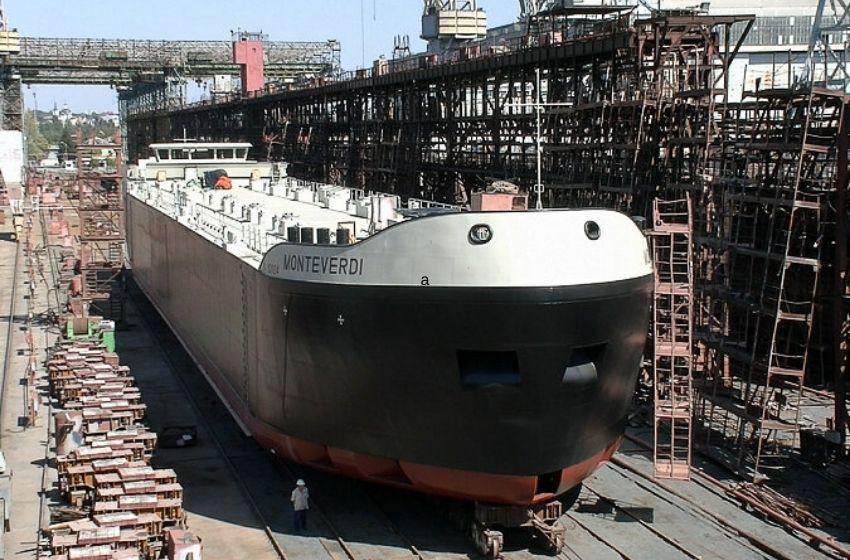 ---
The Kherson shipyard Smart Maritime Group (SMG) launched with a ceremony the hull of the fourth chemical tanker to be built for Veka Shipbuilding WT B.V. (the Netherlands), on September 11.
---
The event, which took place at the site of the Kherson shipyard, was attended by a representative of the customer company Huig Spaargaren, representatives of the regional business and labour collective.
Svetlana Shott, Marketing Director of Smart Maritime Group, has been given the honorable mission of being the godmother of the ship and carrying out the naming convention.
Having smashed a symbolic bottle of sparkling wine on the side of a tanker, the godmother named the vessel "MONTEVERDI" in honour of the Italian composer of the early Baroque era Claudio Giovanni Antonio Monteverdi and traditionally wished 7 feet under the keel.
This is the fourth vessel from the line of the project, the construction of which we confidently entrusted to SMG. The quality of the work and the terms for which the project was completed do not raise doubts about the high professionalism of the Kherson shipyard team. In addition to contractual obligations and business relations, for so many years of joint work, we have developed warm friendly relations with the employees of your company. We look forward to further fruitful cooperation.

Haig Spargaren, VEKA representative
The tanker hull was built at a shipyard in Kherson under a contract with Veka Shipbuilding. General ship piping systems and deck equipment have been installed and the hull has been painted. The order for construction of the taker hull was completed in six months. After completion of the outfitting work on the tanker hull, it will be sent by sea to Veka Shipbuilding in the Netherlands.
The contract for construction of the tanker hull is valued at EUR 2.7 million.
About 1,200 tons of high-quality shipbuilding steel, most of which was produced at the Metinvest company's Illich iron and steel works MMK and the Azovstal steel plant in Ukraine, was used in the manufacture of the vessel's hull.
According to Dmytro Krasnikov, CEO of Smart Maritime Group, the company plans to continue cooperating with its Dutch partner because it is satisfied with the quality of this and the previous three orders. The Smart Maritime Group has built 12 tanker hulls for Veka Shipbuilding in 10 years.
As reported, the third tanker hull that the Smart Maritime Group built for Veka Shipbuilding was launched at the Kherson shipyard on 28 January this year. The vessel was named Synergy. All the tankers of this series have a length of 110 meters, a width of 13.5 meters, a hull height of 6.6 meters, a hull weight of 1,200 tons, and a cargo capacity of 5,320 tons.
The hulls of the Aimee and Emma tankers were launched simultaneously in Kherson and Mykolaiv on 15 March 2019.