Main — Business — Prime Minister of Ukraine and President of Poland opened an event on post-war reconstruction in New York
Business
Prime Minister of Ukraine and President of Poland opened an event on post-war reconstruction in New York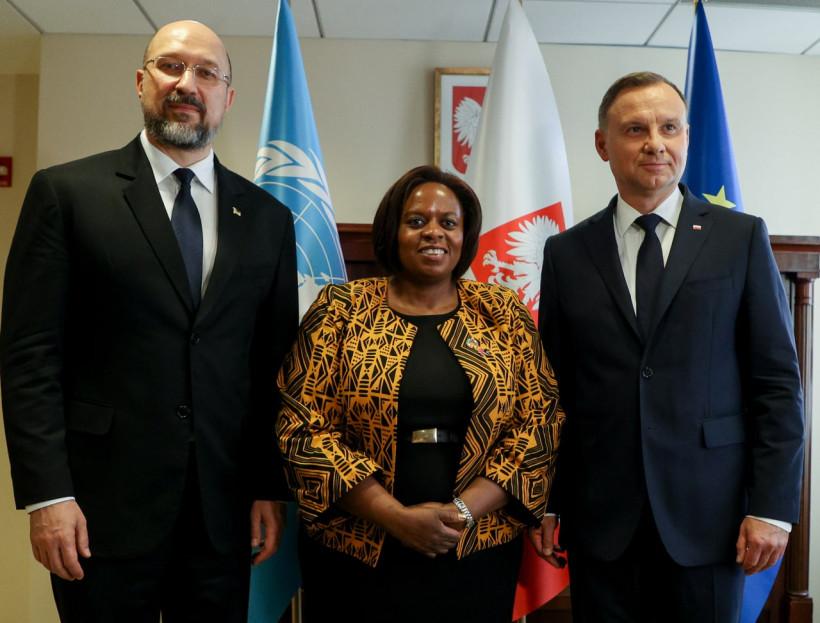 ---
Ukraine wants to attract companies, investments, and technologies from all over the world to reconstruction projects, Prime Minister of Ukraine Denys Shmyhal told in a statement at the UN Global Compact high-level event on post-war reconstruction, held on September 21 in New York with the participation of President of Poland Andrzej Duda.
According to the Head of the Ukrainian Government, the potential of the whole plan for the recovery of Ukraine is USD 750 billion in the coming years, and this allows us to encourage international corporations and investors so that they plan to participate in Ukraine's recovery nowadays.
"An important aspect of the future recovery plan will be the creation of an informal tripartite platform that includes Ukrainian authorities, international partners, as well as Ukrainian civil society and businesses. It is the private sector that should become one of the main drivers of reconstruction," stressed Denys Shmyhal.
As the Prime Minister noted, Ukraine in synergy with international financial organizations was developing several military risk insurance instruments. Such tools will ensure the arrival of international companies even before the end of hostilities.
Denys Shmyhal reminded that the so-called Lugano Principle had been established within the framework of the Recovery Conference this year. Among them, in particular, the principle of "build back better", the transparency and openness of the process due to the involvement of international experts and the creation of recovery offices in various partner countries, as well as the use of russian funds as the main source of recovery of Ukraine.
"We will do everything we can to ensure that the frozen russian assets are transferred for the restoration of our country. To this end, we propose to approve a new international agreement that will clearly determine that an unprovoked and unjust war has consequences, including confiscation of the aggressor's assets in favor of the victim," the Prime Minister of Ukraine said.
The Head of the Ukrainian Government emphasized that russia was deliberately shelling residential areas, hospitals, schools, critical infrastructure facilities, and nuclear power plants. According to preliminary estimates, more than 115,000 private houses, more than 15,000 high-rise buildings, more than 1,000 educational institutions and more than 500 hospitals have been damaged and destroyed since the beginning of the war. Nearly 25,000 kilometers of roads and more than 300 bridges were ruined.
"However, the courage of our people has united hundreds of millions of people and dozens of countries all over the world around helping Ukraine. We must rebuild everything," said Denys Shmyhal. He added that after victory we would build a new developed European state and called on the international community to help us on this path.
---