Main — Business — Prime Minister of Ukraine met with the Head of Government of Ireland
Business
Prime Minister of Ukraine met with the Head of Government of Ireland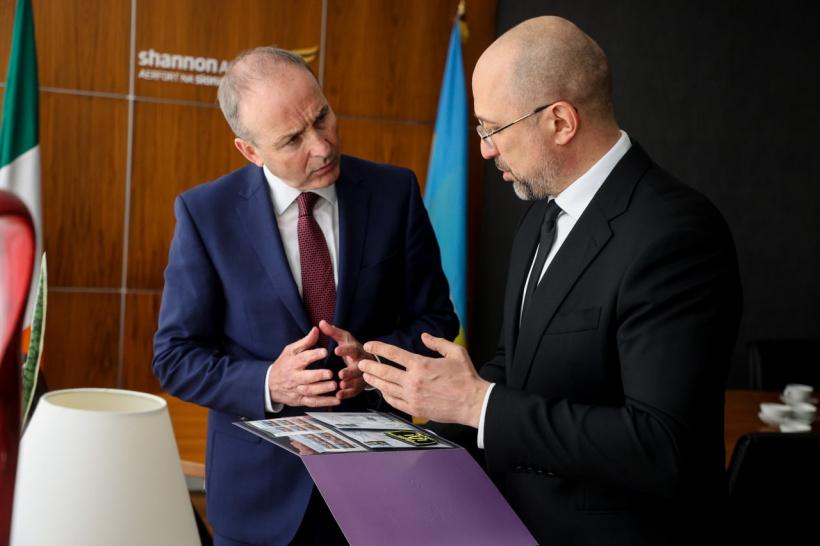 ---
The Prime Minister of Ukraine Denys Shmyhal tackled with Taoiseach (Prime Minister of Ireland) Micheál Martin pressing issues and challenges facing Ukraine and Europe. The meeting took place on April 20 in Shannon (Republic of Ireland).
Denys Shmyhal briefed the Irish Prime Minister on war crimes committed by russian troops in Bucha, Hostomel and other Ukrainian cities.
"At least 400 people were killed on the streets, in houses or near them, some were buried in mass graves. The International Criminal Court should investigate these crimes, and all military, commanders and politicians involved should be brought to justice," said the Prime Minister of Ukraine.
The Head of the Ukrainian Government also informed his counterpart on the numerous damages caused to the infrastructure.
"We have begun to resume life in the liberated territories. But russia continues to destroy civilian infrastructure in Ukraine. Previously, we did not understand why they were bombing houses and neighbourhoods in Kyiv, Kharkiv, Mariupol and other cities. Now we have clearly realized that russia's goal is to create a migration crisis," said the Prime Minister of Ukraine.
Denys Shmyhal dwelled on that russia has already a propensity to an artificial energy crisis in Europe. The next step, he said, should be the food crisis in the world.
"russia is bombing grain elevators to provoke a food crisis. Not only in Europe. We supply millions of tons of grain to African and European countries. All these steps are not only against Ukraine. These are steps against Europe, against the whole world," the Ukrainian PM stressed.
As Denys Shmyhal noted, the Ukrainian army is motivated to defend its country and will not give up a single meter of its land. At the same time, it needs more modern weapons.
The Prime Ministers of Ukraine and Ireland also discussed tightening sanctions against russia. Denys Shmyhal stressed that the 6th package of sanctions must include restrictions on russian gas and oil.
The parties also raised the issue of demining. The Prime Minister of Ukraine addressed Ireland with a proposal to share the significant experience gained by the country within the UN peacekeeping force.
Apart from that, Denys Shmyhal thanked Ireland and the Irish people for their comprehensive support of Ukraine. He also thanked for supporting Ukraine's EU candidate status.
"Ukrainians are fighting for freedom, for their land and their families. We have paid a high price for our free, European future. Our society is ready to become a full member of the European Union," the Prime Minister of Ukraine summed up.
For his part, Micheál Martin assured of Ireland's support for strongest sanctions against russia and for Ukraine's EU membership.
---