Main — Business — The Ambassador of Uzbekistan to Ukraine met the Head of Odessa Region
Business
The Ambassador of Uzbekistan to Ukraine met the Head of Odessa Region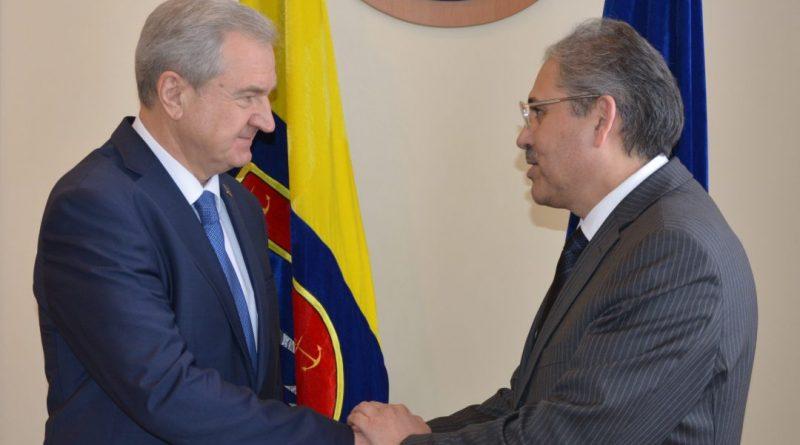 ---
The Head of the Regional State Administration Sergiy Grynevetsky met with the Ambassador Extraordinary and Plenipotentiary of the Republic of Uzbekistan to Ukraine H.E. Alisher Kurmanov
---
The Head of the Regional State Administration expressed his honour and gratitude to the Ambassador Extraordinary and Plenipotentiary for the visit and meeting about Odessa region, its specifics and problems, emphasizing the geopolitical, socio-economic and ethnic features of the region, resource opportunities and traditions.
Sergiy Grynevetskyi particularly noted the following problems:
Problems and risks caused by the implementation of administrative-territorial reform, especially in places of compact residence of national communities.
Introduction of the "land market" in June 2021.
Determination of national interests for all regions and territories of Ukraine, and such unifying factors may be social policy and economy.
Urgency of implementing digitalization processes, which should stimulate and adapt society to new living conditions and activities, with the Odessa region - the site of a pilot project on digitization.
Environmental issues, in particular waste recycling.
Issues and problems of cross-border cooperation, in particular, coordination and interaction with the EUBAM Mission in the field of border management, arrangement of checkpoints, joint control, etc.
New achievements, including the commissioning of a unique, modern ferry complex Orlivka (Ukraine) - Isaccea (Romania), preparation for the commissioning in March of a new runway at the international airport "Odessa", etc.
For his part, the Ambassador Extraordinary and Plenipotentiary of the Republic of Uzbekistan to Ukraine H.E. Alisher Kurmanov thanked for the warm meeting, interesting and meaningful digression into the history and present of Odessa region and especially noted the state position and approach to the head of the regional state administration.
The Ambassador noted that Ukraine and Uzbekistan follow a similar path, overcoming the same stages, processes of formation and risks. He said that today Uzbekistan is on the path of new approaches, policies of reasonable compromises and integration.
We have a desire to strengthen and deepen mutually beneficial ties in various fields and areas, in particular, in the field of foreign trade, agro-industrial complex, textile production, tourism and to establish twinning relations. I hope that during the meeting we will be able to identify points of common interests and actions, because the Odessa region has a strong potential.

H.E. Alisher Kurmanov, Ambassador of the Republic of Uzbekistan to Ukraine
Grynevetsky, for his part, proposed to conclude an agreement on cooperation in economic and cultural spheres between the Odessa region and one of the regions (provinces) of Uzbekistan in the near future and to start making concrete moves in this direction.
We are interested in establishing mutually beneficial relations, have relevant experience in this area and are always ready to cooperate in all areas and directions.

Sergiy Grynevetskyi, Head of the Odessa Regional State Administration
The diplomatic meeting was also attended by: Abdurahmon Mahmudov - First Secretary of the Embassy of the Republic of Uzbekistan in Ukraine, Vyacheslav Shayakubov - investment expert, Borys Voloshenkov - First Deputy Head of the Regional State Administration, Sergiy Shuvalov - President of the Odessa Regional Chamber of Commerce and Roman Hryhoryshyn - Head of the International Relations Department of the Regional State Administration.
---