Main — Business — The Crimea Platform: Japan, Guatemala, Finland, Estonia, Slovenia, Nato, European Commission
Business
The Crimea Platform: Japan, Guatemala, Finland, Estonia, Slovenia, Nato, European Commission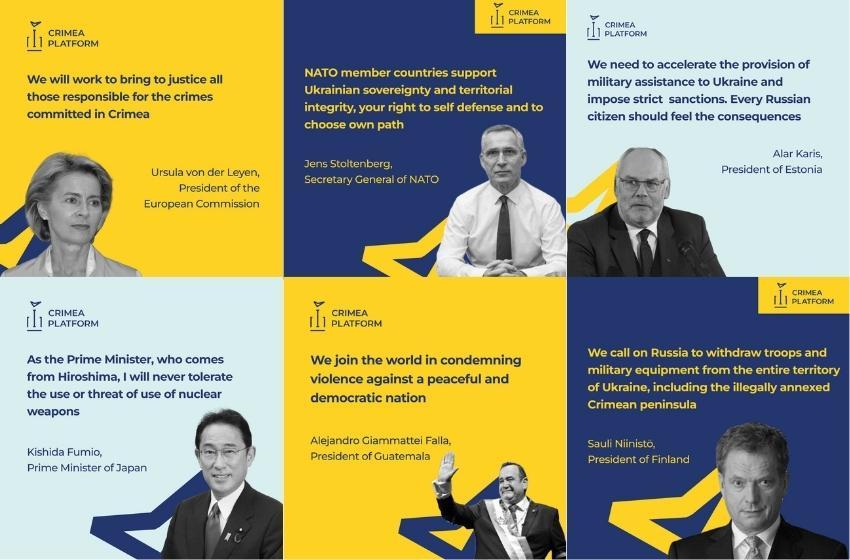 ---
The Crimea Platform brings under its auspices all thematic events and initiatives on the Crimea issue in the framework of international organizations and other international governmental and non-governmental forums. The Platform operates at three levels: governmental, ministerial expert ones.
---
"We will never recognize the illegal annexation of Crimea and the city of Sevastopol by the Russian Federation. We are EXTREMELY concerned about human rights violations in Crimea: disappearances, torture, murders, persecution of the Crimean Tatar people, intimidation and imprisonment of journalists and human rights defenders. This is the dark reality of the occupation. We will work with partners to expose these violations, bring those responsible to justice, and support victims. We are with you, we remain with you from the very beginning of this aggression… The EU will continue to help Ukraine as long as it is necessary…"
"Japan consistently supports Ukraine's sovereignty and territorial integrity, together with Crimea… As a Prime Minister born in Hiroshima, I will never tolerate the use or threat of use of nuclear weapons. Japan introduced strict sanctions against Russia, provided Ukraine with humanitarian, financial aid, and defense equipment, and helped transport humanitarian cargo… The international community really needs to show solidarity. As the leader of the only G7 country in Asia, I have spoken to regional leaders such as India and Southeast Asian countries. In our speeches, we agreed on the importance of adhering to the principles adopted by the international community… We will also use the opportunity to address African countries on the occasion of the 8th Tokyo International Conference on African Development, which will be held in Tunisia this weekend."
"We help Ukraine to defend itself, this is its sovereign right. We have long been committed to partnership with Ukraine. We helped Ukraine move to NATO standards in equipment and military management. We enable you to stand firmly on your feet and walk the path of the country's recovery. The winter will be challenging, and we can see that the war is exhausting. This is a struggle of will and logistics, so we must continue to support Ukraine so that it can win as a sovereign nation. A strong, stable Ukraine is the guarantee of Euro-Atlantic security… We will be with Ukraine as long as it takes."
"We call on Russia to immediately and unconditionally withdraw its troops and military equipment from the entire territory of Ukraine within the internationally recognized borders. Russia's war against Ukraine is a severe violation of international law. I would like to use this opportunity to celebrate the courage and determination of the Ukrainian people and the leadership of Ukraine. You defend global values ​​- freedom and democracy. We see constant attacks by the Russian armed forces on the civilian population; we see these war crimes. All of them should be properly investigated, and those responsible should be brought to justice."
"…In order to ensure peace, we need to speed up the provision of military aid to Ukraine. To ensure the liberation of the territory of Ukraine, we must strengthen sanctions. We propose introducing tougher sanctions because Russia will stop aggression only when it feels the consequences of this activity… Every Russian citizen should feel the consequences of this aggression. To achieve peace in Europe, we will also have to work to ensure justice and accountability for all those involved in crimes in Ukraine. We see attacks on civilians, we see forced deportations, we see preparations for fake referenda. We should create a separate international court. It is necessary to restore respect for international law and ensure peace and stability for future generations…"
"We call on Russia to immediately and unconditionally stop hostilities. We call on Russia to withdraw troops and military equipment from the entire territory of Ukraine, including the illegally annexed Crimean peninsula. Finland remains committed to supporting Ukraine's sovereignty and territorial integrity within internationally recognized borders. Finland's support for international measures to restore Ukraine's sovereignty and territorial integrity will remain…"
"We welcome the initiative of the Ukrainian authorities to establish the Crimean Platform, which is aimed at restoring the territorial integrity of Ukraine. No country in the world can tolerate an attack on a sovereign state, especially when the security of its population is at stake… Guatemala wishes to express its support for the basic principles of the United Nations and the right of every nation to self-determination…"
---