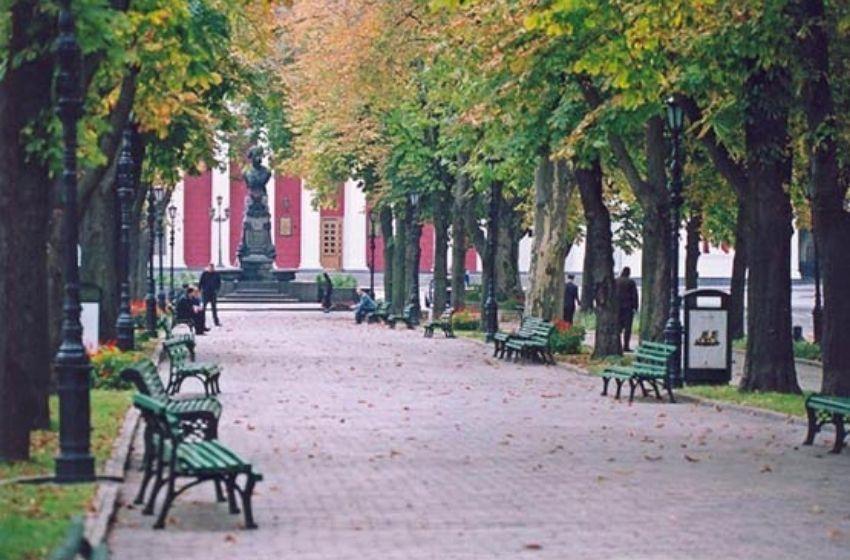 ---
This editorial is offered by Allison N. Petro, Professor at the University of Rhode Island (USA), English Dept., who made a research on the historical origins of the trees of Odessa.
---
Odessa is home to many trees which are not native to Eastern Europe. Of the 687 species of trees which grow in the city, only 44 are native to Ukraine. During even a brief stroll through the historical center, tourists can see many of these interesting non-native trees. The founders of the city wanted to plant ornamental trees from around the world to line the streets and parks of the city. In the process, they undertook a grand experiment in horticulture, creating a virtual botanical garden in the downtown area.
Many native Odessans do not even realize that their favorite trees (some of which are hundreds of years old) are not native species but were brought here to decorate the city and make it uniquely cosmopolitan. The next time you stroll around downtown Odessa, pay some attention to the trees - the lush green canopy that shades us in summertime is a testament to the vision of the city's founders.
Here is the list of trees in Odessa, which are not native to Ukraine.
Trees from North America
These trees are very common in the historical center of Odessa. Good places to find them are on Primorsky Boulevard (next to Pushkin's statue), in the Palais Royale and City Garden, and along downtown streets. Some are so large and so old, that I like to think that maybe Pushkin sat under one of them.
This tree is native to the Eastern United States, but became popular in Europe because of its unusual, mottled bark and round seed pods, which almost look like Christmas tree ornaments.
This tree is clearly recognizable for its tiny leaves, white flowers, and pea-shaped seed pods. Commonly called "Acacia" in Russian, this is actually not a true Acacia tree (its Latin name, Robinia pseudoacacia, means "false acacia").
This tree is so widespread in Odessa, it is difficult to convince local residents that it has not always been here - there are even folk songs in Russian which lovingly refer to its flowers. It can be found in every park in the city, on many of the streets, and along the coastline. When Odessa was founded, the Duke de Richelieu wanted to plant trees quickly, so he purchased these trees with his own money and gave them to anyone who would plant them. The trees grew quickly and multiplied, so his investment paid off. This tree is native to the continental U.S.
Found on many of the downtown streets, (especially Ekaterininskaya Street) this tree has wide leaves, orchid-shaped flowers and long bean-like seed pods. It is a native to the southeastern U.S., including Louisiana, Mississippi, Alabama, and Florida.
Commonly known as a "southern magnolia", this tree is native to southeastern U.S. and prefers a warmer climate. It is not as common in Odessa as the previously mentioned trees, but can occasionally be found. Its large, fragrant blossoms and shiny leaves are very distinctive.  
Trees from other parts of Europe
This tree lines the walkways of Primorsky Boulevard, and is found in many parks and streets downtown. Its characteristic horseshoe-shaped leaves and spiky seed pods distinguish it from other nut trees. This tree is native to a small area of Greece and Macedonia, but has been widely cultivated and can now be found throughout the world. 
A few years ago, some of the city's horse chestnut trees were turning brown and dying, but arborists inoculated the trees against the blight and this year they are looking healthy again.
Trees from Asia/Middle East
A popular fruit tree since ancient times, the fig prefers a Mediterranean climate, which is why it grows well in Odessa. Its native habitat was originally the Middle East and Western Asia, but it has been widely cultivated in other parts of the world.
Mulberry trees can be found in many parts of the downtown, and along the Health Route. These trees are distinctive for the terrible mess the berries leave in June and July--the birds love them, but the street cleaners do not. They also have two different types of leaves, both lobed and unlobed. The white mulberry is perhaps misnamed because the berries actually range in color, with the most common type in Odessa being dark purple. This tree is native to China.
---
Sources:
Дибров, Сергей & Олег Константинов. "Десять фактов об одесских деревьях: треть — родом из Китая, четыре вида ядовитые, а самое большое посадил Пушкин". Dumskaya.net, 7 Dec. 2013. http://dumskaya.net/news/10-faktov-o-odesskie-derevya-031221/
Kopylova, Anna & Dana Pavlychko. Awesome Odesa. Osnovy Publishing, 2017.
"Plants Database", United States Department of Agriculture, Natural Resources Conservation Service. 17 Jul. 2017. https://plants.usda.gov/java/
---