Main — War — A Russian rocket hit the ship under the flag of Bangladesh in the port of Nikolaev
War
A Russian rocket hit the ship under the flag of Bangladesh in the port of Nikolaev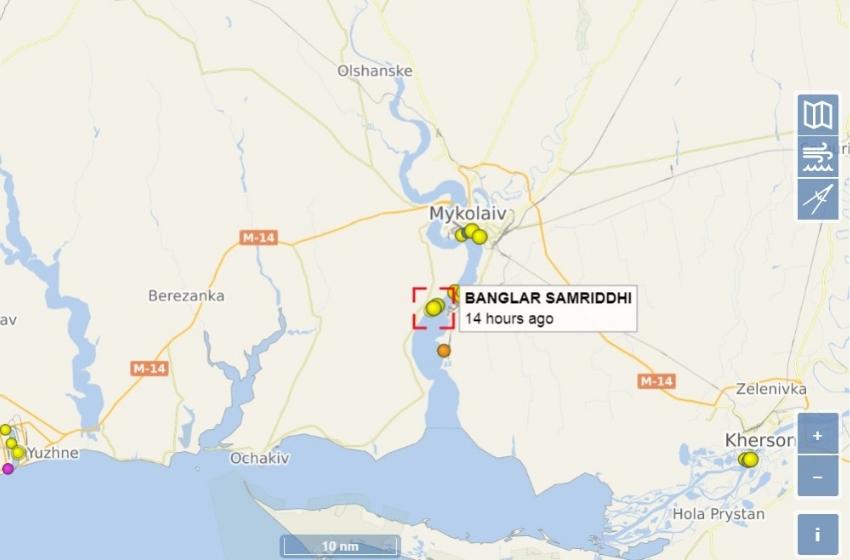 ---
On Wednesday, March 2, the Russian Army fired a missile at a foreign ship in the port of Olbia. As a result of the attack on the ship, a fire broke out.
The vessel BANGLAR SAMRIDDHI (IMO: 9793832, MMSI 405000241) is a Bulk Carrier built in 2018 (4 years old) and currently sailing under the flag of Bangladesh.
Two tugs were sent to the scene to rescue the ship. The Administration of Seaports of Ukraine reported this on Facebook.
The Banglar Samriddhi-flagged Bangladeshi struck at 5:25 p.m. The ship was currently in a raid in the port of Olbia.
According to preliminary data, there are no casualties as a result of the enemy attack. According to AMPU, the ship entered the port on February 23 and was waiting for the cargo, without the possibility of leaving due to Russia's attack on Ukraine.
The 38,800 dwt vessel said that it had a crew of 29 with supplies to last no more than two weeks. After the beginning of the war, the crew reported that they were stranded when Ukraine closed its seaports, but that there was no fighting in the immediate area. They called on the Bangladesh government to take the steps necessary to rescue them while the Bangladesh Shipping Corporation said that its chartering department was working to move the vessel to a safe location. The crew was able to control the fire after the vessel was hit and that the other crew members were uninjured.
Security analysts Dryad Global is reporting that three other vessels had previously come under attack by Russian missiles or bombs in the past week. One of the incidents reportedly set a small product tanker on fire but there were no confirmed deaths in the previous attacks. One of the vessels that was struck by a missile, the Japanese-owned bulk carrier Namura Queen left the Odessa area after the attack last Friday and has arrived safely in eastern Turkey for repairs. The vessel had been loading corn near Odessa when the war began. Dryad also reports that three other commercial vessels were detained by the Russians.
---