Main — Business — Volodymyr Zelensky: Military intelligence of Ukraine is one of the most professional in the world, intelligence officers prove it every day in battles for our state
Business
Volodymyr Zelensky: Military intelligence of Ukraine is one of the most professional in the world, intelligence officers prove it every day in battles for our state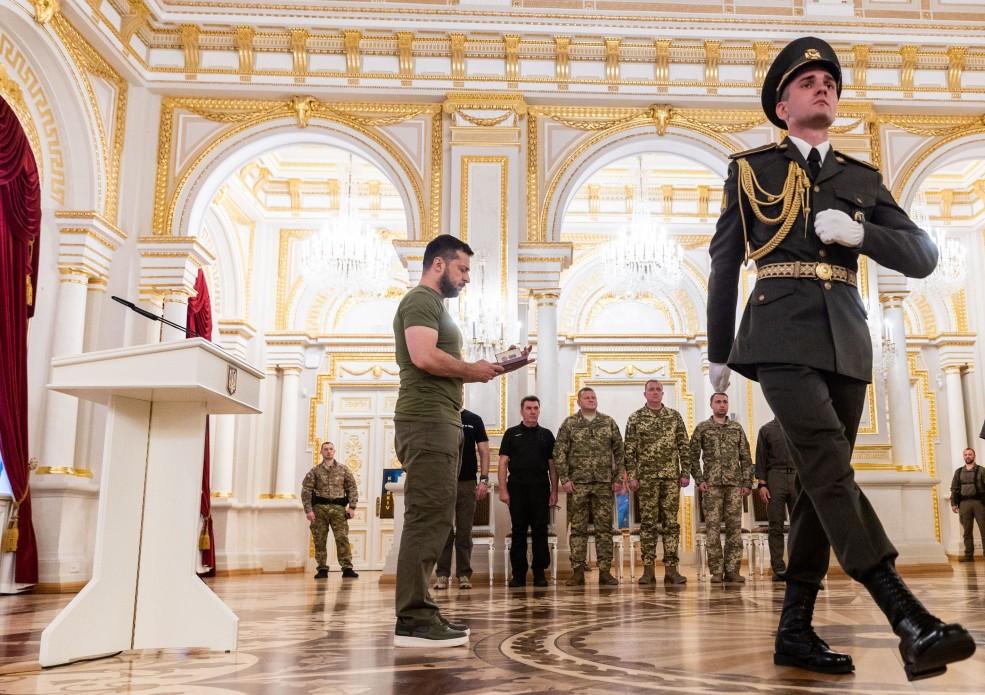 ---
On the occasion of the 30th anniversary of military intelligence of Ukraine, President Volodymyr Zelenskyy met with servicemen of the Main Intelligence Directorate of the Ministry of Defense of Ukraine and presented state awards.
The ceremony took place in the White Hall of Heroes of Ukraine in the Mariyinsky Palace in Kyiv.
Addressing the attendees, the Head of State said that today he signed a decree on the establishment of Military Intelligence Day in Ukraine, and congratulated intelligence officers on a full-fledged professional holiday.
"I can say with complete certainty: military intelligence of Ukraine is one of the most professional and effective in the world. And this is not just an estimate, it is a fact that you prove every day in the battles for our state, its sovereignty and territorial integrity, for our families, in the struggle for our land and future," he emphasized.
As the President noted, most of the successes of intelligence cannot be talked about publicly, but the indisputable result of its activity is the success of our state on the battlefield, the liberation of our territories from Russian invaders and confidence in the future victory.
Volodymyr Zelenskyy expressed his belief that military intelligence operations will get one of the prominent places in the history of Ukraine's victory in this war. In particular, according to him, important results were achieved near Kyiv, on Zmiinyi Island, in Kharkiv, in Donbas, in Mariupol, during the defense of Azovstal and in other areas, as well as in the rear of the enemy.
"We remember how dangerous the tasks that you perform every day are, and the cost of the victory of our state in this war," he noted and called for a moment of silence to honor the memory of all intelligence soldiers who heroically died for Ukraine.
According to the President, Ukrainian military intelligence officers are rapidly gaining new experience and have become one of the pillars of Ukrainian statehood. The Main Intelligence Directorate of the Ministry of Defense of Ukraine, which successfully coordinates the actions of all special units of the power structures of our country and is an extremely effective center of the entire domestic intelligence community, deserves a lot of credit for this.
Volodymyr Zelenskyy assured the intelligence officers that the state will always be their reliable assistant.
On behalf of the entire Ukrainian people, the Head of State thanked the intelligence officers and their families for their service.
The President presented orders and medals for personal courage, selfless actions shown in the defense of the state sovereignty and territorial integrity of Ukraine, exemplary performance of military duty.
The Head of State also presented the Gold Star Orders to the Heroes of Ukraine and to the families of fallen warriors who were awarded this title posthumously.
---