Main — Business — Volodymyr Zelenskyy received Lithuania's highest award
Business
Volodymyr Zelenskyy received Lithuania's highest award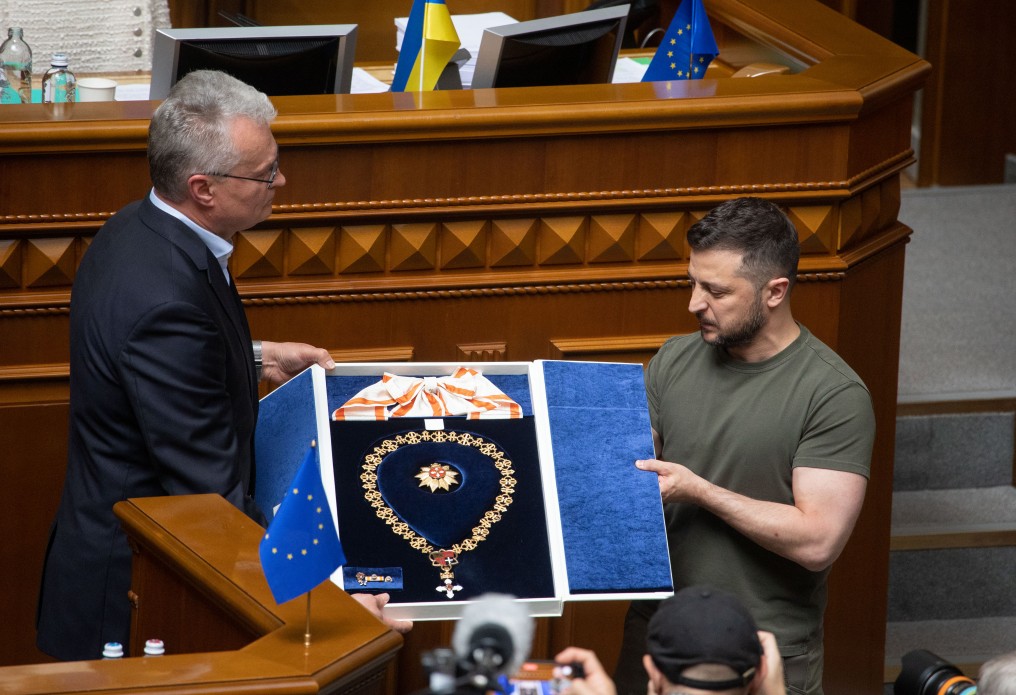 ---
President of Lithuania Gitanas Nausėda, who arrived in Kyiv on the occasion of the Ukrainian Statehood Day, awarded President of Ukraine Volodymyr Zelenskyy with the highest state award of the Republic of Lithuania - the Order of Vytautas the Great with a golden chain.
"This highest Lithuanian state award symbolizes the historical unity of our nations, joint struggle and victories," said the President of Lithuania, presenting the order to the Head of State during a speech at the solemn part of the plenary session of the Verkhovna Rada.
Gitanas Nausėda told how in one of the numerous conversations with him Volodymyr Zelenskyy said that he had never thought he would be a "President during the war".
"Perhaps none of us hope to be president in time of war, except those who plan war themselves. But today the whole world admires the struggle of President Zelenskyy and every Ukrainian who is fighting for the family, home, Motherland. Such a strong nation can never be defeated!" said the leader of Lithuania, addressing those present at the meeting in Ukrainian.
Gitanas Nausėda emphasized that today stories about the exploits of the Ukrainian people are spreading around the world. He thanked the Ukrainians for the fact that they defend their independence so resolutely and set a bright example for all others.
"Your struggle is also our struggle, the struggle of Lithuanians. It reminds us of the times when we fought together against a common enemy," he said.
According to the President of Lithuania, when the 40th separate artillery brigade named after Grand Duke Vytautas bravely goes into battle, Lithuanians are proud of it as the achievements of their blood relatives.
Gitanas Nausėda is convinced that today everyone must clearly choose the side of truth and not try to sit in two chairs.
"Lithuania chose its friends a long time ago and will never betray them!" he assured.
Volodymyr Zelenskyy thanked his Lithuanian colleague and the entire people of Lithuania for the important heroic support of Ukraine.
"It was not politics for our states - it reflects the equally strong love for freedom of our nations. Nations who walked and keep walking together through European history," said the President of Ukraine.
---