Main — Business — Regensburg (Germany) Sister City of Odessa
Business
Regensburg (Germany) Sister City of Odessa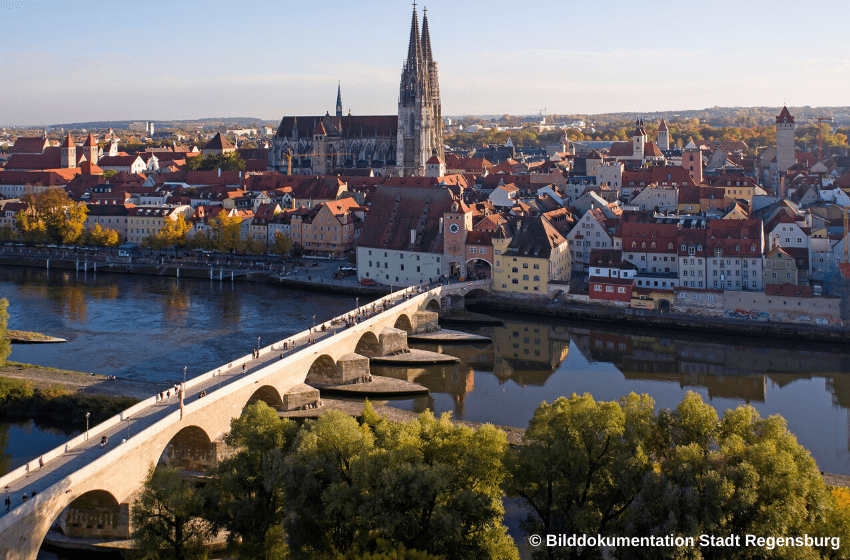 ---
Regensburg, one of the most dynamic locations in Germany, is a UNESCO World Heritage.
---
Because of the city´s unique status as "the only authentically preserved large medieval city in Germany" the Old Town Regensburg with Stadtamhof" was inscribed as a UNESCO World Heritage Site on July 13th, 2006.
Even before it was nominated as a World Heritage Site, Regensburg was a popular tourist destination because of its many medieval towers and alley ways that wind their way through the old town. No longer a locally kept secret, Regensburg attracts a constant stream of outside visitors. In addition to its historical treasures, Regensburg provides an array of shops and restaurants, as well as cultural and leisure activities.
The 2000-year-old town is pedestrian-friendly and allows only limited access to motor-verhicles. The town´s buildings have been carefully restored over the past few decades. But more importantly the town has kept it´s charm and continues to be a lively business and cultural centre.
Regensburg with its almost 170,000 inhabitants is located just one hour by car or train to the international airports in Munich and Nuremberg. With the foundation of the University in 1967 Regensburg experienced an exceptional development and is nowadays one of Germany's economic hotspots with 90.735 Euro gross domestic product per inhabitant and second-highest employment density among Germany's metropolitan areas.
Approximately 33,000 students at the University of Regensburg, at the Eastern Bavarian Technical University Regensburg and at the College of Catholic Church Music & Musical Education Regensburg enrich and enjoy the atmosphere of openness, diversity and creativity in Regensburg and play a key role for the skill structure of the local labour force. Regensburg is one of the regions with the lowest average population age in Germany.
Regensburg is a prime Business location with leading international high-tech enterprises and medium-sized companies. For example BMW AG, Infineon Technologies AG, Osram Opto Semiconductors GmbH, Continental Automotive GmbH, Siemens AG and KRONES feel in Regensburg at home. Regensburg's University hospital with full-range of medical services and excellent care is an important employer in the region as well.
One reason for the history of success is that the City of Regensburg implemented a regional innovation cluster strategy with the focus on Biotech/ Life Sciences (in 1999), Information Technology (in 2001), IT-Security (in 2006), IT-Logistics (in 2011), Sensor Technology (in 2006), energy (in 2009), Electromobility (in 2011), Culture and Creative Industries and Health Care (in 2016). The two technology and start-up centers BioPark and TechBase play a decisive role for the stakeholder.
Odessa and Regensburg: twin cities since 1990
2020 marks the 30th anniversary of the twin city agreement between Odessa and Regensburg. In the course of time, many common projects and friendships have developed in various fields e.g. culture, sports or education. Varied youth and student exchange programs keep the partnership young and lively. For both cities it is a heartfelt wish to expand the close ties year by year. In order to develop the partnership contemporary new fields of cooperation are established constantly e.g. in the area of social inclusion and municipal development.
Source: Stadt Regensburg Hauptamt, Abteilung Internationale Beziehungen und Repräsentationen