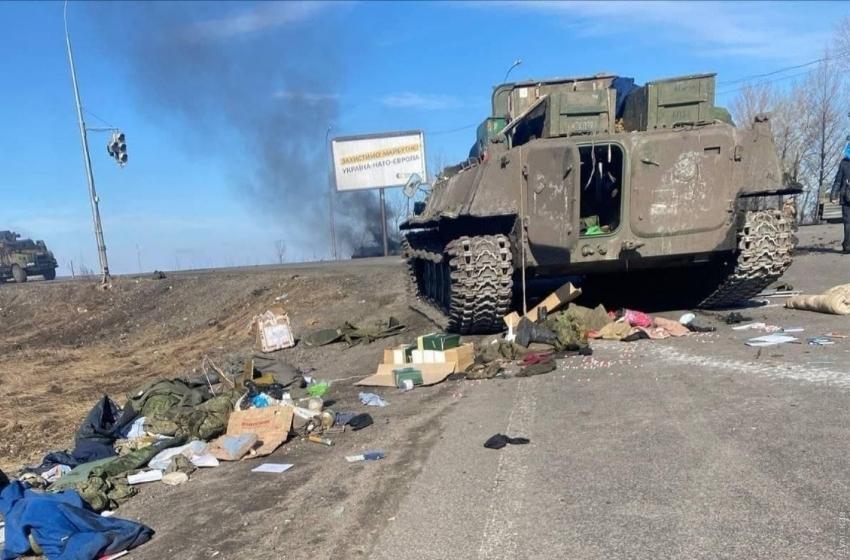 ---
In the photo: destroyed Russian tank on the outskirts of Kharkov
President of Ukraine Volodymyr Zelensky delivered an evening speech address to his compatriots. He said that today the Armed Forces of Ukraine, border guards and other power structures gave a worthy response to the enemy. As a result, the advance of the Russian troops stopped or slowed down in many areas - there was an operational pause.
Zelensky noted that the JFO forces showed themselves "excellent" in the Donetsk and Lugansk regions - they repulsed all attacks and did not allow a breakthrough of the front.
In the Kharkiv direction, according to him, the situation is "very difficult", but the forces to protect the city are reliably fulfilling their tasks - "they are our guys."
"The most problematic situation today is in our south. Our troops are fighting fierce battles on the outskirts of Kherson. The enemy is pressing from the occupied Crimea, trying to move towards Melitopol," the president added.
In the North, according to Zelensky, the enemy is slowly advancing in the Chernihiv region, but "there is someone to hold him there."
"Reliable defense has been built in the Zhytomyr region. Enemy landing in Gostomel blocked. The troops received an order to be destroyed," Volodymyr Zelenskyy said.
He mentioned the captured Russian soldiers. Ukrainian service members treat them like human beings; the wounded captives receive medical assistance.
"Today, a lot of Russian aviation, a lot of armored vehicles have been destroyed," the president said.
Then he turned to the Russians, who are shocked by the invasion of a neighboring country and oppose Putin's insane policies. Zelensky urged the protesters to take to the streets and squares of Russian cities, to express disagreement with the authorities' actions.
Separately, he called on Western partners to tighten sanctions against the Russian Federation, and citizens of Ukraine - "everyone who can hold a weapon" to come to the military registration and enlistment offices, join the Armed Forces of Ukraine or territorial defense. It is also important to support volunteers, donate money to the army and donate blood for wounded soldiers.
---