Main — Culture — 12 places named "Odessa" in the United States.
Culture
12 places named "Odessa" in the United States.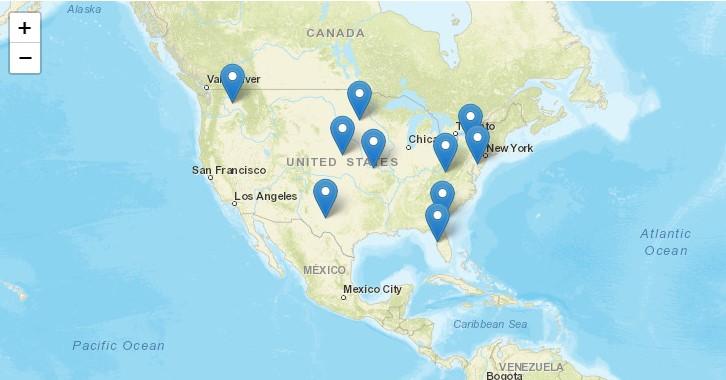 ---
There are 12 locations in the United States of America named after Odessa on the Black Sea. They are in the States of: Delaware, Florida, Georgia, Minnesota, Missouri, Nebraska, New York, Pennsylvania, Texas, Washington, West Virginia.
---
Some of them are, today, mere geographic names without a city administration. In most cases, these sites were named by emigrants coming from Odessa, the maritime capital of the Russian Empire, then, and of Ukraine, now. Sometimes, the location was coined after the name of a beloved woman.
Among them, the biggest city is Odessa in Texas (Ector County& Midland County), with more than 120,000 inhabitants. The city's population and economy grew rapidly due to the oil booms (roughly in the 1930s–50s, 1970s, and 2010s). The Odessa economy has been primarily driven by the local oil industry.
Odessa Texas was founded in 1881, as a water stop and cattle-shipping point on the Texas and Pacific Railway, and it is said to have been named after the port city of Ukraine, because of the local shortgrass prairie's resemblance to Ukrainian steppe landscape.
---
But the most famous location is out of this list: it is the New York city's famous neighbourhood of "Little Odessa".
In the southernmost parts of Brooklyn, between Coney Island and Manhattan Beach, it is possible to find a piece of Ukraine. Little Odessa was coined due to the big number of immigrants from Odessa. In fact, it is the nickname for the historical Brighton Beach, which received the Russian-Ukrainian immigration wave to New York City, during the 1800s.
This enclave was made popular by the film "Little Odessa" (1994) of James Gray, a drama about a family of Soviet Jews living there (with Tim Roth, Vanessa Redgrave and Maximilian Schell). Today, Little Odessa is also the place where to find Russian-Ukrainian delicacies such as Beef Stroganoff, Chicken Kiev, Plov and Vareniki.
New York City has approximately 700,000 Russian-Americans most of them of Ukrainian-Jewish origin. Throughout the whole New York metropolitan area, there are about 100,000 inhabitants, born in former Soviet Union Countries.
---