Main — Culture — 4 Ukrainian women in "World history of women-photographers"
Culture
4 Ukrainian women in "World history of women-photographers"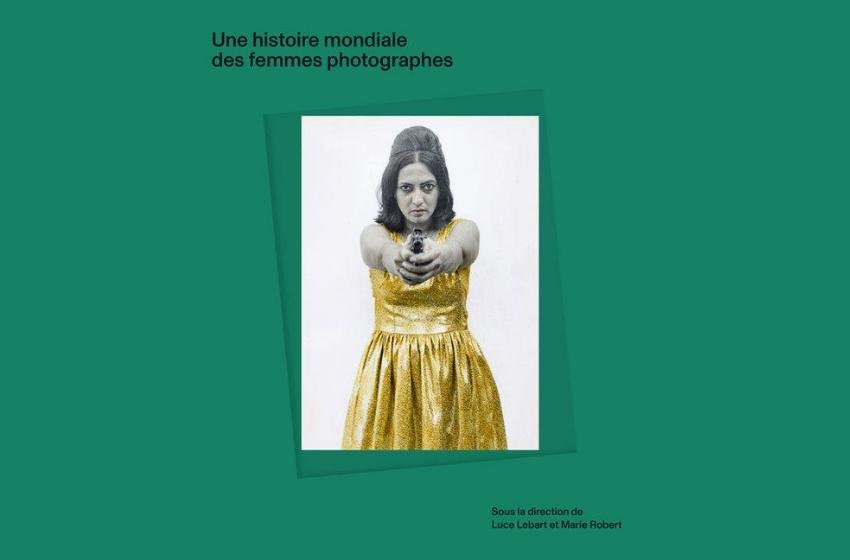 ---
4 Ukrainian women entered one of the most anticipated books on photography in France. Collection "World history of women-photographers".
---
The French publishing house Editions Textuel has published the book "A World History of Women Photographers". It contains articles about four Ukrainian women: Sophia Yablonskaya-Uden, Irina Pap, Paraska Plitka-Goritsvit and Rita Ostrovskaya.
Articles were written by the famous ukrainian writer Oksana Zabuzhko, founder of Odessa Photo Days Festival Kateryna Radchenko, curator and art critic Kateryna Filyuk, as well as journalist and president of the Ukrainian-French cultural association Amuse A Muse Natalya Guzenko Boudier.
Since the invention of photography, women have actively participated in its development and institutionalization. On this fact, our collective work seeks to shed light, which describes the work of three hundred women from all over the world from the birth of photography in 1839 until the end of the 20th century.

Marie Robert, head of photography at the Musée d'Orsay and Luce Lebart, curator, photography historian and author of "The Great Pictures of the 20th Century"
---
Sofia Yablonskaya-Oudind
Sofia Yablonskaya-Oudind was born in the Lviv region in 1907. She was predicted a brilliant acting career, but Sofia chose photography. In 1927 she emigrated to Paris, where she studied documentary photography.
Sofia has written several collections of epics, which she illustrated with her travel pictures. They reflect the culture and life of exotic peoples. Yablonskaya visited Laos, Cambodia, Vietnam, Morocco, USA, Canada, Tahiti.
In China, the photographer met the Frenchman Jean Oudind, married him and gave birth to three children. During this period of wandering calm and family warmth, she actively studied the old Chinese culture, discovered in herself a young landlady (called her husband Ivan, fed him with Galician cuisine and taught him Ukrainian words), taught the Chinese to embroider traditional towels, eat Ukrainian borscht and milk a cow. Sofia died in a car accident in 1971 in France.
---
The World History of Women Photographers is a collection that finally opens the names previously excluded by male authors from tomes on the history of photography. Even during the work on the exhibition "Who is afraid of women photographers?" in 2015, Marie Robert discovered that she had "discovered a vast, unexplored continent."
---
Paraska Plitka-Goritsvit
Hutsul photographer, artist and writer. Paraska was born in Ivano-Frankivsk region, in 1943 she moved to Germany. She tried to enter a German university, but ended up in the service of a local family, in which she was humiliated.
Returning to Ukraine, Paraska settled in the village of Krivorovnya, collaborated with the UPA. For this she was sent to Kolyma, and then transferred to a special camp in Kazakhstan. Was released in 1954. Photography began in the 70s.
Paraska made about four thousand frames, which captured the life of the Hutsul villages, local holidays and nature. Most of the photographs of the Goritsvit are considered lost or damaged.
---
The authors remind us of the "Matilda effect" defined by the historian Matilda Jocelyn Gage, in which feminine achievements in science were attributed to men. The "Matilda Effect" in the history of photography was so strong that women were willing to sign their names with masculine names in order to take their work seriously.
Unfortunately, many women photographers did not care for their heritage the way men did.

Marie Robert
---
Rita Ostrovskaya
Rita Ostrovskaya is a modern Ukrainian photographer and the brightest representative of Ukrainian documentary photography. She was born in Kiev. Since 2001 he has been living and working in the German city of Kassel. Her portfolio includes more than ten photo projects about the life of Ukrainian Jews and modern cities.
There is a lot that is very personal and dramatic in her frames. With her photos, Ostrovskaya reveals both historical layers and socio-political reality. Describing her practice and method.
---
It was decided to support the publication not only by the Ministry of Culture of France, but also with the world's largest company for the production of luxury items Kering. Their "Women In Motion" programme aims to support women in film, and in collaboration with the famous Rencontres d'Arles photo festival, in photography.
---
Irina Pap
She was born in Odessa She became famous as a photojournalist of the Izvestia newspaper. She filmed heads of state (Nikita Khrushchev and Fidel Castro), athletes and academics. Of course, such work involved many ideological limitations. But Irina managed not to turn into a banal agitator and keep the truth in her photos.
Pap has documented the construction of the Kiev metro, the new terminal in Boryspil and the Khrushchev houses, the first Zaporozhians, the construction of the Chernobyl nuclear power plant and other cultural and historical events.
In the early 1950s, she met her future husband, no less famous Ukrainian photographer Borys Gradov (1908-1988). Among his most famous photographs are very important portraits of Gorky and Gagarin. He was also one of the pioneers of aerial photography in the USSR.
As early as 1964, Irina Pap was one of the twenty best women photojournalists in the world according to a German guide to the history of photography.
In 1971, Irina headed the Institute of Journalistic at the Union of Journalists of Ukraine, where she opened the first professional photography school of its kind. Interest in Irina Pap's photos is growing every year.
We hope that it will soon be possible to get acquainted with this new story in the Ukrainian language.
---