Main — Diplomacy — 5 dishes that are definitely worth tasting in Bessarabia
Diplomacy
5 dishes that are definitely worth tasting in Bessarabia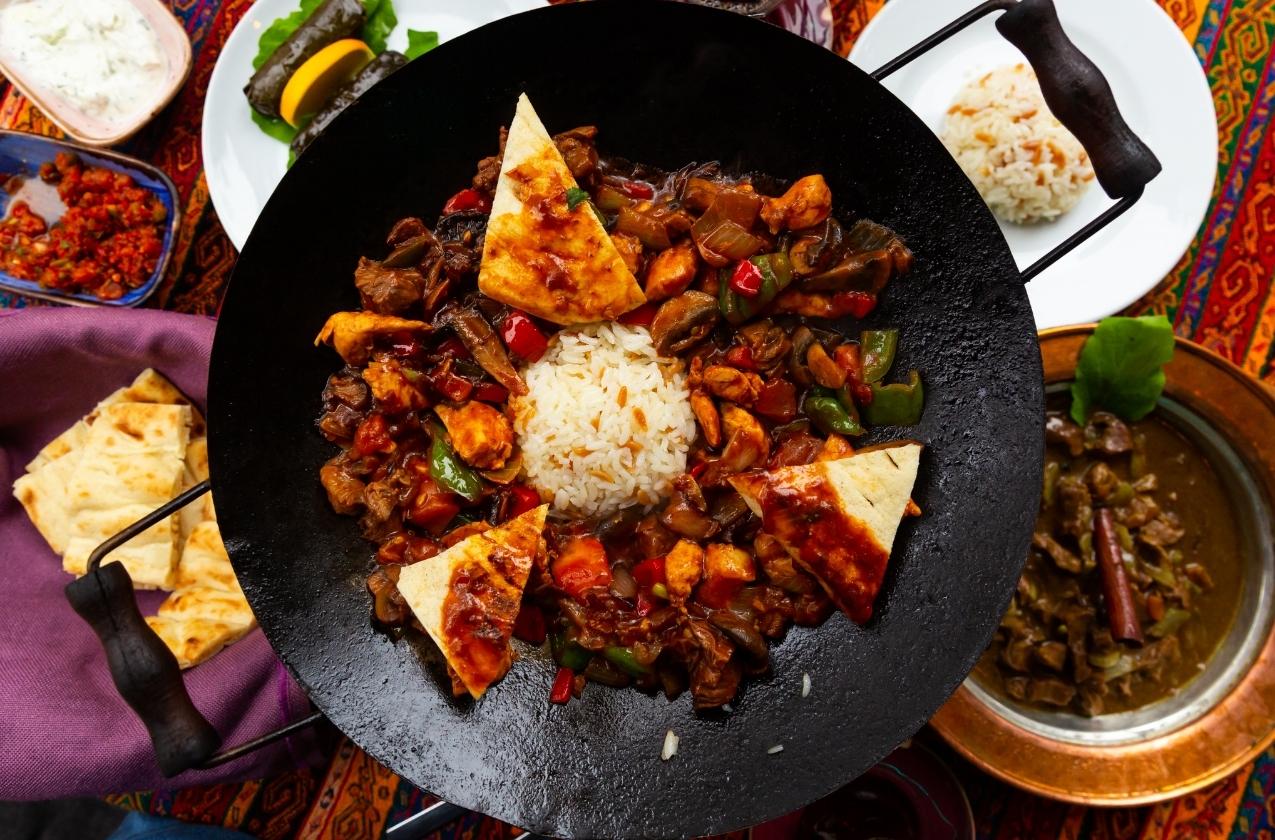 ---
Bessarabian cuisine is a mixture of Moldovan, Romanian, Bulgarian, Ukrainian, Jewish, Turkish, Greek, Gagauz and even Albanian cuisines. The peoples who have lived in this area for centuries have shaped the gastronomic face of the region.
---
Here is the most interesting dishes that are definitely worth a try when you get to Bessarabia.
Kawarma (Kavurma)
Kavarma - a visiting card of Bessarabian cuisine. This is a lamb meat dish that is traditionally cooked over an open fire. The classic kavarma from time immemorial was prepared exclusively from lamb, in a cauldron, over an open low heat, without covering with a lid and it is advisable not to stir, but only lifting the meat from the bottom of the cauldron with a spatula. The meat is stewed, onions and sweet red pepper sauce are added to it, sometimes wine is added, and at the end it is seasoned with spices. Kavarma is served mainly on holidays and eaten both cold and hot. Hot kavarma resembles greasy soup or roast, and cold - thick meat jellies.
In the South of Bessarabia, it is often necessary to allocate all daylight hours for the preparation of kavarma. The meat is finely chopped, boiled or fried, adding various spices, the pieces of meat are then placed in an clay pot and poured with sheep's fat, the pot is closed and placed in a basement, cellar, where it is dark and cool, and in this state the meat can be stored for many months - an old way of canning. Most often, fat of a special breed Avassi sheep is used for these purposes. The meat is perfectly preserved in fat, the fat softens the tissues, the whole dish turns out to be tender in consistency and spicy.
Kurban
This is a dish made from young lamb. Kurban is the most popular dish among the Bessarabian Gagauz and Bulgarians. Very satisfying and tasty. It is cooked in a large bowl, mainly in an oven (sobа).
The meat is baked and served with bulgur and rice. It turns out something like pilaf. The sacrifice is traditionally prepared on the day of the beginning of the cattle season.
If you delve into the history of the origin of the dish, then there were different types of Kurban:
Wedding Kurban (lamb meat)
Petrovsky Kurban (from rooster meat and any other bird)
Kurban for the day of Nicholas (from fish)
Nominal Kurban (from the heart and liver of an animal with bulgur)
Promised kurban (from rabbit meat or any other dietary meat)
Kurban on Hederlez (the beginning of the cattle-breeding and harvest season, the whole lamb was roasted in the oven with wheat porridge)
Easter Kurban (made from pork)
Kurban village style (from various meat with bulgur, rice, wheat porridge)
Kashychka
This is another meat dish, the recipe of which can be found on the Internet under the name "libzha". A dish whose name means "something that was stewed on the fire". Kashychka - a dish of chicken and broth with the addition of flour. For Kashychka the poultry is first boiled, and then garlic sauce is prepared, which is poured over it when serving.
Usually served without garnish or add corn porridge. It is eaten by soaking in bread or puzzle with a baked pie.
Fish borsch
It's like classic borscht, but instead of raw meat, fish heads are fried at the base of the broth. Bessarabian villages located near the water can boast of almost a hundred fish recipes. In Vilkovo, for example, fish borscht is the main feature.
Kiirma, or milina
This is puff pastry baked with cheese. Served as a snack and often with cheese. This is a pie made of thin dough with salted cheese, generously drizzled with sour cream. Hence the popular name "Kaymakli Plachinta", which translates as "sour cream cake". Kiirma with salted brynza is called biorok, and little pies with brynza are called gozlya. If the layers of fresh dough are first cooked like dumplings, and then laid out on a baking sheet and baked with cheese - it will be another dish, macarina.
The dish is far from dietary, but like all Bessarabian pastries, very tasty.
---