Main — War — Acting Minister of Defense of the Kingdom of Denmark Troels Lund Poulsen visited Ukraine
War
Acting Minister of Defense of the Kingdom of Denmark Troels Lund Poulsen visited Ukraine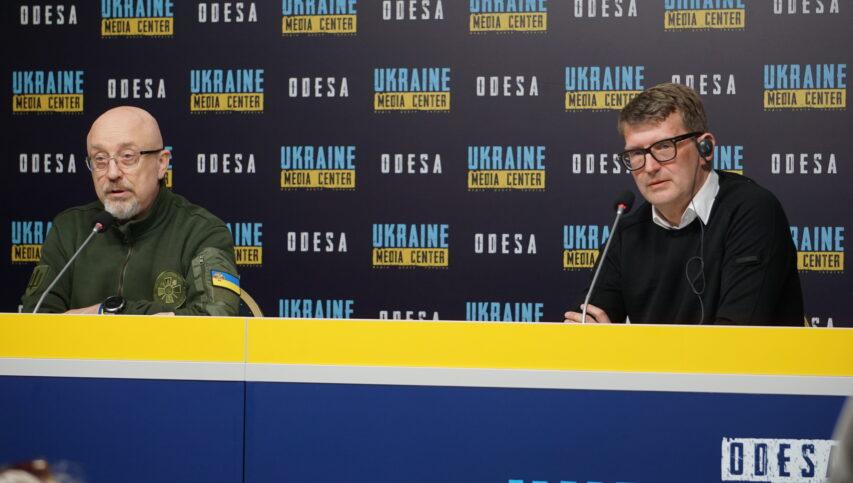 ---
On April 10, the Minister of Defense of Ukraine, Oleksiy Reznikov, and Acting Minister of Defense of Denmark, Troels Lund Poulsen, spoke at a Media Center Ukraine – Odesa briefing. His visit symbolizes Ukraine's continued support in the willful struggle against the Russian aggressor.
In his introductory speech, the Acting Minister expressed his solidarity and admiration for the bravery and courage of the Ukrainian people and assured them that support from Denmark would continue in the future.
"I want to emphasize that Denmark confidently supports Ukraine, you are fighting for the freedom of the entire European continent. We donated weapons, and military equipment to you, and also trained Ukrainian soldiers in Denmark, and we will continue these efforts as long as necessary," he emphasized.
Troels Poulsen commented on the use by the Ukrainian military of Harpoon missiles, which the Kingdom of Denmark provided to Ukraine last year, as well as the consequences of this cooperation.
"I saw how Ukrainian soldiers work on Danish Harpoon systems. In the past, we have been able to convert them to land-based systems and have now passed them on to you. We need to see that you successfully apply them, which allowed you to secure Odessa and free the sea corridor to export food products. I am happy and proud to see the results of our cooperation," - said the minister.
Poulsen called cooperation with Ukraine an important priority and expressed hope that this cooperation will deepen in the coming years. Denmark is carefully studying all possible options and formats of cooperation and also plans to increase the volume of military aid, which will speed up the victory of our country over the aggressor.
---