Main — Business — Indispensable tools by Readdle
Business
Indispensable tools by Readdle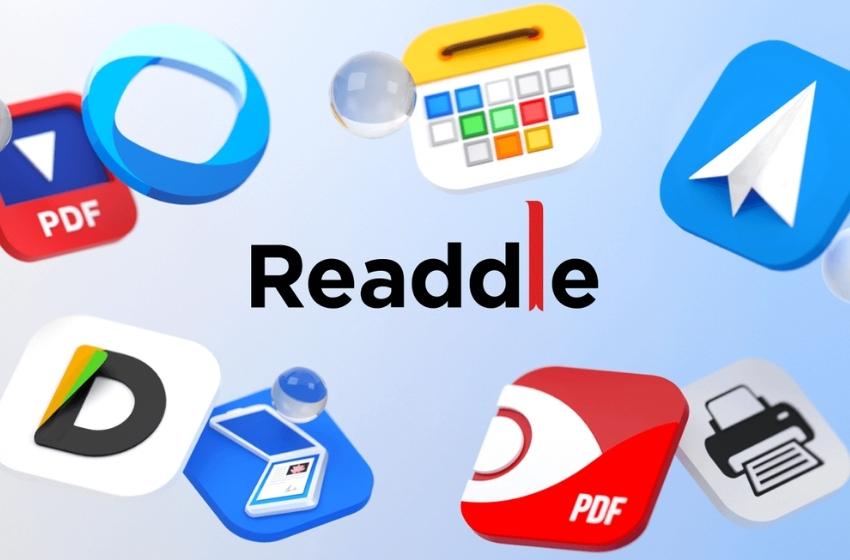 ---
At Readdle, success is not measured in tens of millions of downloads. What gets us out of bed is hearing how their apps change lives every day. They had over 187,000 customer emails just in 2020.
---
In 2007, Steve Jobs presented the first iPhone in San Francisco. Meanwhile, in Odessa, university friends Alexander Tyagulsky, Igor and Denys Zhadanov, Dmitry Protserov and Andrian Budantsov dreamt to create their own large-scale and useful software product. Seeing the presentation, they decided to bring a miracle smartphone from the United States, intuitively realising that this is the technology of the future. And then it turned out that you can't even read a book on an iPhone.
Readdle started as a crazy idea. Four young techies get together to pioneer business productivity tools for the first iPhone. The App Store will appear only in a year, and so far the guys have come up with a service Readdle, which allows you to read books on the iPhone through the Safari browser. Readdle was on the Apple Store from day one and launched its first app back in 2008.
The name was born from the word "read" with the then trendy doubling of letters. Two months after its launch, Readdle had 60,000 users, and in the first year of its existence, Readdle entered the top ten services for the iPhone.
They've been growing steadily, launched dozens of paid productivity apps, shut down some of them and iterated on the most successful ones. An early, rough-around-the-edges first version of their document viewer and manager, ReaddleDocs, caught Apple's attention.
The company asked if Readdle would submit its app for the launch of the new iOS marketplace, the App Store.
In 2009, Wall Street Journal columnist Walter Mossberg listed Readdle Docs as one of his "favourite apps that make the iPhone worth the price," a mention that spurred sales: jumped 800 percent. According to Denys Zhadanov, Readdle was pulling in $500 to $1,000 a day.
Readdle redefines personal productivity and shapes the "future of work" by creating outstanding apps and services. The company makes some of the best apps, like Documents for handling your documents from various sources, Scanner Pro for scanning your documents, Printer Pro for printing documents, Spark for email, and PDF Office, PDF Expert and PDF Convertor for all your PDF needs. This week, Readdle introduces PDF Expert 2 — a gigantic update to the powerful and robust PDF Editor for Mac. This apps were downloaded over 100 million times worldwide. Their document managers, scanners, and calendars become bestsellers in roughly 200 countries.
Apple has crowned many of our products as Editors' Choice and Apps of the Year, and we have often hit the Top Charts in dozens of countries. But this is just what is on the surface.

Readdle, press release
In 2018, U.S. business magazine Forbes has placed Ukrainian tech entrepreneur Denys Zhadanov on its list of the 30 most successful people in Europe aged up to 30 in the Technology sector.
Readdle experimented with different ideas: there were more than 40 products in the portfolio, and now 8 products are in active development.
With over 150 million downloads worldwide and a team of 200 passionate professionals, Readdle's apps are now the world-class products that power entire businesses and compete with the biggest and best companies on a global scale. They're dedicated to make PDF Expert the best solution for work with PDFs across all platforms and turn Spark into a product that finally closes the gap between external and internal communications within your company.
We believe that technology is changing the way we live, work and get things done. Our goal is to create apps and services that unlock creativity and productivity in all of us.

Readdle, press release
In the first day after the launch of iOS 14, Readdle reached 150 million downloads. Apple added Scanner Pro to the list of the best paid applications in 2020, and global renewable energy giants Vestas and RWE became new customers B2B product Fluix.
Currently they have offices in Silicon Valley, Ukraine (Odessa, Kyiv) and Berlin. Among the companies using the Readle's apps are business brands such as Siemens, BMW, Scandinavian Airlines and Roche.
---