Main — Diplomacy — Caviar salt, Mirudia and Gyuzum. Bessarabian Spices by Chef Andrey Velichko
Diplomacy
Caviar salt, Mirudia and Gyuzum. Bessarabian Spices by Chef Andrey Velichko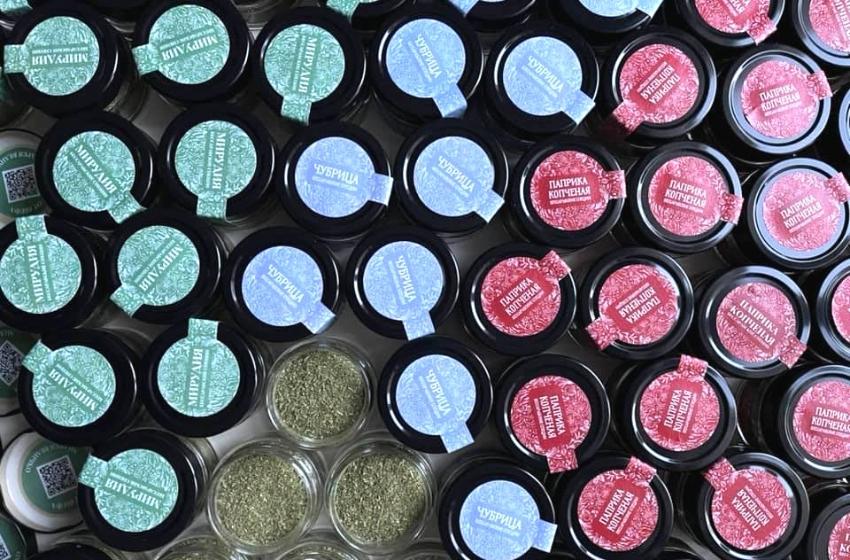 ---
Chef Andrey Velichko is a researcher of spices, rare herbs and roots, as well as a professional chef. Andrey started to discover local herbs and launched his line of author's spices.
---
Andrey Velichko is from Bessarabia. He was always interested in spices and brought them from travels as souvenirs. And then he discovered that in his native Bessarabia there are many gastronomic herbs and plants that few people know about.
Andrey personally sifts, mixes, smokes and packs herbs:
mirudia (or murdya), which is also called the Provençal herbs of Odessa
caviar salt - salted, dried and chopped roe of the Danube sharanchik and Dniester carp
smoked paprika - sweet peppers, crushed by hand, dried in the sun and smoked with cold smoke of alder and cherry chips
chubritsa - dried savoury leaves
multi-coloured salt - a mixture of sea salt and Bessarabian herbs
gyuzum - the variety of peppermint
And let us immers you in some details
Mirudia
Mirudia is the main spice mixture of Bessarabia. "Provençal herbs" of the Odessa region, "Khmeli-suneli" of the Black Sea region. There are many names. This is a mixture of at least 10 types of herbs, including mint, fenugreek, sweet and hot pepper leaves, honey garlic, parsley, dill and other herbs.
The number of ingredients and proportions is differs slightly from family to family, and mirudia from different villages can differ quite significantly. But one thing unites all types of this spice: the food with it turns out to be fantastically tasty and aromatic.
How to use? First, vegetables, fish, and white meat go well with mirudia. Therefore, if you bake fish, marinate it first with mirudia, if you are going to fry vegetables on the grill, you also need mirudia. But if you decide to quickly fry or bake chicken or turkey, be sure to use mirudia.
Even cream cheese goes very well with mirudia. Especially labne cheese with the addition of mirudia is very good when applied to a crispy crust of bread. And you can add it to salad dressing. And, of course, a teaspoon of mirudia can turn the most mediocre soup into a culinary masterpiece!
Multi-coloured salt
A mixture of sea salt and Bessarabian spices - sweet and hot peppers, mirudia, dry garlic. Local analogue of the Bulgarian seasoning Sharena Salt (Sharena Sol), or Georgian Svan salt. It is a flavoured, tasty and balanced salt. An indispensable component of the Bessarabian cuisine because with multi-coloured salt you can make almost any dish become a little bit Bessarabian.
Chef Andrey Velichko recommends keeping it on the kitchen like table salt and adding it to all meat, vegetable and even fish dishes. You can use it in the same way as regular salt - for example, when you cook soup, or marinate meat for a shish kebab. If you are seasoning meat for the cutlets or chicken broth. The versatility of this particular salt lies in the fact that almost any type of food - fish, meat, poultry, vegetables, and dairy products behave well with such salt.
Gyuzum
Fragrant Bulgarian mint, which is also called gyuzum or guzum. Mint bushes, which have just begun to bloom, are plucked and slowly dried under the roofs of rural houses. The way it was done a hundred years ago. Due to this, mint retains its colour and aroma. This is not menthol mint with an overly aggressive aroma, this variety of peppermint has a pleasant and rather delicate mint aroma, which makes it versatile in both tea drinking and cooking.
You can use it traditionally, adding a little mint to your tea. The aromatic, soothing gyuzum mint tea is a separate delight. But Andrey Velichko still recommend adding gyuzum in the cooking process. If you cook chickpeas, add a little mint; if you stew potatoes with meat sauce, then try with a pinch of mint; if meat soup, then fresh parsley and a drop of mint will revive it very much. And also with any greasy meat, pork or lamb. By the way, if you marinate lamb with garlic and gyuzum, then you are guaranteed to be very pleased with the result. And in general, the addition of mint in the process of cooking any greasy meat, be it lamb, goose or pork, makes the dish less greasy in both perception and taste.
Chubritsa
In no case should you confuse chubritsa with thyme. Another name for this herb is savoury, one of the most popular Bulgarian herbs. It is believed that on the territory of Thrace, the Romans were the first to cultivate and use chybrits in cooking. So the culture of using this fragrant and aromatic herb came to the Bulgarians, and with them to us in Bessarabia.
I first tasted this spice in Bolgrad, the capital of the Bulgarians in Bessarabia. There in the market, old ladies sell dried leaves of the local aromatic savoury. Like any local greenery, it is different. Still, the peculiarities of the climate, land and culture of cultivation and preparation have turned the local savory into one of the brightest specialties of Bessarabia.

Andrey Velichko
Can be used in all meat and vegetable dishes. It is especially good to bake duck or stew lamb with the addition of a pinch of chubritsa. It's also very good to just add a pinch to the soup. The chubritsa has a certain versatility in terms of soups; in everyone it is good and in everyone it reveals itself a little differently. But for himself, Chef Andrey Velichko has developed a rule of taste: if it is a fish or vegetable dish, then chubritsa must be added in tandem with myrudia; so the aroma of spices becomes more rounded and full-bodied. But for rich meat, such as lamb and mutton, duck and goose, adult beef and pork, the chubritsa will be completely self-sufficient. And in almost any cooking method, it behaves well and the dishes turn out to be fantastic.
Smoked paprika
Smoked paprika is a gastronomic treasure of Bessarabia. Sweet peppers, dried in the sun and crushed by hand, and then smoked with cold smoke from alder and apple chips. Traditionally, in Bessarabia they didn't smoke paprika, but why not improve an already wonderful product?
Chef Andrey Velichko truely believes that this is the best thing that could have happened to bell pepper, at first it was grown under the scorching sun of Bessarabia, then dried under the same sun, well, at the very end, it was also slightly smoked on alder and cherry chips. The spice is natural and naturally paints your fingers, if you rub it in your hands.
The spice is not hot, has a strong and characteristic sweet pepper flavour with a light smoky aroma. It is good both for use in the cooking process and for decorating ready-made dishes. For example, scrambled eggs that you sprinkled with such paprika from a banal breakfast turns into a gastronomic dish. If you took a decision to make a meat stew, then adding a spoonful of Bessarabian paprika will make the dish similar to Hungarian goulash. Add to vegetables, add to soups, add to sauces. Wherever in your opinion the taste of sweet pepper and red color will be appropriate.
Caviar salt
Author's spice by Andrey Velichko for gourmets: caviar salt. The sea taste of Bessarabia is salted, dried and crushed caviar of local fish, Danube sharanchik (small crucian carp) and Dniester carp. Natural flavour enhancer, product with high taste, with umami taste. It is used as an additive to a ready-made dish, because unlike salt, caviar salt does not dissolve in water.
It is ideal to use caviar salt as a finishing salt, to complement ready meals with it. For example, sprinkle with cooked noodles or mashed potatoes, or mix with butter and serve with boiled new potatoes. In fact, adding caviar salt to potatoes already allows you not to use herring, the fishy taste is already enough. Use it for in a mini-sandwich of black Borodino bread and cream butter, lightly salted sprat can be easily replaced with caviar salt. Another great breakfast option is crispy baguette and cream cheese with caviar salt. And if a poached egg is added to all this, then in general such a breakfast is drawn to 5 stars. Vegetable or creamy dish will make fishy, ​​and fishy will enhance the taste to the top!
Where to buy:
Spices are presented in 4 Kyiv Silpo Supermarket:
Kyiv, Pool Street, 6
Kyiv, Dniprovska embankment. street, 12
Kyiv, Stepana Bandera ave., 36
Kyiv, Stolychne Shs, 103
---