Main — Без рубрики — ECO: Ochis the world's first coffee-based eco-glasses
Без рубрики
ECO: Ochis the world's first coffee-based eco-glasses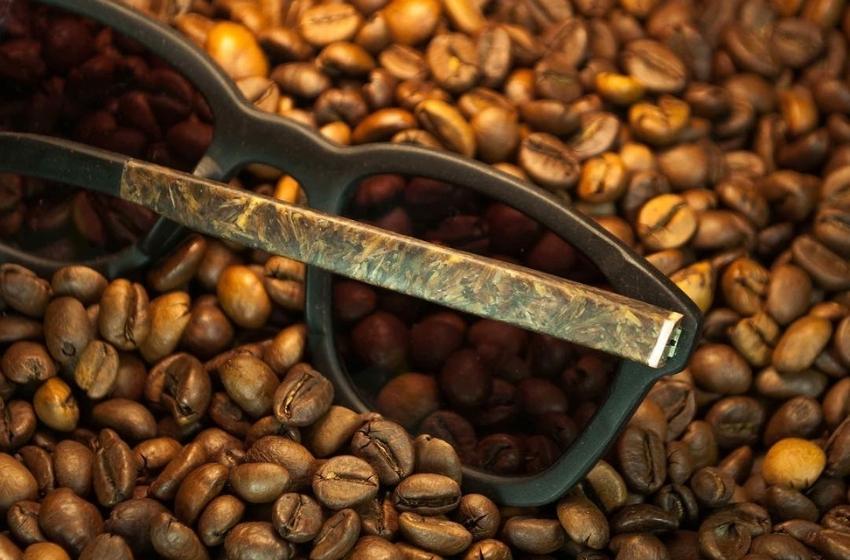 ---
Made in Kyiv (Ukraine), Ochis' frames combine a 15-year-long experience in optics with unique technology. Ochis formula is completely natural: a mix of used coffee grounds with plant-based oils, to give the frames a smooth texture and a slight coffee aroma. An innovative material, result of years of experimenting.
---
Ochis (formerly Ochis Coffee) is a Ukrainian brand that makes eco-glasses from coffee pomace. Their frames are made entirely of natural ingredients and degrade 100 times faster than plastic. Ochis has run two successful Kickstarter campaigns and has been featured in high profile publications such as Forbes, Reuters and the BBC. The company recently raised USD 500,000 from investors and launched its own production facility in Kyiv.
Making glasses can be safely called the family business of Maxim Gavrilenko. His parents worked together at the Izyum Optical and Mechanical Plant in the Kharkov region. Later they opened an optics and glasses repair shop in Kyiv.
Since childhood, Maxim has been involved in the family business - at the age of 10, he bought a small bag of glasses from his parents for UAH 50 and sold them on the steps of the Haymarket in Kyiv on his own. In adulthood, Maxim, together with his parents, created several sites for the repair and sale of vintage branded glasses.
Maxim realised that he wanted to produce glasses that would not harm the environment. Prior to the idea of ​​creating glasses from coffee pomace, Gavrilenko experimented with various natural materials, such as mint, parsley and turmeric.
In 2018, he chose recyclable coffee, as there is a lot of it and it has a pleasant smell. Other natural ingredients include plant-based biopolymers and flax. This technology was developed from scratch and is constantly being improved.
The startup now has two executives. Maxim Gavrilenko is engaged in the production and organization of administrative and management processes. Akim Karpach is responsible for brand creative, content creation, communication with clients and online formats. There are currently 15 people in the Ochis team.
In a couple of years, the company has gone from a small home workshop with USD 7,000 equipment to a full-fledged production workshop with USD 150,000 equipment.
Seeing the increase in demand, the team felt they had grown out of a home workshop and were ready to move on. The question arose about attracting investments. Ochis wanted to find an investor who would become a full-fledged partner of the project. At the beginning of 2020, two business angels became partners of the project and invested a large sum in it: USD 500,000.
The production and design department of Ochis is located in Kyiv, near Zhuliany. The entire cycle of glasses creation takes place in production: the development of specific equipment, the production of our own molds, drying and grinding of coffee cake, pressing the cake into blanks, CNC milling, hand grinding, tumbling, assembling glasses and packaging. The glasses go through 39 production processes until they are fully ready. The complete production cycle of one glasses takes about 7 days. Most of this time is spent preparing recyclable materials. The coffee pomace must be dried, ground, mixed with natural oils and placed in molds under the presses for a couple of days. This is how the plates are made from which the frames and temples are cut.
The company's product is primarily aimed at people who prefer conscious consumption and care for the environment. The glasses are ordered by buyers from the USA, Australia, Great Britain, Spain, Portugal, Germany, Switzerland, Italy, Austria, the Netherlands. It is noteworthy that there are no more than 10% of Ukrainians among buyers.
Ochis' activities are fully in line with the current trend towards environmental friendliness and sustainable development. These qualities are increasingly becoming not just a pleasant bonus, but a necessary attribute of brands.
The company focuses on two sales channels - through its own website and Instagram, as well as through cooperation with foreign opticians and concept stores. Eyewear prices range from USD 130 to 160. You can order sunglasses, photochromic, with diopters and for computer work. The buyer can enter the recipe data directly on the site.
Ochis focus on sustainability in everything from the plant-based source material to low-waste order packaging. The company's production is CO2-free. Through Ochis they try to show that eyewear can be eco-friendly, convenient and affordable.
---