Main — Culture — Headstones of the Old Cemetery in the village of Kubanka
Culture
Headstones of the Old Cemetery in the village of Kubanka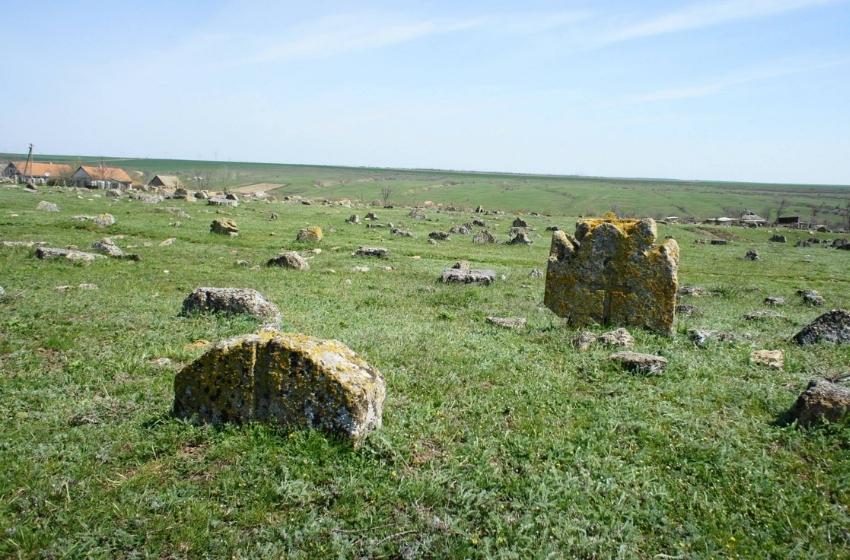 ---
Kubanka is a village, belongs to the Limansky district of the Odessa region. The population according to the 2001 census was 582 people. On the village's territory, there is an old Orthodox cemetery with unique tombstones.
---
In the southwest, 2 km from the village, there is the Kuyalnik estuary. The village is located above the valley of the Kubanka River, which dried up decades ago and is filled with water in some places only partially - after rains or snowy winter, by the spring, forming a small lake near the Kubanka, but by summer, it dries up.
During the Russian-Turkish wars, Russia acquired the entire Northern Black Sea region named "Novorossiya". Tens of thousands of peasants, artisans, and merchants rushed to this territory, hoping for a better future. The heavy burden of the pioneers fell on the shoulders of ordinary workers, whose calloused hands plowed thousands of hectares of fertile virgin land, built dozens of cities, and founded hundreds of settlements. Interested in the early development of the newly acquired lands, the tsarist government extensively used the foreign colonization of the Novorossiysk Territory.
In 1802, a special decree allowed the Bulgarians and Greeks, who arrived from Turkey, to settle "on state support" within Russia. At the same time, they were provided with significant benefits: exemption from taxes and duties for 10 years, as well as from recruiting and standing; obtaining a loan; duty-free transportation of goods in the amount of 300 rubles for each family, etc.
By 1886, the village of Kubanka was the center of the Kuban volost, a territorial unit of the Odessa district of the Kherson province. The Kuban volost consisted of a single settlement of a rural community. Population - 2058 people. However, now only almost 500 residents live in the village.
In 1805, the church was founded here. In 1814 this church was consecrated. We know for sure that the first metric records took place here in 1810. They have been preserved in the state archive of the Odessa region. Who was the priest, who was baptized, who was married. And already the following year there were the first burials.

Alexander Chiley (historian, ethnographer)
In 1929, at the workers' request, as they said then, there was a decision - to close the church. And at the same time, in the 30s, it was destroyed
On the outskirts of the village of Kubanka, near the church, there is an old cemetery, the tombstones on it date back to the 1810s. There is no one to look after the old cemetery, there are no relatives of the buried. The beautiful stone tombstones are gradually being leveled to the ground.
The last burials of the old cemetery date back to the 1890s. Today it is a field dotted with stone remains of tombstones in the form of Maltese and Orthodox crosses and rare fencing plinths. The inscriptions are almost erased by time.
---