Main — War — Hundreds of Russians living in Ukraine have already burned their passports in protest of Putin's aggression
War
Hundreds of Russians living in Ukraine have already burned their passports in protest of Putin's aggression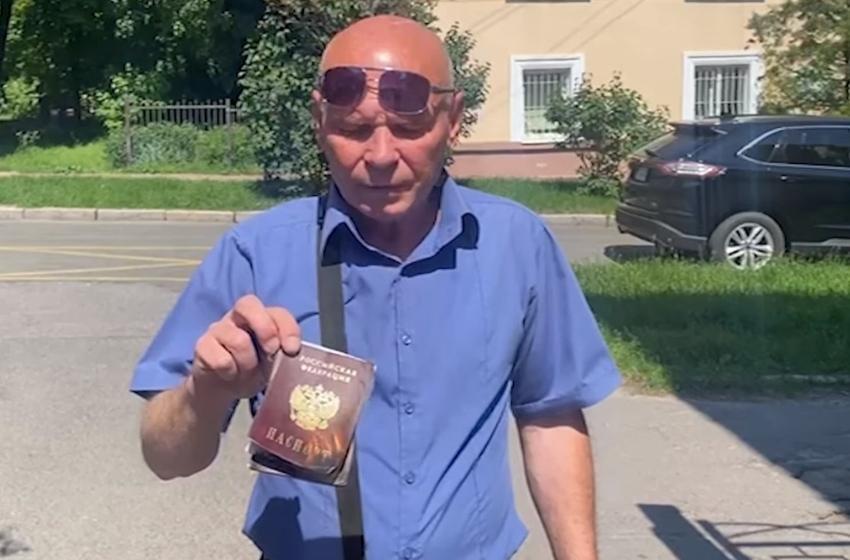 ---
The State Bureau of Investigation continues to oppose the enemy at all levels. Among other things, the citizens of the Russian Federation are being systematically checked for possible involvement in sabotage and intelligence groups. The vast majority of Russians living in Ukraine condemn aggression and distance themselves from the criminal actions of their compatriots.
The State Bureau of Investigation informs the public about new facts about burning Russian passports. Every day more and more people want to renounce Russian citizenship and get a Ukrainian passport. Every day more and more people want to renounce Russian citizenship and get a Ukrainian passport. Men and women, people of different professions and different ages agree that it is a shame to be a Russian after the large-scale Russian invasion of Ukraine.
A resident of Rivne region also publicly burned his Russian passport in protest and called on other compatriots to do the same.
The 50-year-old Russian citizen was born in Ukraine but moved to Kamchatka with his parents before school. He lived there most of his life. He served in the army in the Amur region and earned a degree in ordinary radiotelephony. In 2019 he returned to his native land to take care of his old father, who also wanted to meet old age in his homeland.
I do not observe Nazism or fascism here … I condemn President Putin's criminal orders, I condemn those who carry them out. I do not want to be a citizen of Russia! He is ready to lose his citizenship - the sooner the better
In Russia, the man has an 18-year-old son. The whole family is worried that he will be drafted into the army, because then, in fact, he should go to war against his father and grandfather. The man says that it would be better for his son to go to prison than to go to war. He burned his documents - passport and military ID.
But a resident of the Autonomous Republic of Crimea calls on all Ukrainians who were forced to obtain a Russian passport in the occupied territories to get rid of it.
In 2014, after the occupation of the Ukrainian peninsula, the man was forced to issue a "red" passport. But soon after seeing the contemptuous attitude of the Russian leadership towards Ukrainians, he decided to return to his homeland, Chernihiv.
He urges Russian soldiers not to follow the criminal orders of their leadership and start thinking "on their own."
I saw with my own eyes all the atrocities committed by the Russian army here, destroying the infrastructure of peaceful cities, destroying locals, bombing hospitals. I saw all this with my own eyes, because in February 2022 I volunteered to go to the military enlistment office to defend my own state
The man believes that every Ukrainian who was forced to obtain a Russian passport should burn it.
I have lost my Russian citizenship for the rest of my life
In the Lviv region, a 64-year-old Russian citizen also decided to lose his Russian passport.
The man has been living in the region since 1998, working in Russia on a rotating basis in the gas industry. In protest against Russia's actions in Ukraine, he burned his Russian passport and called on his compatriots living in Ukraine to do the same.
The man says:
During the 14 years he lived in Ukraine, he did not suffer any oppression from Ukrainians. I do not want to be a citizen of a country that committed genocide against the Ukrainian people, so I am destroying my passport. Glory to Ukraine!
---