Main — Culture — Pietro De Maria: a silence full of expectation
Culture
Pietro De Maria: a silence full of expectation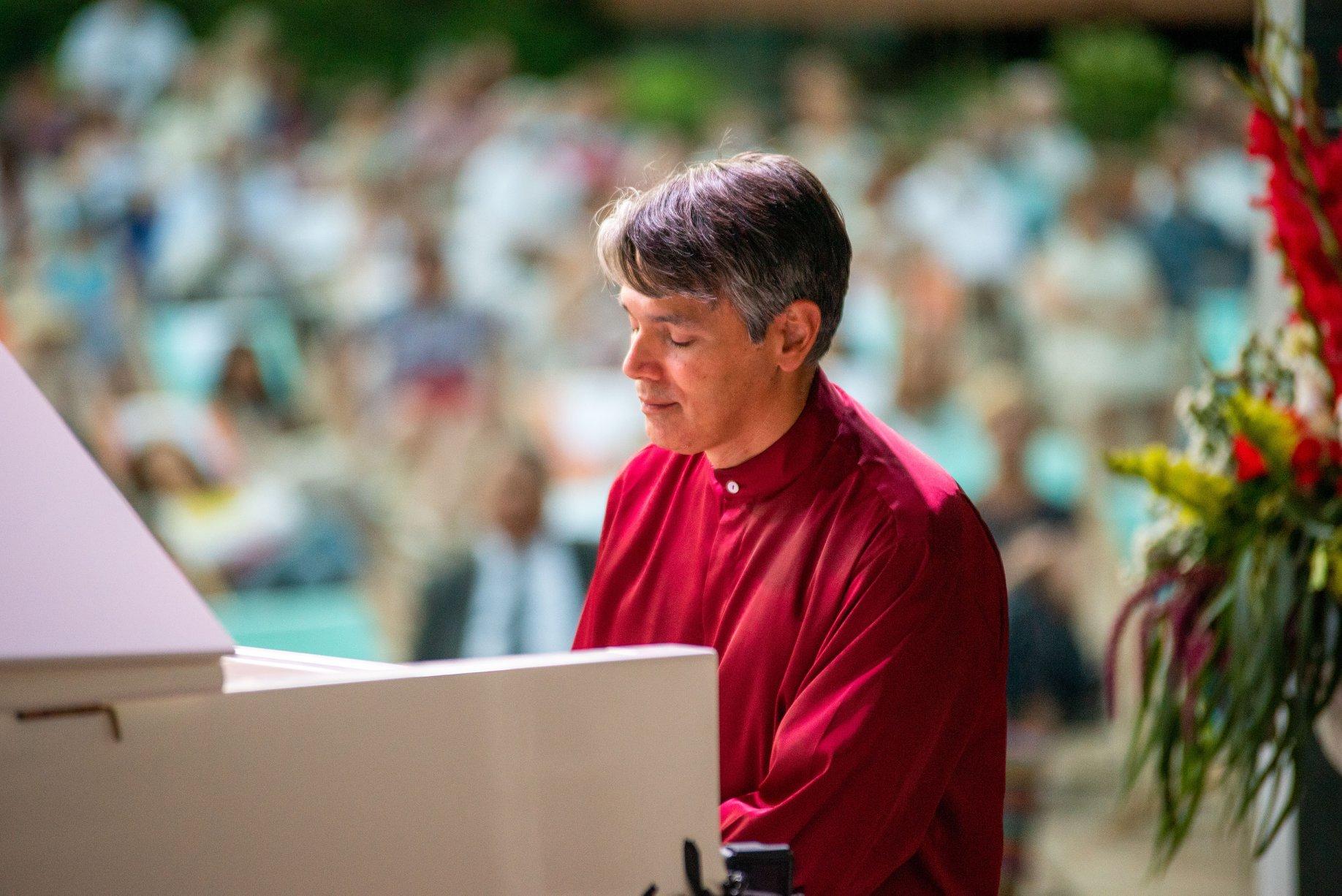 ---
The famous Italian pianist Pietro De Maria came for the second time to "Odessa Classics" (but the third in Odessa), the most important classic music festival of Southern Ukraine. We met the Maestro after the concert at the reception organised by the Italian Embassy, sponsor of the concert.
---
Maestro, this evening you played Chopin, Tchaikovsky and Liszt. Why this programme?
I always try to perform the pieces I feel closest to my soul. For Odessa Classics I chose a very romantic programme. Chopin has always been one of my favourite composers, I have performed and recorded for DECCA the whole of his compositions for piano solo and I have also performed all his compositions for piano and orchestra. I never get tired of playing him and I think that his music speaks directly to the hearts of the listeners. From Tchaikovsky I chose some pieces from "The Nutcracker", superbly transcribed by Mikhail Pletnev, and also from Liszt I played some transcriptions, which, let's say, speak Italian: "Petrarch's Sonnet 104" was originally written by Liszt himself for voice and piano and only later he made a version for piano solo; "La Campanella" instead is a masterful reworking of a Rondò by Paganini for violin and orchestra.
---
What do these compositors mean to you as a piano player? What do they mean for your soul?
For me as a pianist the search for sound and timbre variety have always been fundamental components, I would say that I am an aesthete of the piano. Also for this reason I love Chopin, because he was a magician of the piano and was able to exploit the sonic potential of the instrument in a new way, creating a richness of timbre hitherto unknown. Perhaps also for this reason he almost never felt the need to write for other instruments. I like the orchestral aspect of Tchaikovsky/Pletnev instead: thanks to this magnificent transcription I feel like a conductor! Both Chopin and Tchaikovsky are close to my Slavic soul: in fact I have Czech origins on my mother's side. Liszt was also a magician of the piano, like Chopin, and unlike the latter he loved to perform in public, which he fascinated with his spectacular virtuosity. Virtuosity that is evident in a piece like "La Campanella", much played on lightness, but which is also present in a deeply poetic composition like "Petrarch's Sonnet".
---
You participated to Odessa Classics for the second time. Is there a particular reason for you to renew this participation?
The reason this year was simply the Covid-19! In fact, I should not have come in June, but due to the shift of dates I gladly accepted the Maestro Alexey Botvinov's invitation to replace a colleague, who was unable to attend during this period.
---
Classic music is a humankind's heritage. Why young generations are progressively less interested in it?
I don't think the younger generation is less and less interested in classical music. Today, also thanks to some young stars very present on social media, classical music reaches even the very young.
What do you suggest to do?
Of course I believe that music, the strong and emotionally rich and deep music like classical music, should be taught to everyone since childhood. Don't we all study literature and mathematics, without this necessarily obliging us to become writers, poets or scientists? Music is no less important and for this reason it should be practiced from an early age: music opens us up to listening to ourselves and others (I'm thinking of chamber music or a choir for example), it teaches us discipline, self-control and muscular coordination (my medical friends are always fascinated by a musician who plays because of the amount of stimuli that start from the brain and have to be translated into small, fast and precise movements), music sets in motion areas of the brain that we don't normally use and it has been shown by a lot of research that among young people, who plays an instrument is normally better in other subjects than young people who don't practice music.
---
As an international performer, you visited many cities. Which city is for you more comparable to Odessa? Why?
Odessa seems incomparable to me, even if it suffers from the French influence in its large tree-lined boulevards! It seems to me a city where nothing is missing and where people live well!
---
What is more important for you: the warm applauses of a satisfied public, or your inner sensation that you played how you expected from yourself?
More than applause, it's the silence of the audience that satisfies and excites me, a certain kind of silence that doesn't necessarily happen all the time, but when it does, when I have the feeling that the audience is holding their breath to follow my "story", this is something that fills me with joy.
---
Somebody say that an artist gets the energy from the public. We can deduce that an artist change something in his performance according to a different public. Is that the same for you?
Absolutely! The silence I was talking about before is a silence that can be perceived, an active, participatory silence, full of expectation and concentration: it helps me a lot to concentrate in my turn and thanks to the audience it sometimes happens that we artists manage to go beyond ourselves, to forget everything for brief moments of eternity. And of course the performances can also change because of a particular acoustics or piano, as well as a certain type of audience.
Pietro De Maria Website | Facebook | Instagram | YouTube | Spotify
---
What is the best way for you to be in the best mood for a performance? Reading a book, listening the piece of your programme, watching a video, a conversation with a friend, other..?
I try not to concentrate too much! In the sense that if I spend too much time alone thinking about what I'm going to sound like I'm just going to get nervous! For example, before the concert for Odessa Classics I tried the piano in the morning and, after a good lunch, I read a book by Simenon and then I finished it on the plane back to Italy: I really like Simenon! Last year, after the rehearsal, I went for a nice walk.
---
When you select the pieces to play in a concert, does the city have an influence in the process?
Yes, in the sense that every city has a character that is reflected in the public. I think the audience in Odessa is very sensitive and doesn't just want to see a performance by a piano athlete...
---
In case of nuclear cataclysm, choose three music pieces to be preserved for the eternity.
Bach's Well-Tempered Harpsichord, Beethoven's Ninth Symphony and Brahms' Fourth Symphony.
---
They will write a book on you. Which is the title?
I don't think they're going to write it, more likely I'll write a little book of advice for young pianists...
---