Main — Diplomacy — LV Stylist Digest: Drutis Jewellery with meaning
Diplomacy
LV Stylist Digest: Drutis Jewellery with meaning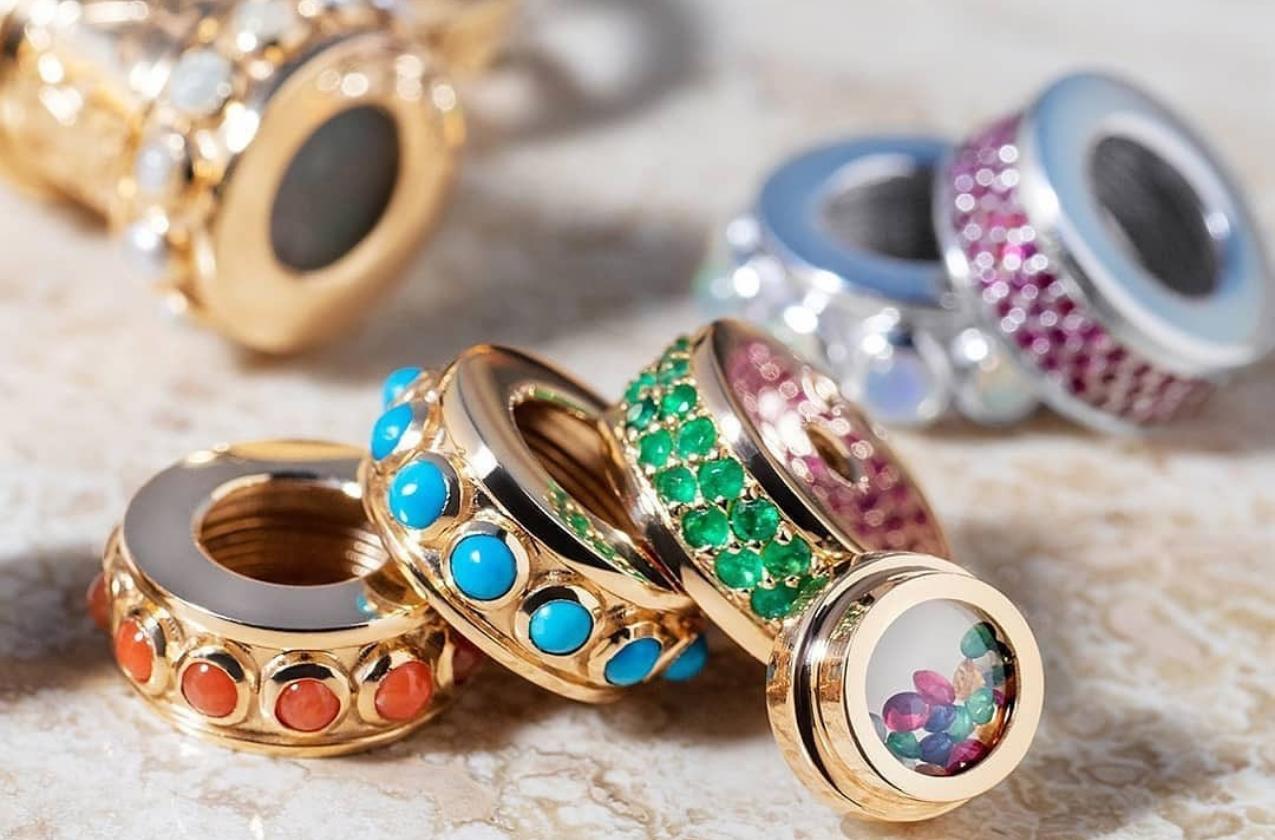 ---
Helen Labartkava-Verdi writes for The Odessa Journal a unique column, giving us her inside expert view on a city's most interesting brands.
She is the founder of Labartkava Image Laboratory (stylist school), co-author of many fashion projects and producer of many advertisement campaigns in Ukraine and in Italy.
Helen is passionate everything about design and style, good wine and interesting people.
---
Let's get to know the family jewelry brand Drutis Jewellery - "Jewellery with Meaning".
I can definitely say that love is the foundation of the company, this is unambiguous. Mother's love for daughters, children's love, love for life, love for beauty. Drutis Jewellery is a family-owned brand created by mother and daughter Elena and Dana Drutis with a focus on the dynamic life of a modern woman and creativity in the jewelry world.
LV: Dana, tell me how it all began.
D: The story of the brand's creation was born from a personal story, namely, from my mother's love for kaleidoscopes. It was a tradition in our family to give her completely different kaleidoscopes - from antique to modern. But when the idea of ​​giving a jewelry kaleidoscope appeared, we simply did not find it and decided to make it ourselves. And having created our first jewelry, we realised that we could not stop.
LV: So, who is your jewelry for?
D: We wanted to create jewelry for creative girls, who love the jewelry world, but do not want to repeat themselves, who prefer to be unique and wear unique things, and set off their beauty with jewelry.
In our understanding, a piece of jewelry is a reflection of the inner state, the influence of the outside world on you, or an emotional connection with a person, if it is a gift. Jewelry is always more than just jewelry.
LV: What's "jewelry with meaning"? What meaning do you put into Drutis Jewellery?
D: Our products are treasures with meaning. Each of them has a meaning, and even more than one - the decoration can be originally designed or tell a story. But it is always more than just a beautiful thing.
For example, our Smart collection is dedicated to the modern woman who lives in a dynamic world and can be at work in the morning and at an event, conference or date in the evening. We wanted to create jewelry that will support the versatility of a woman and help highlight her mood. Therefore, we have created a collection that includes a pendant and earrings, to which you can add different charms of the pendant.
LV: is it possible to apply such a trendy expression as "reasonable" consumption" in the sphere of jewelry?
D: Sure. The idea of ​​the company is based on the desire for sustainability and reasonable consumption: we are talking about the fact that you can not have 10 jewelry items, but one that you can wear beeing 8 or 48 years old, but wear it in a different ways.
And if in the morning you can be at the conference wearing laconic diamond earrings, then in the evening you can add pearls to them for the red carpet or joyful chili peppers to meet with your friends. And it's practical what is very much men appreciated in our jewelry. They understand that by presenting a basic jewelry for a woman, they can add some charms in future. And with the new jewelry item the woman will not put the previous ones in the box, but will continue to wear it.
LV: you really have a very interesting idea to create constructors jewelry. Tell us about it.
D: It was important for us that the basic jewelry was a self-sufficient classic, and depending on the occasion, the girl could add details to them - any products from our collection of charms or a commemorative jewelry from her own jewellery box. For example, we had a case when girls purchased a pendant to wear a wedding ring on it. We even had to change the technology of the pendant mechanism, but we are always welcome it, because we understand that jewelry is a personal history and memory.
LV: I know you use unique technologies to create jewelry.
D: We strive for unique engineering solutions. For example, our Solomon ring with moving stones has several meanings. First, your personal message may be hidden behind the stones, and for the second, the stones move with a certain sound and rhythm, so when you touch them, it serves as a kind of meditation.
Since our jewelry shouldbe used for a long time, it is important to make them not heavy, do not create a feeling of any discomfort during the use. Solomon rings and Kaleidoscopes are a special love story between the brand and the client. In this case each new client meets new concept and design. It is very important and pleasant for us to be creative and special for our clients.
LV: tell us about the process of jewelry making.
D: First, an idea appears, then a rough sketch and options for what the jewelry can be made of. We select the material and precious stones, then the model is already created.
The product does not have a single date of creation, it is born in stages, not from the first test. The work on the kaleidoscope from the start to the patent took 1.5 years, there are products that we have been working on for several years, and they have not yet been released. It took us three months to create charms, perhaps, this was the shortest period. The world of jewelry is very complex, so we have to immerse ourselves in the study and combination of metals and precious stones. To understand what is in trend today, and at the same time to move away from trends, to find our unique one that will refresh jewelry lovers.
LV: What are your plans for 2021?
D: We have very ambitious plans. We strive to make Drutis Jewelery a global, international brand with meaning. During and after the quarantine, two more kaleidoscopes were created, the principal model of the kaleidoscope was finalized to make it even more multifunctional. Now the sides of the kaleidoscope can be easily changed, and this is also the version of our constructors! We create new versions of Solomon rings with messages with meaning, for all occasions. In general, I want us to be in every women's jewelry box! So that our jewelry emphasizes the individuality of women of all ages and is passed on from generation to generation. To create products that complement each other and that you want to collect.
LV: Is Drutis Jewellery production located in Ukraine?
D: We have a multinational team. Part of production is located in Ukraine, part in Britain. Jewelry is UK-labeled, but it definitely carries the DNA of our hometown Odessa - as it is a place with deep roots in jewelry. We find precious stones from certified sellers from all over the world.
LV: How your jewelry touch the soul?
D: Many items in our collections are related to the childhood. The kaleidoscope is a tribute to it - dreams, memories. It is like the most intimate secret that, in one hand, you want to hide from everyone, and on the other hand, you want to share it and let it be examined. This is a children's toy with childhood memories and dreams of an adult in a very beautiful design.
In addition our bright, neon products - chili peppers pendants - are very popular. In difficult times for the whole world, we want to add rich and bright colors for the people's mood. We are trying to create products that will surprise you with their functionality or unexpected qualities, but also remain practical and wearable.
LV: Where can we buy your jewelry?
D: You can find our production at Matiere 79 in Odessa, and online. We also made a collaboration with Svetlana Kerimova and the Woman Insight team and you can buy our jewelry at their online store. This collection is highly intertwined with the main Drutis Jewelery collection.
LV: What about the prices for Drutis Jewellery.
D: Champagne Kaleidoscope- $ 6700, 18k gold.
Marine Kaleidoscope - $ 5500, 14k gold
Smart transformer earrings size M - $ 2000.
Smart pendant transformer size L - $ 1100.
Chili peppers of different colours - $ 200.
Topaz London Pendant - $ 650.
Silver collection prices from $ 30 to $ 180 for sets.
LV: Let's summarize.
D: At Drutis Jewelry, we strive to ensure that our jewelry gives girls lightness and flexibility, but at the same time has a deep meaning. We create creative products with unexpected moments and solutions that appeal to those who want to be surprised and wear unique jewelry for every day and forever.
---
---