Main — Diplomacy — Odessa Underground (Part 1): The Dungeons
Diplomacy
Odessa Underground (Part 1): The Dungeons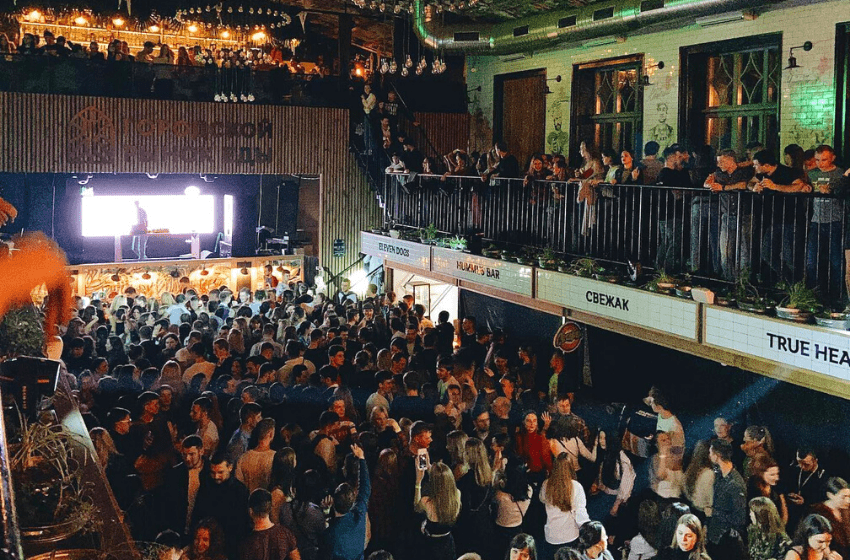 ---
By our correspondent of Odessa's nightlife, ExPat Phil E.
---
Some years ago, a friend visited me when I first moved to Odessa. It was his first trip too and he recounted what his grandmother had told him about the city: "to know Odessa, one must know Deribasovskaya Street." There is indeed something fantastically romantic about this ancient street. Even its name conjures images of a dashing admiral and Latin lover, and has inspired such deep nostalgia for centuries. For tourists, that is. However, real Odessa-ites, the old-timers, might argue that the real backbone of the city runs straight down Yevreiskaya Street, starting at the SBU (think "FBI") building, past the main synagogue and ending at Odessa regional police HQ. A true power block defining the town. Still others would stand at the foot of Empress Catherine's statue and gaze toward the sea. With the Duke in the foreground and the Potemkin Steps dropping perilously to the port, surely this alignment is the essence of the town, its identity, its root. And they might be right.
But not, from this writer's eye, when it comes to nightlife. In my view, Ekaterininskaya Street still attempts to convince itself and others that it is THE heart of the Odessa night scene. For me, however, each additional gentlemen's club, pizza joint and karaoke palace it has added over the past five years has progressively eroded its allure. Posh cafes and nightclubs, like their patrons, compete too desperately for attention.
Catherine the Great may have approved, but I know Odessa can do much better. And it does, mere steps away. Take a hard left and you'll find yourself on Grecheskaya Street. If Ekaterininskaya Street is uniform and in-your-face, "Greek St." is subtle and almost consciously diverse. For one thing, it barely announces itself. Much of its treasures lay hidden in dungeons and catacombs beneath the ground, adding "discovery" to the experience when you first encounter them. And if for you, like me, live music is your gold, then Greek Street is Odessa's El Dorado. Over the next 100 meters you'll find no less than five extremely unique stages, none of which can be corralled into any one musical box.
The oldest and most famous club is known simply as the Closet ("Shkaf" in Russian). Art-Pub Shkaff reminds of Liverpool's Cavern Club, dark and industrial with music blaring from its labyrinthine turns. It hosts the stage most coveted by working bands, who might call it one of the few "proper" stages in the center. Rising commandingly a meter and a half from the ground, the stage, with its powerfully balanced sound board, still manages to maintain an intimacy with the dancefloor. Of all the clubs on Greek St., Shkaff is also the most mysterious, and musical journeys may take several radical turns in a single evening. Its styles run from impromptu jazz to the avant-garde, post-punk to swing, with the occasional pop act, just for fun.
Next up is the center's most authentic cultural experience: Poncho Snack Art Café. Still quite new at a little over two years old, it is run by Nivio Ilich, an Incan artist and performer and his charming Ukrainian wife, Anka. He describes the aesthetic as "a fusion of the cultures and the native peoples of the American continent." Its walls are adorned with "living art" from his native Peru – percussive instruments hewn from gourdes and reeds, mystic Quechua carvings and an Incan totem pole. But to define Poncho as just "indigenous" would be a huge mistake. For example, stand stage-left facing the bar and look down. Through a glass floor panel, there a montage of dissected motorcycle, forged with remnants of a Harley and Kawasaki.
When live music isn't featured (which is rare) Delta Blues haunt the cave, scratching through vinyl. Acts include R&B, soul and jazz, plus a robust assortment from the World Café – from Latin Pop, to "New Age" Andean flutes to Bessarabia's own klezmer tradition. Evenings become eclectic in this tiny oasis. The hosts have formed a special bond with their neighbourhood and their guests. They chose Greek St. because it was, at the same time, "muy central y muy tranquilo." Nivio also enjoys sharing the street with "other welcoming clubs that are frequented by lovers of art and music." No wonder Poncho, with its imminent stage, is a magnet to ex-pats and Ukrainians of all ages.
Our last stop is close to the corner of Rishelievskaya and Grecheskaya Streets, site of an entertainment complex that may even be surprising itself with its own success. Three separate stages have evolved from the grill pit of Cooper Burgers. The first, named Tikhiy Bar (or, with conscious irony, "Quiet Bar") has emerged as THE showplace for best local acts. The owners were shrewd enough to reconfigure the bar and seating, orienting everything toward the staging area in the rear. Of the many things Tikhiy does well, it is known for its seamless alternating between live bands and cool DJ's, thus consistently hitting a cross section of clients. By keeping these "groove to dance" transitions tight, the club flirts with "popular" without crossing over into "commercial". Like both Poncho and Shkaff,
Tikhiy Bar also has a funky get-away room set off-stage, where one can have a discrete chat up or a quite respite from the crowds. Tikhiy's summer cousin, the Tikhiy Dvor, is even less quiet. The beer garden roared to life last summer and immediately claimed the mantel as Odessa's top urban oasis. A tunnel leads from Greek Str. into the open space: four stone walls, four stories each, forming your basic sound block. With only the sky as a roof, young hipsters flock to the Dvor ("yard"), and not an evening passes without someone dancing on the tables. As showplaces go, however, the pièce de résistance is connected to the garden by a little-known fire tower.
If you run up two flights and burst through a door and you will find yourself backstage at a MEGA-VENUE known as the Gorodskoi Rynok. Also known as the Odessa Food Market, the city promotes it as "a unique gastronomic project." If by "unique" you mean, the "mammoth," that's an apt description. A towering four-story atrium encloses 1,200 m2 of floor space, home to 13 cafes and no less than 6 bars. Its centerpiece is its stage so massive that it requires musicians to arrive in the early morning hours to coordinate with professional sound technicians, as each concert as at festival scale, complete with a mega-tron digital display. From Poncho to the Rynok, you can choose to share your concert with from 40 to 600 people, but why choose? Most revellers take in two or three shows in any given night on Grecheskaya St. But enough about the venues. An astute reader may feel a bit cheated, since indeed we're divulged very little about the local music itself as art. Well, my mother always taught me that before you serve the meal, you must first set the table. So now that you've become acquainted with the dungeons, in the next chapter, we'll meet the dragons themselves, ravenous hordes devouring their fans (and themselves!) chasing local music legend status in the Odessa Underground.