Main — Diplomacy — President paid a visit to the hospital with residents of the Kyiv region wounded by enemy shelling
Diplomacy
President paid a visit to the hospital with residents of the Kyiv region wounded by enemy shelling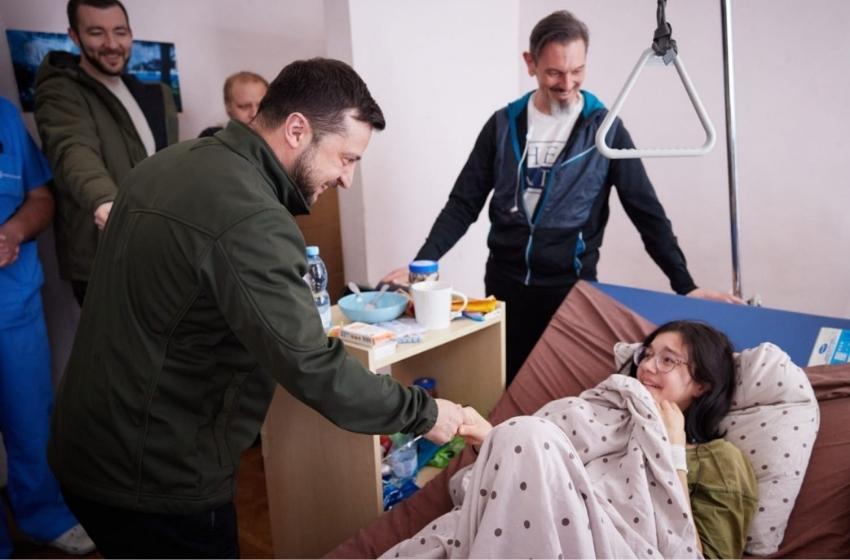 ---
President of Ukraine Volodymyr Zelenskyy paid a visit to the Vlasenko family, which got under the shelling by the occupiers during the evacuation from the town of Vorzel, Kyiv region.
The Vlasenko family moved to the Kyiv region from Crimea after the beginning of the Russian occupation of the peninsula, as they did not want to acquire Russian citizenship.
When Russia started a full-scale invasion of Ukraine in February 2022, the family decided to leave Vorzel for a safer place, but the car got under enemy fire.
Then the eldest 16-year-old daughter Katya covered her younger 8-year-old brother Ihor with her body and received significant wounds. Seeing his sister bleeding, Ihor got out of the car and started shouting at the occupiers for what they had done. Mother Tetiana also suffered shrapnel wounds. Father Roman carried the wounded daughter in his arms to help her.
The mother and daughter will undergo treatment for several months, but they managed to save their family and survive.
During a meeting with the Vlasenko family at the hospital, Volodymyr Zelenskyy noted their solidarity, care and willingness to protect each other to the end, which saved their lives. The President wished the Vlasenko family a speedy recovery and expressed confidence that they would all soon celebrate Ukraine's victory together.
It cannot be otherwise when there are such strong families in our country

Volodymyr Zelenskyy
He presented a tablet for learning, flowers, sweets and fruits to the Vlasenko family.
Volodymyr Zelenskyy also presented a toy to little Ihor, as the shelling hit the yard of the family house and the boy's toys were damaged by shrapnel.
At the hospital, the President of Ukraine also spoke with other Kyiv residents undergoing treatment, a territorial defense fighter and the driver of the documentary journalist Brent Renaud who was killed in Irpin.
---