Main — Culture — Salo on the table is always trendy!
Culture
Salo on the table is always trendy!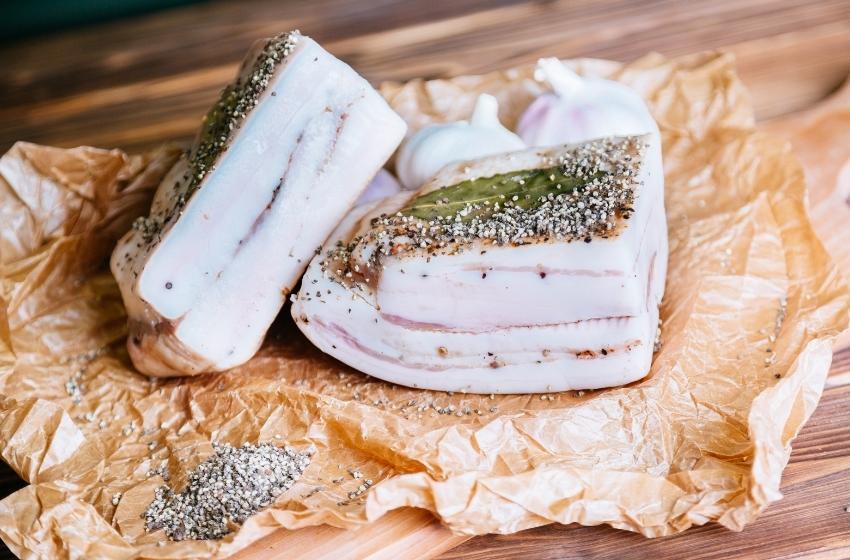 ---
Various recipes to prepare lard, the food № 1 of Ukraine's national cuisine. A weekdays or holiday table without snacks from lard is not a Ukrainian table.
---
Classic salted
This is the easiest way to cook. The main thing is experimenting, to find out "your" bouquet of spices.
Ingredients: salo, salt, a mixture of spices (black pepper, red pepper, garlic, dill, bay leaf, marjoram, etc.).
Preparation. Cut the salo into pieces 10–15 cm long and 4–6 cm thick. Rub each with salt, and sprinkle a thick mixture of spices on top. The dishes in which we will store the product while it is salting are also treated with spices. Put the salo in a container, cover with a lid and put in the refrigerator for 3-4 days. At the end of this period, try the sample: if tasty, then scrape off the remnants of salt with a knife and wrapped in clean paper and store in the refrigerator. If it has lacks of taste, leave to marinate for a while.
Transcarpathian style
You need to be work a little bit, but it's worth it
Ingredients: salo, salt, garlic, ground black pepper, paprika, hot red pepper.
Preparation. Roll pieces of salo about 7x15 cm well in salt and put in the refrigerator. After 3-4 days, scrape off the salt with a knife, add salt again and keep for 3-4 days. Repeat this procedure 3-4 times. After the last salting, leave the salo for 3 weeks, remove the salt again and grate the pieces on all sides with a mixture of chopped garlic, black pepper and paprika (1x1x1), wrap in food foil and put in the refrigerator. In a day it is possible to consume. Fans of spicy can add hot red pepper to paprika.
Spicy
It's not just salo - it's a masterpiece! Although the recipe is very simple.
Ingredients: 1 kg of fresh salo, salt, 2-3 tbsp., adjika (Abkhazian-Georgian spicy and fragrant seasoning, most often a pasty mass), 4 tbsp. l. mustard seeds, 1 tbsp. cranberries, 1 clove of garlic.
Preparation. The first steps are the usual - as for other recipes: scrape off the salo, cut into large pieces, make incisions and put in them peeled and sliced ​​garlic cloves, generously rub with salt. Mix spicy adjika with a little mashed mustard. Cover the pieces of salo well with this mixture, put them tightly in a container, sprinkle with berries. Close the container and infuse in the refrigerator for 5 days.
For Sandwich
This "pate", seasoned with garlic and pepper.
Ingredients: fresh salo, salt, garlic, ground black pepper, nutmeg or curry.
Preparation. Pass the cooled, even slightly frozen salo without a layer of meat through a grinder, salt, pepper, add a few chopped cloves of garlic and mix well. Ground nutmeg or curry will not be superfluous. Before spreading on bread, it is desirable to allow to infuse for at least 3-4 hours.
"Smoked"
Of course, real smoked wood is much tastier. But when this is not possible, it is a great alternative to make it in a multicooker.
Ingredients: 1 kg of salo, 1 liter of water, 100 g of salt, 1 tbsp. l. sugar, 4 cloves, 5 bay leaves, 5 bags of black tea.
Preparation. Cut the salo into pieces about 15 cm long and 6-7 cm thick. Grate them with chopped garlic, mash with salt, and leave for an hour. Boil 1 liter of water in the multicooker, add salt, sugar, cloves, bay leaves. Put disposable bags of black tea in boiling brine and turn off the multicooker. After 5 minutes take a tea bag, and put the prepared lard in the brine. Turn on the multicooker in the "stewing" mode for 1 hour and 20 minutes. After the signal of readiness to leave it in brine for another 12 hours. Remove, wipe, put in the freezer. In a few hours the salo is ready for eating.
Green salo
Ingredients: salo, salt, pepper, dill, parsley, leeks, ground black pepper.
Preparation. Cut fresh salo into small pieces, salt, pepper and let stand for 30-40 minutes at room temperature. Chop dill, parsley and leeks, garlic cloves cut into several pieces. Grind salo, herbs and garlic in a blender to the consistency of puree, add a pinch of ground pepper, mix. Spread on fresh bread or toast.
Roll
A great snack for thick salo.
Ingredients: salo, salt, garlic, ground black pepper, chopped bay leaves, plastic bags.
Preparation. Add salt to the thin salo, spread with crushed garlic, pepper and chopped bay leaves. Wrap in a tight roll, tie with strong thread or twine. Put the roll in a plastic bag, release the air and tie tightly. Place the bag in a saucepan of cold water, bring to a boil, cover and cook on low heat for 3 hours. Remove, cool in bags, and then put in the freezer for 2-3 hours.
Boiled with an onion
The salo is very tender, melts in the mouth and has a slight tinge of smoke.
Ingredients: 1 kg of salo, 150 g of salt, a large handful of onion peel, 1 tbsp. l. sugar, 1 tsp. paprika, 2 bay leaves, 5-6 peas of black pepper, 1 liter of water, 2 large heads of garlic.
Preparation. Wash the salo, cut into 3-4 pieces, peel the onion. Put salo, salt, sugar, paprika, bay leaf, peppers and onions in a saucepan, fill with water and cook for 1 hour. Leave the salo in this brine for a day. Then remove from the brine, grate the crushed garlic, put in a bag for 1.5 hours. at room temperature. Remove from the package, wrap in foil and leave in the freezer for 3-5 days. Before eating, remove from the freezer and allow the salo to drain (so that it softens and does not crumble when sliced).
Enjoy your meal!
---