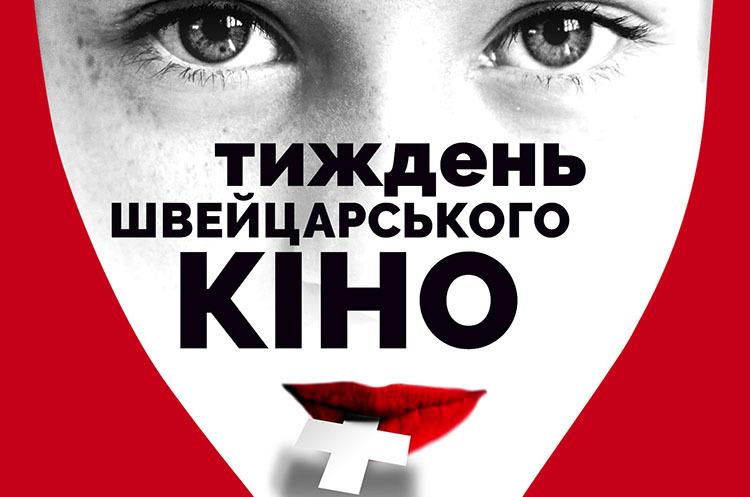 ---
The Embassy of Switzerland to Ukraine organizes the fourth Swiss Film Week 2020
---
From June 19 to 28, the festival "Swiss Film Week" will be held on the site swissfilm.org.ua. The event organized by the Embassy of Switzerland together with Arthouse Traffic, will be held online for the first time in 2020 and will present for the fourth time in its programme the most relevant Swiss feature films of recent years.
This year, the festival focuses on gender equality – one of the United Nations Global Sustainable Development Goals. Its programme included 4 films shot by directors, which represent a variety of female views.
The festival will also include an online discussion on the topic:
"Female gaze: gender equality in modern cinema"
"Am I a feminist?" Men can have at least 3 good reasons to empower women and girls! All men have a mother, some may have a wife, sisters or daughters ... I personally have three good reasons!

Mr. Simon Pidou, Deputy Head of Mission, Embassy of Switzerland in Ukraine.
---
Programme:
7 Days / 7 Giorni
Country: Italy, Switzerland, 2016
Duration: 96 minutes
Genre: Romance
Director: Rolando Colla
Cast: Bruno Todeschini, Alessia Barela

Ivan and Chiara met on a Sicilian island, during preparations for the wedding of their friends, and fell in love with each other. Despite Chiara's marriage and Ivan's unwillingness to repeat the mistakes of his past relationships, they decide to stay together - only 7 days, until the end of the wedding.
---
Divine Order / Die göttliche Ordnung
Country: Switzerland, 2017
Duration: 96 minutes
Genre: Drama
Director: Petra Biondina Folpe
Cast: Marie Leyenberger, Maximilian Simonishek, Rachel Braunschweig

1971 year. Nora is a young housewife and mother living in a small village with her husband and two sons. The outback was not affected by the social upheaval of 68 years. Nora's quiet life did not change either - until the moment she began the struggle for women's suffrage.
---
Wind of Change / Le Vent Tourne
Country: Switzerland, France, 2018
Duration: 88 min.
Genre: Drama
Director: Bettina Oberli
Cast: Melanie Thierry, Pierre Deladonsham, Nuno Lopez

A young couple escapes from the bustle to a secluded alpine corner. But an engineer who came to install a wind turbine invades their happy and measured life
---
Around Luisa / Autour de Luisa
Country: Switzerland, Belgium, 2017
Duration: 85 minutes
Genre: Drama
Director: Olga Baillif
Cast: Fabrice Add, Anouk Amati

Luise, a 40-year-old singer, and her partner Julien, a guitarist and composer, have been performing together for many years. Once, Louise's father, whom she had not seen since her youth, comes up to her after the concert. He is seriously ill - this meeting will make Luise take a different look at her own life.
---
Katrina's Dream
Country: Switzerland, Italy, 2018
Duration: 84 minutes
Genre: Romance
Director: Dario and Mirko Bischofberger
Cast: Simon Esteban, Adrian Furrer

Katrina wants to have children, but her husband dies in a car accident. Thanks to a head transplant, he returns with another person. The body of one man, the mind of another - is this enough to fulfill Katrina's dream?
---
Innocent / Der Unschuldige
Country: Switzerland, Germany, 2018
Duration: 114 minutes
Genre: Drama
Director: Simon Jacques
Cast: Judith Hofmann, Anna Tenta, Christian Kaiser

Ruth is devoted to her family, zealous traditionalist Christians, and her research work. But the past suddenly reminds of itself when a former lover appears in the girl's life, casting doubt on her feelings, lifestyle, and subsequently faith.
---
Streaker / Flitzer
Country: Switzerland, 2017
Duration: 98 minutes
Genre: Comedy
Director: Peter Louisie
Cast: Beat Schlatter, Doro Mugler

To get out of financial problems, school teacher Balz Naef hires and trains strickers for illegal sports betting. Although he and the team are turning stringing into a new fashion sport, his business is not going uphill. Moreover, Balti's problems are just beginning.
---
Happy as Lazzaro / Lazzaro felice
Country: Switzerland, Italy, France, Germany, 2018
Duration: 128 minutes
Genre: Drama
Director: Alice Rohrvaher
Cast: Adriano Tardiolo, Alba Rohrwacher, Agnes Graziani

In a tiny Italian village, time literally stopped. Everything changes on one of the visits of the patronage family to the village. The young aristocratic Tancredi makes friends with the simple-minded Lazarus. Fantastic conflicts of their relations will completely destroy the usual way of life of the villagers and lead to the almost biblical apocalypse of their little world.
---
The Awakening of Motti Wolkenbruch / Wolkenbruchs wunderliche Reise in die Arme einer Schickse
Country: Switzerland, 2018
Duration: 94 min.
Genre: Tragicomedy
Director: Michael Steiner
Cast: Yoel Basman, Noemi Schmidt, Udo Zamel

A Jewish Orthodox student faces familial opposition after falling madly in love with a shiksa. Motti is a good Jewish boy dominated by his mother. He is in college studying economics for his family. Motti's mother constantly arranges dates for Motti hoping he will marry soon. In class, he meets Laura. Unlike Motti's other dates, he is interested in Laura. But she is not Jewish and therefore a 'shiksa' in Yiddish. He knows his mother would never approve.
---
My Life as a Zucchini / Ma vie de Courgette
Country: Switzerland | France, 2016
Duration: 1h 16 min
Genre: Animation, Comedy, Drama
Director: Claude Barras
Cast: Gaspard Schlatter, Sixtine Murat, Paulin Jaccoud
Courgette (Zucchini) is an intriguing nickname for a 9-year-old boy. Although his unique story is surprisingly universal. After his mother's disappearance, Courgette is befriended by a police officer Raymond, who accompanies him to his new foster home filled with other orphans his age. At first he struggles to find his place in this strange, at times, hostile environment. Yet with Raymond's help and his new-found friends, Courgette eventually learns to trust and might find true love.
---
Swiss Films Week 2020 is held online for the first time and for the fourth time presents the most relevant feature films of Switzerland in recent years.
---