Main — Culture — The Bookshelf: Light Breathing
Culture
The Bookshelf: Light Breathing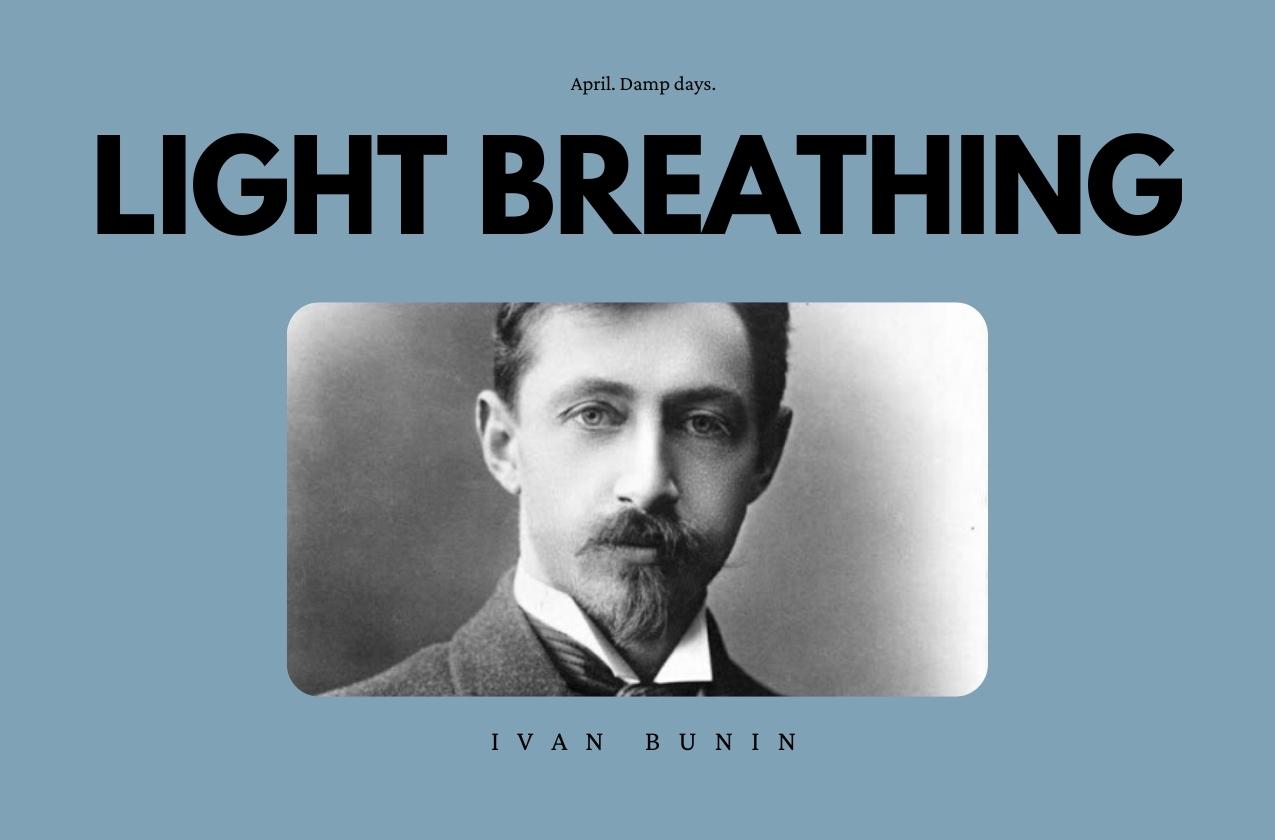 ---
For a quarter of a century, starting in 1896, Bunin was closely associated with Odessa, coming here more than 30 times. Becoming a member of the Odessa Literary and Artistic Society, Bunin often performed at literary evenings. In Odessa he worked a loy on poetry and prose.
---
There's a new oak cross over a mound of freshly turned clay in the graveyard. It's solid, heavy, smooth.
April. Damp days. You can see the headstones and the monuments of the spacious district graveyard from far away through the stripped trees. A cold wind rings and rings through a porcelain wreath at the foot of the cross.
And set into the cross itself is a rather large, porcelain medallion. It bulges forward from the center. It bears the photograph of a schoolgirl whose eyes are stnningly alive and full of joy.
This is Olya Meshcherskaya.
A a young child, nothing set her apart from that crowd oflittle girls wearing identical brown dresses to school. What was there to say of her? She belonged to the ranks of rich and pretty, happy girls; she was bright but mischievous-and blithely indifferent to the admonitions of the klassnaya dama, that teacher charged with making future ladies understand the points of proper conduct.
But then she began to bloom. Her figure seemed to mature by the hour rather than the day, and by the age of fourteen, along with graceful, slender legs and a thin waist, she'd developed full breasts and all of those other contours whose charms remain beyond the power of the human word. At fifteen, her beauty was renowned. How diligently her girlfriends brushed their hair! How fastidious they were! How carefully they studied each deliberate movement that they made! But she was not afraid of anything -not disheveled hair or ink stains on her fingers, not a heavy blush reddening her face or a knee exposed while falling as she ran. Those qualities that distinguished her so clearly from her classmates during her last two years of school-her elegance and style, her grace, the radiance of her eyes-all came to her almost unnoticed, and without the slightest effort or concern. . . . No one danced the way Olya Meshcherskaya danced; no one skated with such poise. No one found so many suitors at the balls, or so much admiration, for some reason, among the children in the younger classes. It wasn't clear exactly when her body grew into a woman's, or when her fame became a part of daily life within the school, but once those changes had occurred, rumors started spreading. They said that she was fickle, that she could not live without admirers, that a student by the name of Shenshin was half insane with love for her, and that she too, apparently, loved him, but treated the young man with such capriciousness that he'd attempted suicide.
It was also said in school that Olya Meshcherskaya had gone completely mad with happiness during her last winter. It was a cold and snow winter, with heavy frosts and bright days, the sun setting early behind the tall grove of firs in the school's snowbound garden, its sharp, clear rays invariably promising that tomorrow the weather would again be good, that there would be more sunlight and frost, more walking down Cathedral Street, more skating in the city park, a pink sky in the evening, music, and that crowd gliding endlessly in all directions in the rink- that crowd among which Olya Meshcherskaya seemed the very most carefree, the very happiest of all. And so it was that one day during the major recess, as she flew like a whirlwind through the assembly hall and a group of blissfully squealing first-graders followed in hot pursuit, Olya Meshcherskaya was suddenly called to the director's office. She stopped in mid-stride, released a single, heavy sigh, and with the quick, practiced movement of an adult woman, patted her hair in place and tugged the corers of her pinafore toward her shoulders before running up the stairs, her eyes shining. The director, a woman whose young looks were belied only by her grey hair, sat calmly with her knitting at a desk beneath a portrait of the tsar.
"Hello, Mademoiselle Meshcherskaya," she said in French, not raising her eyes. "This, unfortunately, is not the first time I have found it necessary to call you here in order to discuss your behavior."
"I am listening, Madame," Meshcherskaya answered, approaching the desk and looking at the director with bright and animated eyes, though the rest of her face lacked all expression. She curtied with that easy grace that she alone possessed.
"You will listen to me poorly; of that, unfortunately, I am completely convinced," the director answered as she pulled on a thread from a ball of yar now spinning on the lacquered floor. Meshcherskaya looked at it with curiosity. " I won't repeat myself," the director said, looking up from her work. "I won't make a long speech."
Meshcherskaya had always liked that unusually clean and spacious office, which on days of heavy frost was so pleasantly filled with the fragrant warmth of a gleaming tiled stove and the fresh scent of Lilies of the Valley, which stood on the director's desk. She looked at the young tsar, portrayed in full length, standing in some resplendent hall, then studied the straight part that ran through the director's milky, carefully crimped hair, and held her silence, waiting.
"You're already no longer a girl," the director said significantly. In secret she was beginning to feel annoyed.
"Yes, Madame," answered Meshcherskaya, her expression forthright, almost happy.
"But not yet a woman," the director continued, giving even greater weight to these words, a slight flush beginning to suffuse her otherwise colorless complexion. "First of all -just look at the way you style your hair. It's like a grown woman's!"
"It's not my fault, Madame, that I have good hair," Meshcherskaya answered, lightly touching with both hands her hair in its lovely arrangement.
"Oh, that's it then -I see. You're not to blame!" said the director.
"You're not to blame for your hair. You're not to blame for those expensive combs. You're not to blame for bankrupting your parents with shoes that cost twenty rubles! But all the same, I repeat: you have completely lost sight of the fact that you are still just a schoolgirl . . ."
But here Meshcherskaya politely interrupted.
"Forgive me, Madame," she said, ingenuous and calm as ever. "I am a woman. And do you know who is to blame for that? My father's friend and neighbor-your brother, Aleksei Mikhailovich Milyutin. It happened last summer in the country . . ."
A month after that conversation, a Cossack officer-an ugly, pedestrian-looking man who had absolutely nothing in common with that circle to which Olya Meshcherskaya belonged-shot her at the train station, among a crowd of newly arrived passengers still standing on the platform. And that confession with which Olya Meshcherskaya had so stunned the director was completely borne out. The ofcer declared to the court investigator that Meshcherskaya had lured him on, grown intimate with him, and then sworn to be his future wife. But on the day of the murder, while seeing him off from the station on a trip to Novocherkassk, she suddenly said that it had never entered her head to love him and declared that she'd merely been mocking him whenever they spoke of marriage. She even gave him her diary so that he could read the very page where she had written of Milyutin.
"I read those lines and right there on the platorm, where she was walking, waiting for me to fnish-1 shot her," the officer said. "That diary-look at what she wrote on July tenth of last year."
The following was written in her diary:
"It's afer one. I fell sound asleep but woke up almost right away. . . . Today I became a woman! Papa, Mama, and Tolya all went to town, and I stayed here alone. I was so happy to be alone! I walked in the garden in the morning, went into the fields and the woods. I felt completely alone in the world-and I thought that nothing in my life has been as good as this. I even ate lunch alone. I played the piano for an entire hour, and with the music came a feeling that I'd live forever, that I'd be happier than anyone has ever been. Then I fell asleep in papa's study. Katya woke me up at four, saying that Aleksei Mikhailovich had come. I was very glad to see him - to have a guest to welcome to the house and entertain. He'd driven two of his best horses. They were very pretty, and he hitched them to the porch- they stood there the entire time. It had been raining, and he wanted to wait until evening to drive home so that the road would dry out. He said how sorry he was he'd missed papa. He was very boisterous, joking that he'd fallen in love with me a long time ago, and acting like a young man who'd come to call on me. The weather had already cleared when we went into the garden before tea, and the sun shone everywhere through the wet leaves, but it had turned completely cold, and he gave me his arm as we walked, saying he was Faust with Margarita. He is fifty-six but still very handsome, and always well dressed -only, he came in an old-fashioned cloak that I didn't like. He always smells of English cologne. His eyes are black and look like those of a young man, while his beard's very carefully combed into two long, completely silver strands. We had tea on the sunporch and I began to feel as if I were unwell. I lay down on the ottoman while he smoked; then he moved over to me and started telling me all sorts of compliments again. He held my hand and looked at it for a long time; then he started kissing it. I covered my face with a scarf and he kissed me on the mouth several times through the silk. . . . I don't understand how this happened! I've lost my mind! I never thought I was anything like this! Now there's only one way out. . . . I feel such revulsion for him. . . . I can't bear it!"
These April days have left our town clean and dry; all the paving stones are white again-pleasant, easy walking. Every Sunday after mass a small woman wearing mourning clothes with black kid gloves and an umbrella with a handle made of ebony sets out along Cathedral Street toward the edge of town. She follows the paved road through a dirty square where all the many forges have tured black with smoke and the breezes bring fresh air from the open fields. Farther on, between the monastery and the palisade, you can see a cloudy sky hanging over the grey fields of spring. If you continue on - if you pick your way among the puddles by the monastery wall, and then turn left, you'll see something like a large, low-lying garden surrounded by a white fence. A painting of the Assumption of the Holy Virgin hangs above the gate. The small woman crosses herself lightly and with routine familiarity walks down the center lane to a bench that faces the oak cross, and here she sits for an hour or two in the wind and the raw
spring air until the cold has seeped right through her light boots and her thin gloves. Listening to the birds still singing sweetly in that cold air, listening to the wind as it rings in that porcelain wreath, she thinks sometimes that she would give up half her life if only she could make it disappear-if only that lifeless wreath were not before her eyes. That wreath, that mound of clay, that cross! Can it be she who lies beneath this cross-she whose eyes now shine from a porcelain medallion bulging at its center and seem so free of death? And how can all the purity of that expression ever be united with the horror that is now a part of Olya Meshcherskaya's name? But deep in her soul the small woman is happy, as are all those who have devoted themselves to some passionate dream.
This woman was Olya Meshcherskaya's klassnaya dama. She has been living a fiction in place of her real life for a long time, and now her youth is gone. At first the fiction was built around her brother, a poor and utterly unremarkable ensign. She invested all her soul in him and his future, which for some reason she believed would be brilliant. When he was killed at Mukden, she convinced herself that she should dedicate her life and soul to some other ideal, and the death of Olya Meshcherskaya created a new dream for her enthrallment. Now it is Olya Meshcherskaya who lies at the center of all her urgent thoughts, all her importunate emotions. She visits the grave on every holiday, staring for hours at that oak cross. She remembers Olya Meshcherskaya's small, pale face as she lay in her coffin among flowers. And she remembers the words she overheard when Meshcherskaya was quickly, quickly talking to her best friend- a tall, large girl named Subottina-as they walked one day in the school garden during the long recess.
"I read in one of papa's books what kind of beauty a woman ought to have. He has a lot of funny old books! There was so much written there, well, you know- there's no way to remember it all. But-black eyes, of course- black eyes like boiling pitch. That's what it said- boiling pitch! Eyelashes that are black as night. A slight flush that plays tenderly on the cheeks. A thin waist. Arms that are longer than usual-did you hear that?- longer than usual! Delicate legs. Large but proportional breasts. Calves that are symmetrical and slightly rounded. Sloping shoulders. Knees the color of a sea shell. I learned a lot of it by heartall of it's so true! But do you know what's most important? Light breathing! And I have it-listen to me breathe- it's true, isn't it?"
Now that light breathing spreads out, once more, into the world. In the cloudy sky, in the cold spring wind, again, it is dispersed.
Translated by by Graham Hettlinger
1916
---