Main — Culture — "The Distance from Odessa", a book of poems by the American writer Carol Seitchik
Culture
"The Distance from Odessa", a book of poems by the American writer Carol Seitchik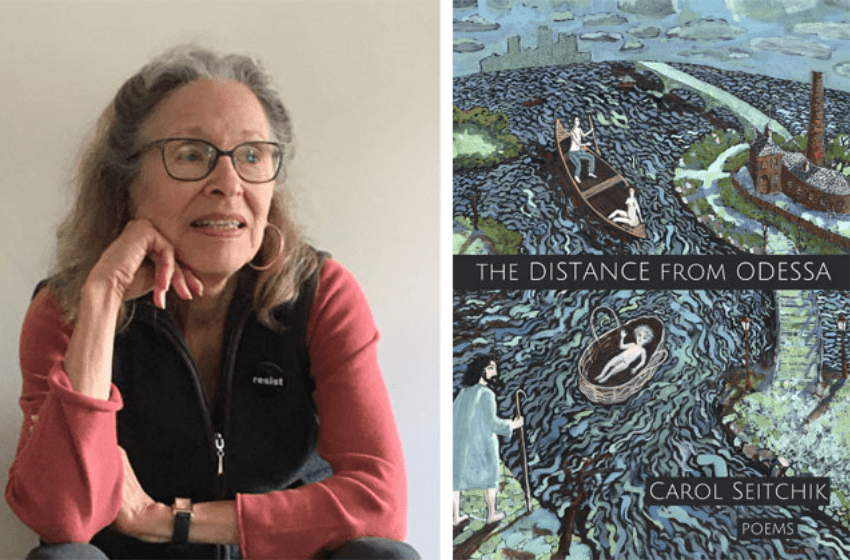 ---
Over a hundred years ago, a young woman fled repression in Odessa to begin a new life. To commemorate International Women's Day, we share her family's journey of love and separation through four generations, as seen through the artistry of her grand daughter.
---
Rebecca, departed
A length of family is fashioned from scraps

when the name of the first one across

is written immigrant. The aura, the scent

of memory persists. Home is left behind —

nostalgia, steeped in pungent air, ambles

alongside you and perhaps always will.

from First One Over, by Carol Seitchik
It is said that to move to a different country is the emotional equivalent of the death of a loved one. Coping with bereavement and the profound longing for the familiar become daily struggles. An immigrant is torn between her memories (and sense of belonging) on one extreme and the uncertain prospect of surviving in an alien world on the other. What is the psychic toll for such a transition? What is the impact to self-perception? Or to the fiber of kinship? And what if, rather than a linear process of healing and assimilation, the pain of separation is circular, and loss is revisited over generations within one family?
These questions of estrangement, survival and continuity are explored profoundly by the American artist Carol Seitchik in her first book of poems, The Distance from Odessa (Atmosphere Press, 2021). Drawing from her own recollections and her relatives' impressions formed over three centuries, the 80-year old Seitchik animates the heroic journey of her family from Odessa, to the "New World" and then finally to The Holy Land. The odyssey is fraught with doubts and rebirths, triumphs and isolation, and the fear that parts of the story will be forever lost in the retelling. Of her own relationship with her grandmother, Seitchik wrote:
I kept asking her, year after year ¾

how did you leave Russia?

She would always say, I left in a hurry.
The fact is that, 116 years ago, a 16-year old Rebecca Futernick struck out by sea, stowed away, alone, on a perilous journey to America. Her hasty departure played out in a context of chaos and suffering which may have compelled her to flee Odessa and the comfort of her middle-class Jewish family. The year 1905 not only witnessed the dramatic mutiny of the sailors against the Nikola II's Cossacks. The slaughter of innocents that year extended far beyond the 192 steps immortalized in Eisenstein's iconic 1925 film, The Battleship Potemkin.
The uprising's viscous backlash occurred against a canvas of feverish anti-Semitism, as Jews were scapegoated for espousing anti-tsarist revolution. The truth is, the sailors' revolt was used as just the latest excuse to brutalise the Jews - 1905 was distinguishable from the pogroms of 1871, 1881 and 1900 only in terms of its bloody excess. So what Rebecca would share of her homeland with her granddaughter, born 35 years later in Philadelphia, was fragmented and perhaps intended to spare her pain that she herself had suffered:
Back in Odessa, she said, it always felt like war.

We shouldn't ever know, she would say,

We are now in the land of —

She spoke Yiddish, had no time for god.

Where was he anyhow?
---
Carol Seitchik will share her poems on-line during the Odessa Literary Festival from 19-21 March. The festival is sponsored by The United Nations Educational, Scientific and Cultural Organisation (UNESCO). Before her poetic journey returns to Ukraine, The Odessa Journal asked Seitchik to elaborate on the selection of her themes and the process publishing her first poetry collection, itself a fascinating story.
---
Interview with Carol Seitchik
Congratulations on your first book. So far, the reviews have been unanimously positive. Carla Panciera, the author of Bewildered, wrote:
The Distance From Odessa explores the intersection of life and faith and our inescapable inheritance woven through the labyrinth of the family saga through immigration and emigration. Longing for home and the question of home is palpable, as the poet follows the path her daughter takes, moving to a new land, living a new language and the everyday life of crossing cultural boundaries.
So just how DID you come to the topic of "immigration"?
I had written the title poem, The Distance from Odessa, a few years ago when I was talking to my aunt Jessie, currently, age 98, about her parents (my grandparents). I was interested in the impact of one generation on the other. I knew so very little about my grandparents; their immigration stories, the impact on their lives and future generations. Now I have a daughter who has chosen to make her life in another country (Israel). Through my writing, I lived (and am living, still) the immigration story with her and the ongoing ways it effects future generations.
The sense of continuity, with its roots in Odessa, is quite strong:
1905, my grandmother, sixteen, stows away

on a freighter in a mist of brackish air, dense

as her absence from the promenade of the Black Sea.
Also, in "First One Over" you wrote:
Then on a whim,… an offspring

is planted in the plains of Brooklyn to grow up

among ports and landing docks

to keep in mind the scent of a distant sea.
…has this question of identity been a consistent theme in your work?
Yes, in particular how a generation and generations are affected. Especially since I now have a daughter who has chosen to live in a different country.
The UNESCO-sponsored Odessa Literary Festival will be a multicultural event. Have your poems ever been translated into any other languages?
No, but I do know about translation and it fascinates me when it comes to poetry which takes an enormous skill to translate. I am truly excited to be a part of this! Who would have thought that I would be reading/zooming in Odessa?!
Pushkin, Babel and Bunin are Odessa legends. What writers/ poets have influenced you? Emma Lazarus? (SHE certainly had a feel for the immigrant experience!) What about 20th century greats?
Poets that I follow….I don't know about influence. I certainly follow a lot of poets: Yehuda Amichai, Mahmoud Darwish, Marge Piercy, C.D. Wright…and many more. And there are lesser known poets who write of their history. Dylan, Ginsberg, Cohen… Yes, I love their words but I can't say they are an influence. I am open to everything; history past and present, the Jewish experience, life locally. I live in a beautiful area, just at the edge of Cape Ann Massachusetts, which includes Gloucester and Rockport, areas well known for their draw of artists both past and present.
Why now? After all, this IS your first book!
The Distance from Odessa, yes, my first book at age 80. Why now? I started out in life as a visual artist and had a long career, exhibiting work, etc. I gravitated to sculpture and used, for many years, a material that eventually made me sick to the point that I could no longer work in my studio. That was about twenty years ago when I started writing, found myself a mentor, took summer workshops at the Fine Arts work Center in Provincetown and my writing took off! I joined a writer's group. And there I was, reinvented! I have had poems in anthologies and other journals and presently my poetry group, nine of us from Cape Ann, are putting together an anthology of our work which should be out by the summer.
Did the event of YOU becoming a grandmother consciously or sub-consciously compel you to re-connect to your own grandmother through poetry?
Grandmotherhood! It was my husband who wanted me to leave a legacy of my poems for our daughter and grandchildren, that they would know me through my writing. And as I started to think about it, I wanted to find out as much as I could about my grandparents. And with my daughter immigrating to Israel (thirteen years now), I wanted to make a connection, across the generations, past and present.
Is poetry a form of catharsis?
I would say for me it would be a discovery as to what language can do and reveal. I still do drawings - which is often even more of a catharsis. Both poem and drawing let me know when I arrive at that place of surprise where I learn something new.
While many questions about their relationship are left unanswered, the genuine affection the poet still feels for her grandmother Rebecca, who died over 40 years ago, radiates clearly through her work. In this sense, the parameters of "distance" transcend maps to encompass time and memory – and loss. Carol Seitchik named her own daughter Rebecca, presciently. And now the distance from Odessa is the distance to Tel Aviv. So to whom, really, were these questions posed?
What part of your life, or perhaps your absence,

Rebecca, graces mine? How far does it fly,

this tangle of life?
Thus the circle is closed, and sorrow returns to yet another generation. But what is mourning, if not the perseverance of love?
---
This interview was carried out thanks to the collaboration with Phiil E.
---