Main — Business — The first direct container train from China to Odessa
Business
The first direct container train from China to Odessa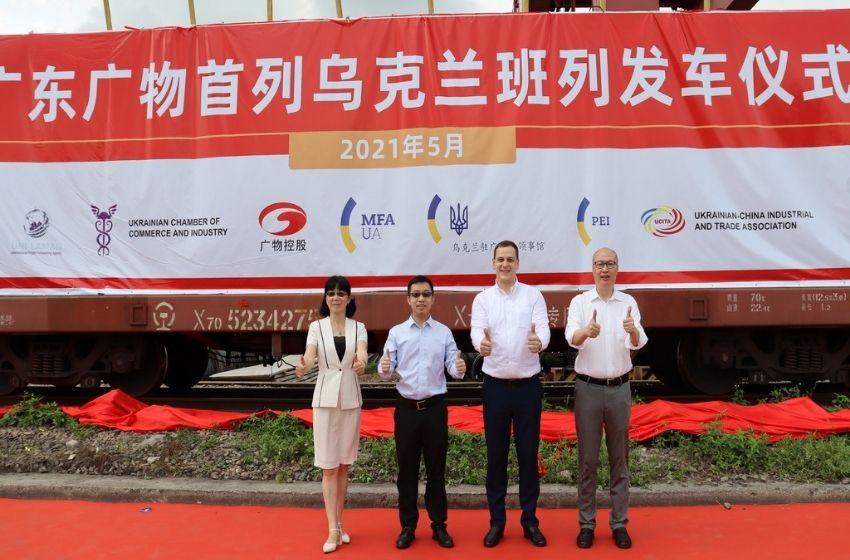 ---
On May 29, a solemn ceremony of the departure of a freight train from Guangzhou (China) to Odessa (Ukraine) took place in Guangzhou, the political, economic and transport center of Southern China. Dmytro Kamkov, acting Consul General of Ukraine in Guangzhou, was present at the inauguration of the train.
---
This project lasted more than three months and was initiated and organised by the Ukrainian logistics company Uni-Laman Group with the help of representatives of the Ukrainian Chamber of Commerce and Industry in Guangdong province and the Consulate General of Ukraine in Guangzhou.
The partners of the project are Uni-Laman Group, as freight train operator, and the Chinese company Guangdong GW Railway Operator Ltd. (subsidiary of the State corporation Guangdong GW Holdings Group Co.). Uni-Laman Group has been operating in the Ukrainian market for 20 years and provides services of transport forwarding, logistics and all types of transportation around the world.
A train carrying a total of 50 containers (furniture, electronics and other goods) is expected in Odessa in 20 days, which is almost half the time less than similar sea transportation. Its supervision significantly reduces logistics costs for enterprises. The train will operate according to a monthly schedule and will cover approx. 8408 kilometers.
This cargo traffic has become an important logistics channel for ensuring Sino-European trade exchanges and smooth international supply chains. The successful running of the China-Ukraine train will further strengthen Ukraine's position as a logistics and foreign trade center in Europe and Asia.
I believe that this train will become a guide between the two peoples and the two countries.

Dmytro Kamkov, acting Consul General of Ukraine in Guangzhou
China is currently Ukraine's largest trading partner since 2019. Despite the impact of COVID-19, trade between China and Ukraine in 2020 still grew by 20.8% to reach $ 15.42 billion. The demand of Ukrainian companies for Chinese goods is constantly growing, more than 25,000 containers are sent from China to Ukraine every month.
In June, Ukrzaliznytsia (Ukrainian State railways) launches train # 269/270 from Lisichansk to Odessa.
---