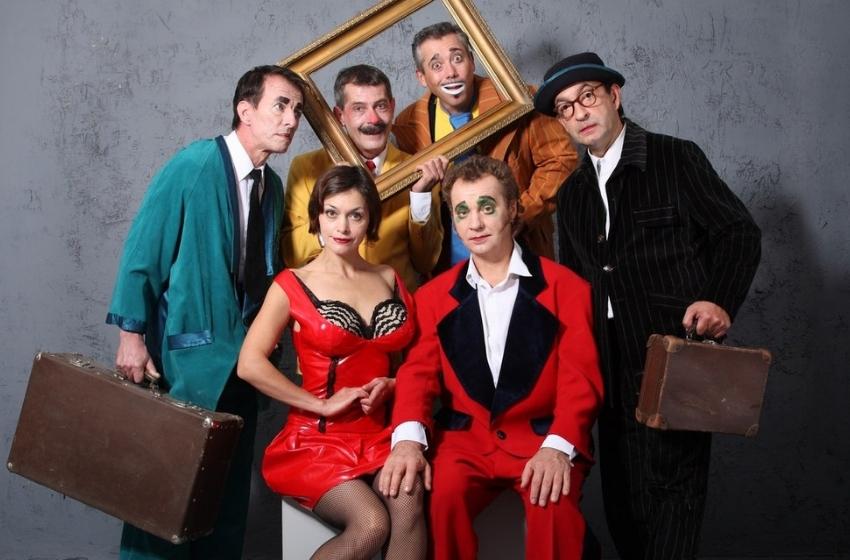 ---
The House of Clowns in Odessa is the brainchild of the comic troupe "Masks-shows" known in the post-Soviet space under the leadership of its permanent actor Georgiy Deliev.
---
Maski (Masks) Show Theatre is based on the rich classical traditions of the Commedia Dell'Arte, the Theater of the Absurd, The Great Mute comedians, European clownery. The performances of Masks are a fireworks of fresh unbridled fantasy embodied in the form of pantomime, choreography, drama, jokes, where each actor develops his own style.
The Theater was founded in 1984 by the art director Georgiy Deliev. The troupe performs on stage their original material on its own, unique and constantly evolving repertoire.
They had successful tours, continued to create a new repertoire of "live performances" and developed like a clownery theater, then the Maski show in 1991 found another source of creative energy and started producing its own television comedy films in the style of silent cinema. This tv-show quickly began to win the love of viewers not only from the Soviet Union countries but also received international support. Today the collection of the Maski show includes movie in the style of the eccentric comedy "Seven Days with a Russian Beauty", two ten-episode comedy television films "Literary Monuments of Boris Barsky and "Playing the classics". Many of them have various prestigious regional and international awards.
On March 28, 2003, in Odessa, the unique cultural center and theater of the comedian troupe "Maski shows" was opened in the building of the former cinema "Druzba". This theater received the name House of Clowns. The premiere of Boris Barsky's poetic comedy "Othello" directed by George Deliev takes place at the opening night of the theater. And it was another huge gift to residents and visitors of the city. Since then, it has become a good tradition to delight the audience with newer and newer performances such as "Diener Show", "Night Symphony", "Orpheus and Eurydice", "Evening of B. Barsky's Poetry", and annual acting "Skits". Permanent participants in show projects in the "House of Clowns" were the dance theater "Skillful Feet" and the clown corporation "Mood".
Quickly, the comedian troupe, together with film expert and film enthusiast Ian Yusim, opens the "Masks" cinema at the "House of Clowns", which from this moment daily demonstrate the best art-house films and festival films.
In 2005, in the House of Clowns, an art cafe "Restaurant Mana-Mana" was opened, named after the famous interlude "Masks". The interior of the establishment is the work of the troupe members: they literally created it with their own hands. The restaurant began to amaze visitors not only with its excellent cuisine, but also with an offer of creative parties for adults and matinees for children.
Performances:
"Athello";
"Pridurki (Jerks) 4D";
"Romeo and Juliet";
"Orpheus and Eurydice";
"Ginger City";
"Clown Attack";
"Savage Forever";
"Don Juan";
"Dinner Show";
"Mozart and Salieri";
"Night Symphony" and others...
Website | Facebook | Instagram
---