Main — War — The saved State Flag from "Azovstal" was transferred to the Museum of History of Ukraine in the Second World War
War
The saved State Flag from "Azovstal" was transferred to the Museum of History of Ukraine in the Second World War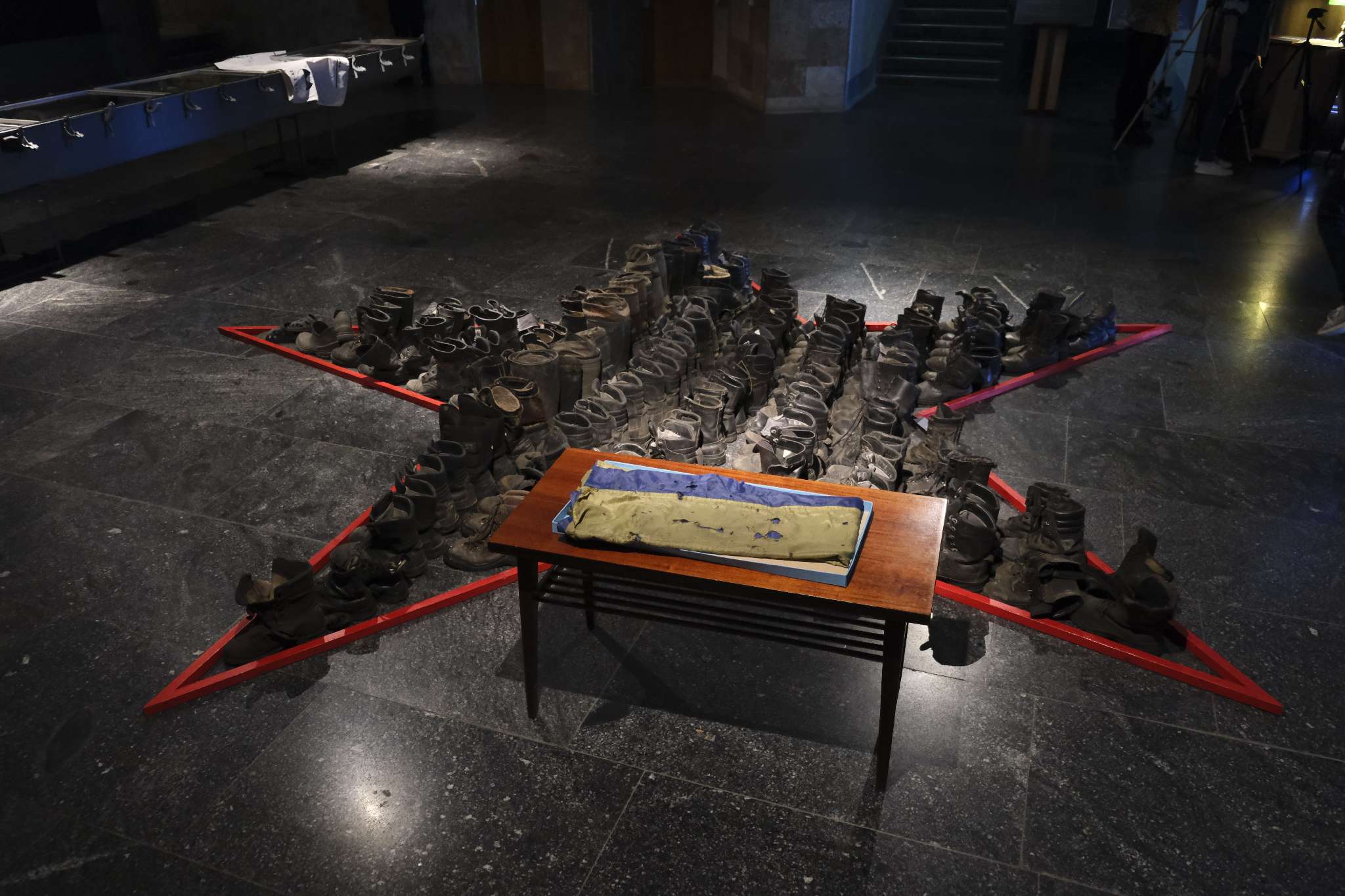 ---
The flag, which fluttered over Azovstal and came out of besieged Mariupol with the last defender, will be one of the main exhibits of the "Ukraine - Crucifixion" exhibition at the Museum of Ukrainian History in World War II.
The evacuated wounded defenders of Mariupol and the wife of the Azovstal Heroes came to pay tribute to this symbol of resistance and insubordination. The flag was handed over to the museum by the head of the Main Intelligence Directorate of the Ministry of Defense Kirill Budanov.
"This Flag is a symbol of valor and heroism of all those who were on Azovstal. These are representatives of the Armed Forces, the National Guard, the National Police, the Azov Regiment, border guards, ordinary people, doctors, and our employees. This flag should become a symbol of rebirth. After a certain period, it would be very good for the Flag to revisit Mariupol when it is released. Raised at the same place where our fighters filmed it," said Kirill Budanov.
The wounded defender, nicknamed "Molfar", evacuated from "Azovstal" was also present at the event. He expressed the belief that such relics must be stored in museums:
"In order to preserve the memory of the deeds of those heroes who gave their lives and health for our Motherland. And this is a truly significant event for all of us. "
The wife of Azovstal defender Denys Prokopenko, Kateryna, expressed her gratitude to all defenders and units that defended Mariupol in Ukraine to the last: "Currently, our task is to make every effort to return home as soon as possible. That in the future these soldiers built our country. They defended and developed it. "
Director General of the Museum Yuri Savchuk stressed that the Flag will be one of the title exhibits and expressed gratitude to all the defenders of Ukraine: "Many thanks to all who fought and are fighting to the last. We pray and mourn for all to return home."
According to the director of the Museum, the exhibition "Ukraine - Crucifixion" will continue to include in its collection the most outstanding relics of the current war. It is here that museum workers will forever preserve the memory of events that will soon become history and traces of which will gradually disappear from the streets of mutilated settlements.
---