Main — Business — Odessa logistic hub between Asia and Europe, link from the Black Sea to the Baltic Sea
Business
Odessa logistic hub between Asia and Europe, link from the Black Sea to the Baltic Sea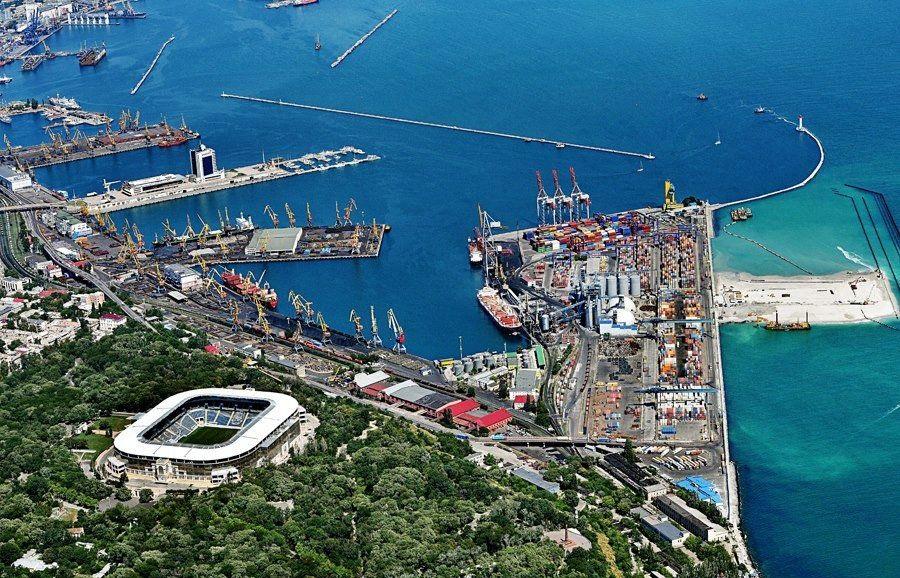 ---
Seaports in Ukraine are conquering a big share of the maritime cargo transportation from Asia to the European Union, due to their geographic position, the large foreign investments to develop local port infrastructure and the presence of the world biggest shipping operators.
---
The logistic infrastructure of the Odessa's region consists of 7 ports:
Odessa seaport: the historical port of Odessa, in front of the city center.
Yuzhny (Pivdenny) port: the biggest privately managed port of Ukraine.
Chernomorsk (formerly Ilyichevsk) port: the third biggest one of the region.
Belgorod-Dnestrovsky seaport, adjacent to the mouth of the Dnestr River.
Ust-Dunaisk seaport, adjacent to the mouth of the Danube River.
Izmail port on Danube river.
Reni port on Danube river, at the Romanian border.
Odessa Ports are the most utilized logistic infrastructure of the Country. The first three ports (Odessa city, Yuzhny, Chernomorsk) handle the 65% of Ukraine's total trade.
In these ports are working all the big operators of the shipping and forwarding sector: Maersk (Denmark), MSC Shipping (Switzerland-Italy), COSCO Shipping Lines (China), CMA-CGM (France), Arkas Holding (Turkey), ONE Line (Singapore), Yang Ming (Taiwan), Hapag-Lloyd (Germany), BPG Shipping (Dubai), ZIM Shipping (Israel) and the Ukrainian champions Global Ocean Links and Formag Forwarding.
Decisive international logistics factors
Four Pan-European transport corridors (III, V, VII, IX) and other major transit routes (Gdansk-Odessa, Europe-Caucasus-Asia, Europe-Asia) cross Ukraine.
Free Trade Zone agreement signed with EU in 2016 increased import-export trade with European countries, obliging improvements in Ukraine's customs regulation.
China's Silk Road, which Ukraine joined (through Georgia's network) boosted substantial developments in its logistic infrastructure: seaports, railways, airports and highways.
Ukraine is a super power in agriculture. Its growing export of grain (corn, wheat), sunflower and soybean increased freight transportation volumes. The main markets of Ukrainian agricultural goods are European countries (approx. 25% of Ukrainian agri export), China (8,9%), India (8,3%).
Geographic favourable position
Ukraine's Black Sea ports are in a very favourable position. The distance between Shanghai and Odessa, for example, is 8,395 miles by sea, more than 300 miles shorter than St.Petersburg (11,432 miles), and Odessa is close to the borders of many Central European states, which makes easier for forwarders to deliver to Poland, Romania, Bulgaria and other Balkan countries. Moreover, the connection with the railways network makes Odessa's ports a convenient option to reach Northern Europe, instead of sending cargos to the ports of Hamburg or Rotterdam.
The coronavirus world epidemic created a big stress on food supply chains and all countries will redesign the routes connecting with their strategic food sources, to get safer an shorter supplies. More efficient connections sea-land will play a strategic role.
Chernomorsk port has a direct rail connection to seven countries up to the port of Klaipeda (Lithuania) via Viking Train, whereas Odessa and Yuzhny also offer rail services service to and from the ports of Riga (Latvia), and Muuga (Estonia). As far energy networks are concenred, the completion of the oil terminal for the pipeline Odessa-Brody-Gdansk allows the oil transportation from Odessa to Belarus and Central Europe.
Customs reforms
Another factor contributing to the growth of ports' trade volumes is the package of customs procedures reforms in 2016-2017, resulted in cargo clearance times falling to approx. one/two hours, compared with the previous four hours, according to the Ukrainian Ministry of Transport. These reforms included a simplification of customs procedures, a reduction in the overall number of inspections and corruption, implementation of a program to hold inspectors accountable for inspections deemed unfounded, and the removal of a previous requirement to translate into Ukrainian or Russian all documents in English provided to port customs.
International investments
The need for modernisation in Ukrainian ports made the Ministry of Infrastructure of Ukraine, with the support of international finance institutions, launch several infrastructure projects and international tenders for port concessions. Ukraine's ports sector has attracted many foreign investments, like:
As far as other relevant investments in Odessa are concerned, it is worth mentioning: Beetroot Academy (Sweden), IT professional training, Delta Wilmar (Singapore), one of the largest world players in agriculture processing, GURIS Construction (Turkey), Kernel (Cyprus), grain export, Risoil (Switzerland), vegetable oils, TIU Canada. solar plants, and Wildix (Italy), IT communication services.
---