Main — War — Why the West does not want to close the skies over Ukraine
War
Why the West does not want to close the skies over Ukraine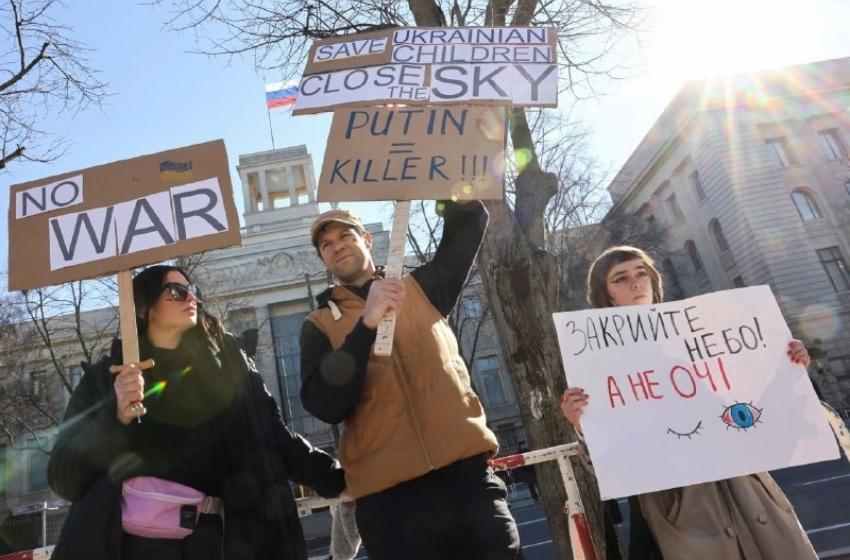 ---
By Pavlo Klimkin, co-founder of the Center for National Sustainability and Development, Minister of Foreign Affairs of Ukraine (2014–2019) for ZN.UA
Russia clearly lost the first round of the war with Ukraine. But the enemy should not be underestimated, he is able to change tactics and use new resources, and most importantly, has not yet lost the determination to destroy Ukrainian statehood. With a fantastic advantage in fighting spirit and attitude, we lose control of the airspace. The call to "close the sky" is today the main requirement for NATO, both politically and emotionally. Lack of progress creates a sense of confusion and even betrayal. It is possible to influence the position of our partners only by understanding their logic and argumentation.
Putin's decisions are based on a mixture of rational and irrational arguments. Ukraine's return to Russia's sphere of influence was an obsession. He believes that in 2014 Ukraine was "taken away" from him by, as he constantly claims, "organizing a coup on the Maidan." Putin considers the "loss" of Ukraine his greatest defeat, he is ready to do anything to destroy "anti-Russia", as he called us in his famous article.
The West cannot reliably assess Putin's reaction to providing Ukraine with additional air defenses or aircraft that will radically change the situation. They do not rule out that this will lead to escalation and direct conflict with NATO. Maybe even with the use of nuclear weapons. There is no readiness in the West to do this in the near future. They understand that Putin has nothing to lose. Defeat in Ukraine will destroy his image of a "strong and error-free" leader of Russia.
Dictatorships and the Russian Federation is now becoming a dictatorship, cannot exist when the dictator's reputation collapses. After that, either the dictator is replaced or the dictatorship is destroyed.
Discussions about the possible transfer of Soviet-made aircraft to Ukraine are very revealing: no one wants to take responsibility for the decision and get revenge from Putin. Unfortunately, just as Obama once categorically refused to supply lethal weapons, citing the possibility of an uncontrolled conflict with Putin, the US administration must now consider the same considerations. Unfortunately, in a completely different situation.
The West also believes that Putin can escalate, using additional reserves, forcing Lukashenko to go to war on Russia's side and, most importantly, launching tactics of total intimidation with bombings and shelling that are many times more intense than today. According to the West, such an escalation will mean that Putin will try to destroy Ukrainian statehood as such under any circumstances. Accordingly, any effective negotiations with him will be impossible or postponed indefinitely.
There are two other points of reason why the West is skeptical about closing Ukraine's skies. One of them is related to the difficulty in the military and technical sense to implement this, especially in the east and south of Ukraine. In addition, objects in Russia and Belarus will likely have to be attacked and destroyed, immediately leading to a direct conflict with Russia. That is why discussions are currently underway on the so-called partial closure of the sky over part of Ukraine or under certain conditions. But at the moment, there is no political will for that either.
Another set of caveats concerns the reluctance to give Putin a domestic reason for escalation. Against the background of problems with the military attack on Ukraine and economic difficulties, the introduction of "closed skies", as many in the West believe, will give Putin a much-needed trump card to mobilize society, allow blaming his failures on NATO and, accordingly, take the toughest stance on the principle of "all or nothing".
Paradoxically, this is compounded by recognizing the determination, heroism, and effectiveness of the Ukrainian resistance. If Ukrainians are still holding on, then why take existential risks, especially since Russia cannot control the sky 100%. Unfortunately, this or a similar argument in non-public communication has also been heard recently.
Today, the situation is such that the West will soon be ready to provide us with additional, albeit limited, air defense but will not cover the sky. These tools should have a longer range and act on real-time information. Another way to help Ukraine could be a clear position that any bombing or missile strike, at least for civilian purposes, will cause a new escalation of sanctions. This position of the West for us is a manifestation of indecision, even cowardice, it infuriates us. But even against the background of these emotions, we need solutions - here and now.
It cannot be ruled out that the increase in civilian casualties will create moral pressure for Western politicians to introduce a "partial" closure of the skies. This requires creating an emotional wave in Western countries, especially in the United States. This certainly can not be done by the state, so the "sofa" activity in social networks makes sense. But, of course, not every action, namely the one that strikes at emotional perception.
The event is not yet mentally ready to use World War II recipes, such as land leases, aircraft allocations, or air defense facilities with the ability to volunteer. It is clear that all this must be applied with an amendment to the XXI century. Ideas for asymmetric responses now dominate Western military strategy, they make sense. Unfortunately, for us it is not an abstract understanding of possible scenarios but the price of our existence. That is why we need to understand what the West can give us politically and morally if it is not ready to close our skies completely. But this story is no longer for public discussion.
---