Main — Diplomacy — The first "non-contact" restaurant in Odessa
Diplomacy
The first "non-contact" restaurant in Odessa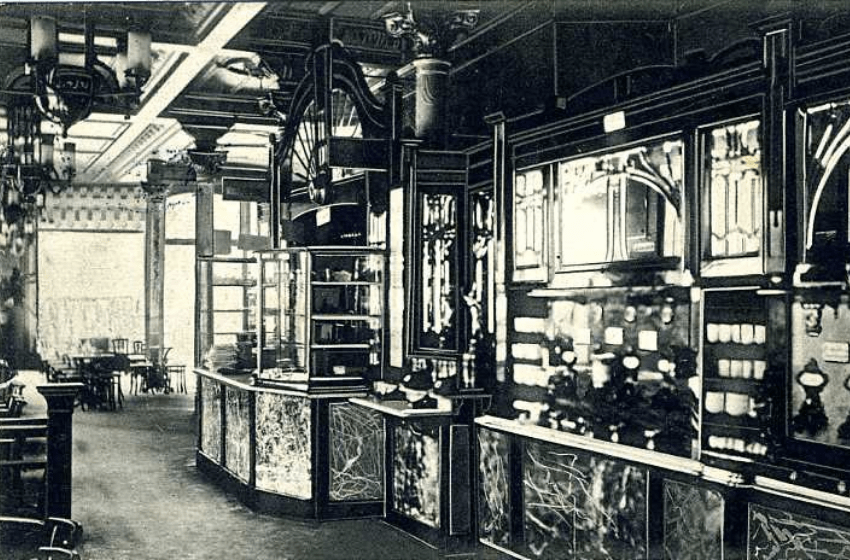 If someone is planning to open an "non-contact" restaurant, there is a precedent in Odessa.
In 1911, in the angular house between Preobrazhenska Street and Grechska Street, the Swiss Eduard Berthe opened a very unusual restaurant, called "Automatisches Restaurant Quisisana". The entrepreneur had showed this innovative automatic restaurant in a temporary pavilion at the Odessa Commercial and Industrial Exhibition in 1910. A similar restaurant Quisisana was opened in St. Petersburg.
The restaurant was equipped with the latest mechanical buffets and vending machines. There were no waiters. Client chose drinks and dishes according to their wishes. When plates and glasses were left on the tables, a footman suddenly appeared from somewhere and quickly kept every table in perfect order. Nobody gave tips to anyone.
To the right of the entrance there were vending machines with drinks and the instructions to get the selected drink, like: "two ten-cents coins should be lowered into the vending machine". Dishes and glasses were washed in front of clients, to show their cleanliness.
Some prices at Quisisana's. A glass of sherry, madeira or liquor, as well as a glass of white or red wine: 20 kopecks. A mug of beer: 10 kopecks. Cognac from 20 to 30 kopecks per glass. Vodka: 5 kopecks small glass, 10 kopecks a large one. As far as snacks were concerned, pies were 5 kopecks each; various sandwiches from 5 to 15 kopecks apiece. Surprisingly, through the machine one could also buy some hot dishes (for 30 and 40 kopecks). Two more machines poured tea and coffee, with the option to get cream or lemon for these drinks. At the entrance of the Quisisana, a bargaining desk was available to give the necessary coins for the machines.
The restaurant was a success and a large number of curious people visited it. But, of course, there were also wise guys who quickly figured out how to eat and drink for free. The newspaper Odesskiy Listok (Odessa's Leaf) wrote in 1912: "A young man appeared in the restaurant "Kvisisana" and began to lower in the automatic machines self-made tin coins, the size of copper kopecks, getting pies and sandwiches. The trick was noticed and the smart Odessite arrested. He turned out to be somone called David Rabinovich" (a common Jewish name).