Main — Culture — Ceremony in Odessa for the deads of the First World War, attended by diplomats of France and Germany
Culture
Ceremony in Odessa for the deads of the First World War, attended by diplomats of France and Germany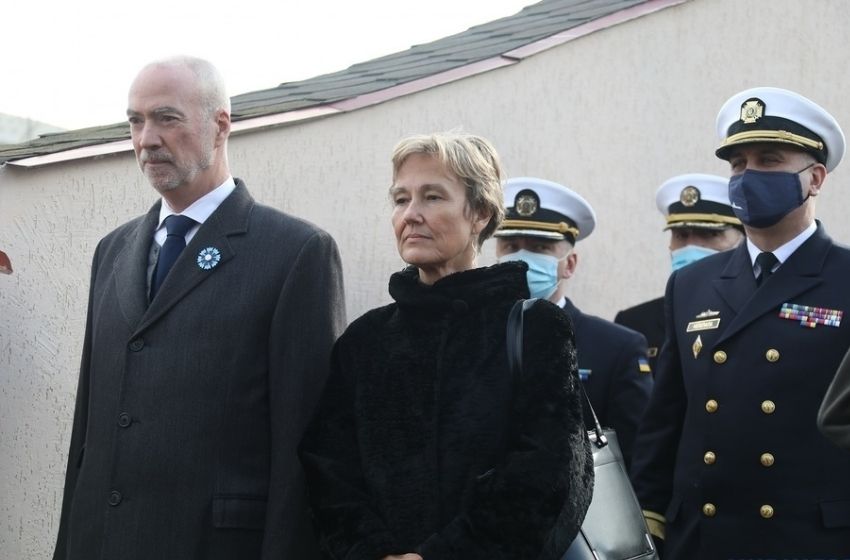 ---
The 103rd anniversary of the end of the First World War was celebrated in Odessa at the memorial at the Second Christian Cemetery by the Ambassadors of France and Germany.
---
The ceremony took place at the Catholic site of the Second Christian Cemetery, where there are graves of deads of the Great War buried in Odessa: soldiers and officers of the Russian imperial army, the French, Germans, Austrians and Hungarians.
Wreaths were laid on the monuments by the Ambassadors to Ukraine Etienne de Poncin of the French Republic, Anka Feldhusen of the Federal Republic of Germany, the Commander of the Ukrainian Naval Forces Rear Admiral Oleksiy Neizhpapa, military attachés and representatives of city and regional authorities.
Over the past 7 years, there have been found and restored memorials at the burial sites by the efforts of Odessa historians and ethnographers. In particular, the French pilots Marc Bonnier, Marcel Chandon and Jean Robinet, the Austrian military governor of Odessa in 1918, Field Marshal Lieutenant Eduard Edler von Balz, a mass grave of 21 Austro-Hungarian soldiers. On the 100th anniversary of the end of the First World War, a memorial to Croatian soldiers was erected (Croatia was then part of the Austro-Hungarian Empire).
The French and Germans who died in the First World War are buried in Odessa, and it was very important for us to visit their graves, despite the fact that the conflict is over a hundred years old. Also today it was very important to remind that although France and Germany have been opponents for many years, they are now allies.

Etienne de Poncin, French Ambassador to Ukraine
The First World War lasted more than four years, from July 28, 1914 to November 11, 1918. Battles took place over a vast territory, in Europe, Africa, China, the Middle East and the Pacific Ocean. As a result of the hostilities, more than 18 million people died, died from wounds and diseases, and went missing.
Ukrainians took part in the war on both sides of the front: as part of the Russian imperial army and the Austro-Hungarian army. Historians have calculated that about 4.5 million of our compatriots fought in total. The exact number of Ukrainians who died is unknown (neither in Russia, nor in Austria-Hungary, separate statistics of losses were kept broken down by nationality).
The result of WWI was the collapse of the German, Ottoman, Russian and Austro-Hungarian empires and the formation of new national states, including the Ukrainian People's Republic.
---