Main — War — Head of State met with the Prime Minister of Norway in Kyiv
War
Head of State met with the Prime Minister of Norway in Kyiv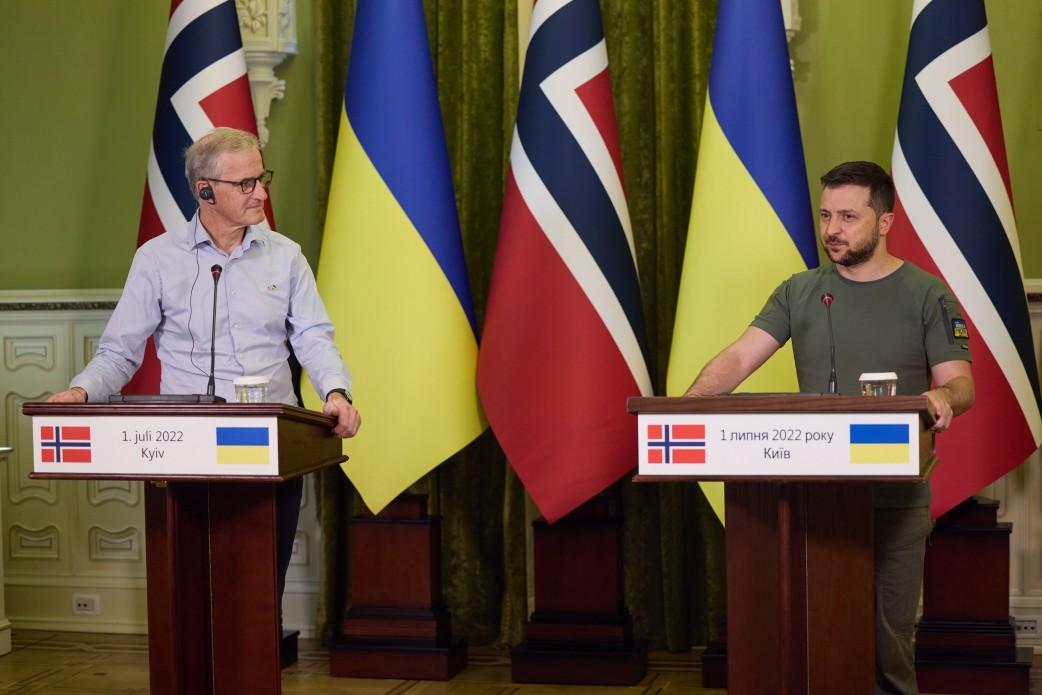 ---
President of Ukraine Volodymyr Zelenskyy held a meeting with Norwegian Prime Minister Jonas Gahr Støre who arrived in our country on a visit.
The Head of State thanked the Prime Minister of Norway for the powerful support that the Norwegian state and society had provided to Ukraine and its citizens.
"This is an extremely important aid: defense, political, humanitarian. I am also grateful for the new support package that Norway has decided to provide to Ukrainians, totaling 1 billion euros. We appreciate it very much. In such a difficult time, real friends are by our side," Volodymyr Zelenskyy said during a conversation with media representatives following the negotiations in Kyiv.
He also noted that Norway, which is not a member of the European Union, fully supported the sanctions regime against the Russian Federation for aggression.
"Sanctions are the price for a tragic and bloody war. And today we discussed with Mr. Prime Minister how we can further strengthen this process," the President of Ukraine noted and added that negotiations regarding security guarantees and sanctions policy would be continued.
Volodymyr Zelenskyy reminded that last night the Russian army had launched another brutal missile attack on civilian objects, in particular on a residential building in the village of Serhiivka, Odesa region. As a result of this attack, about 20 people were killed, including two children, and more than 30 people were wounded.
"This is not an individual strike and not an accident, as the Russian media say every day, it is a deliberate Russian missile terror against our cities and towns, our people. In total, during the four months of the full-scale war, Russia has already used almost 3,000 missiles against Ukraine. Such brutality of Russian actions only emphasizes how correct the decisions of our partners to provide Ukraine with support, primarily defensive, are. No state in the world should be left alone when there is such evil," the President of Ukraine said.
He said that during the meeting in Kyiv with the Prime Minister of Norway, he had discussed further defense support for the protection of Ukrainian citizens.
Volodymyr Zelenskyy also noted that before the meeting, Jonas Gahr Støre visited the regions of the Chernihiv region that were affected by the Russian occupation.
"It is very important for European leaders and people to see what is happening in Ukraine. And to bring this truth to Europe and tell society absolutely truthfully what is happening in Ukraine, who is fighting here, in what way and what evil Russia has brought to our people," said the President.
Also, during the negotiations, the parties touched upon the issue of rebuilding Ukraine after the war. According to Volodymyr Zelenskyy, the first draft of the recovery plan for Ukraine will be presented at a conference in Lugano in a few days.
"I am very glad that Norway will also consider the possibility of joining the reconstruction of our state when the war is over," he concluded.
The Prime Minister of Norway, for his part, expressed solidarity with Ukraine and the Ukrainian people in the struggle for independence and noted that this is a struggle not only for Ukraine, but also for the fundamental principles on which Europe and the whole world are built. Jonas Gahr Støre assured that Norway would stand with Ukraine until its victory.
"This war is a violation of international law and the basic principles written in it. You have the absolute right to defend yourself, and we have the right to help you defend yourself. And we will use this right," he said.
According to the Prime Minister, Norway will provide Ukraine with support in the amount of 1 billion euros to help people in need, as well as to rebuild after the war.
---