Main — War — 138,449 Russian executioners: Journalists and activists have created a registry "Russian war Criminals"
War
138,449 Russian executioners: Journalists and activists have created a registry "Russian war Criminals"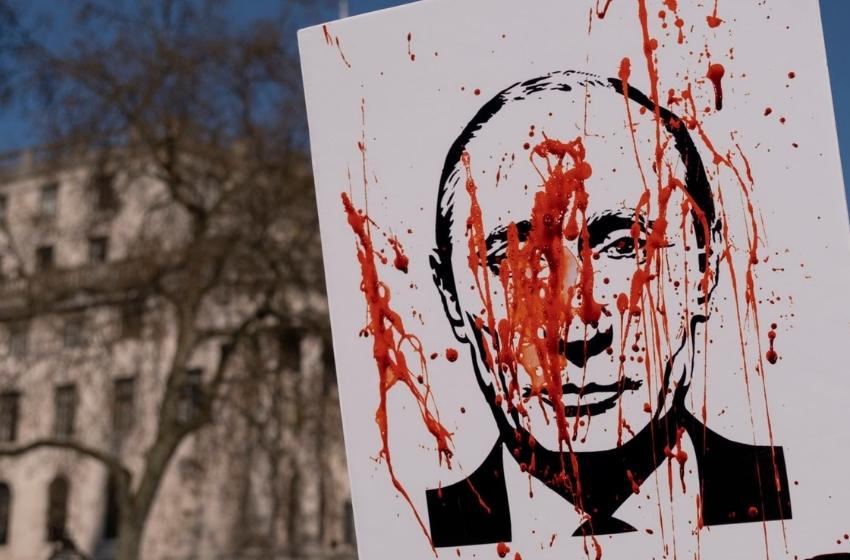 ---
On May 4, the Slidstvo.Info agency together with the NGO Anti-Corruption Headquarters presented the "Russian War Criminals" project, which systematizes information on the presence of the Russian military in Ukraine.
Photo: A protest sign describing Russian President Vladimir Putin as a war criminal during a London solidarity march expressing support to Ukraine on March 26, 2022. Mike Kemp/In Pictures via Getty Images
---
"Russian War Criminals" is the online map that contains personal data of the Russian military, identified Russian prisoners of war, and Russians killed during the war in Ukraine. As for the military unit, on the map you can also find evidence of presence in Ukraine (in the profile of each soldier there is a link to the evidence base), for others information is still being collected and processed.
"We at Slidstvo.Info have been engaged in "identifying evil" since the first days of the war – we show the world the face of the Russian occupiers and talk about their crimes. This project is a way to systematize and catalog all the information available in the public space. We strive to have journalistic finds and lists of the Russian military in one place and help journalists, activists and law enforcement officers collect as much data as possible about each Russian war criminal," says Anna Babinets, head of Slidstvo.Info.
The map shows the following information about the Russian military:
rank;
belonging to a military unit;
date of birth;
phone number;
passport data.
The cards of some servicemen also include data from journalistic investigations, which indicate specific crimes they may have committed in Ukraine. Users can send additional data for each military using the special button in the profile.
The aim of the project is to identify servicemen of the Russian Federation who are directly involved in Russia's war against Ukraine. One of the key objectives of the project is to assist in gathering evidence of crimes committed by individuals during hostilities - for further use by Ukrainian and international investigators and to provide this evidence in Ukrainian courts and the International Criminal Court (The Hague, The Netherlands).
Information from the following sources was used to create the map:
lists published by the Center for Defense Strategies and the Central Intelligence Agency of Ukraine;
information from the database "Look for your own";
Information resource of the Office of the Security and Defense Council of Ukraine;
lists of Russian servicemen obtained by investigative journalists, in particular Slidstvo.Info;
other sites, social networks available in the public domain.
The map is a joint project of the Anti-Corruption Headquarters and Slidstvo.Info. The information is updated and supplemented.